The other day in Tehran, the arrival of a US registered passenger plane at the International Airport triggered an avalanche of rumors that, for a brief moment, buried the anxieties that grip Iranians with regard to the looming confrontation with the Trump administration in Washington. The wildest, and most popular, rumor was that the "American plane" had brought a special emissary from Washington to invite the "Supreme Guide" Ali Khamenei to a summit with President Donald Trump with a view to "doing a North Korea".
The rumor wasn't all that fanciful.
The history of relations between the US and the mullahs is full of cloak-and-dagger episodes.
President Jimmy Carter wrote flattering letters to Khomeini, the man who created the Islamic Republic. In response Khomeini sent Prime Minister Mehdi Bazargan to reassure Carter and persuade him to resume the supply of arms to Iran. President Ronald Reagan sent his former National Security Adviser Robert MacFarlane to Tehran to discuss a deal with the ayatollah. And Khamenei visited the occupied US Embassy in Tehran to discuss the purchase of American arms with US diplomats held hostage.
Under Reagan, with help from Israel, the US smuggled arms to Iran to stop Saddam Hussein's army.
Over the years, successive Islamic presidents, including Hashemi Rafsanjani and Muhammad Khatami maintained sub-rosa dialogues with the "Great Satan". Right from the start President Hassan Rouhani was identified as head of "The New York Boys", a coterie of US-educated functionaries working for a "grand bargain" with Washington.
President Barack Obama turned out to be the most pro-mullah leader the US had seen. He went out of his way to even deliver cash to Tehran but ended up vilified and humiliated.
While such under-the-counter deals helped reduce tension, the fundamental problem -- that the Khomeinist regime is
incapable of normal relations with anyone, let alone the American "Great Satan" -- remained. The Khomeinist regime is programmed in its ideological DNA to be anti-American, anti-West, anti-Semitic, anti-Arab, anti-Turk, anti-Russian, and more importantly perhaps, anti-Iranian. Today, the Islamic Republic does not have many friends.
All it has is lackeys and mercenaries, like the "Hezbollah" in Lebanon and the Assad clique in Syria, and small groups on the margin of the Iraqi Shiite community.
The problem is that old shenanigans no longer work and, thus, Khamenei cannot do a Kim Jong-un even if he wanted to.
The reason is that the "Supreme Guide" is getting less and less "supreme". Signs that he is being cut down to size by events, including nationwide protests, have multiplied. He still makes speeches, summons civilian and military officials, and issues orders. But, increasingly, people hear him but don't listen.
A few months back he threatened that if the US tears up the "nuclear deal", he would "shred it."
However, when Trump threw the "deal" into the ashcan, the "Supreme Guide" swallowed his pride and urged Rouhani to find some way of saving something from the ghostly "deal."
When the Trump administration demanded that Tehran freeze its missiles project, Khamenei refused. He summoned his generals to "produce more and more missiles, and more powerful ones".
Last month, however, Muhammad-Ali Aziz-Jafari, the general who commands the Revolutionary Guard Corps (IRGC), publicly declared that Iran had frozen its missile project at a maximum range of 2,000 kilometers. Even then he had to stress that 2,000 kilometers was the length of Iran's own territory, from the border with Turkey to the Gulf of Oman.
Not a peep from the "Supreme Guide".
Khamenei's order to reopen the Arak plutonium plant, and install new centrifuges and enrich uranium to a higher degree has also been buried under a ton of lip-service. The government doesn't have enough money to pay its employees let alone spending on white elephants to please the Ayatollah.
In the past months, Khamenei has issued two fatwas forbidding women from riding bicycles in public places, notably city streets. However, the Islamic Police (NAJA) has officially declared that it has no intention of enforcing that ban against the many Iranian women who ride bicycles to work and school. In fact, women have continued to ride in the streets in deliberate protest of Khamenei's decree. In one isolated incident, in Yazd, vigilantes attacked a group of women cyclists but had to retreat when they themselves were set upon by an angry crowd.
Khamenei's order to "Islamize" human sciences and burn books written by the Infidel on philosophy, politics, sociology, economics and other disciplines has also been criticized and ignored. Iranian students still have to read not only Aristotle and Adam Smith but also August Comte and Karl Popper.
The pan-Islamic conference that Khamenei had convened to create "Islamic social sciences" ended in chaos as it was boycotted by almost all reputable academics.
Khamenei has spent time and energy telling Iranians how to write poetry, make movies, and even have successful marriages.
Khamenei has even somewhat retreated on his promise to wipe Israel off the map in 25 years' time. Now he says he wants a referendum for a one-state solution.
A comical episode revealed the decline in Khamenei's prestige. Having sacked his Chief of Staff Gen. Hassan Firuzabadi, Khamenei wanted to regain control of a luxury villa the general had occupied for 23 years, and issued two fatwas ordering instant evacuation. The general ignored the fatwas and stayed put until Khamenei had to send his own armed bodyguard to seize control of the villa.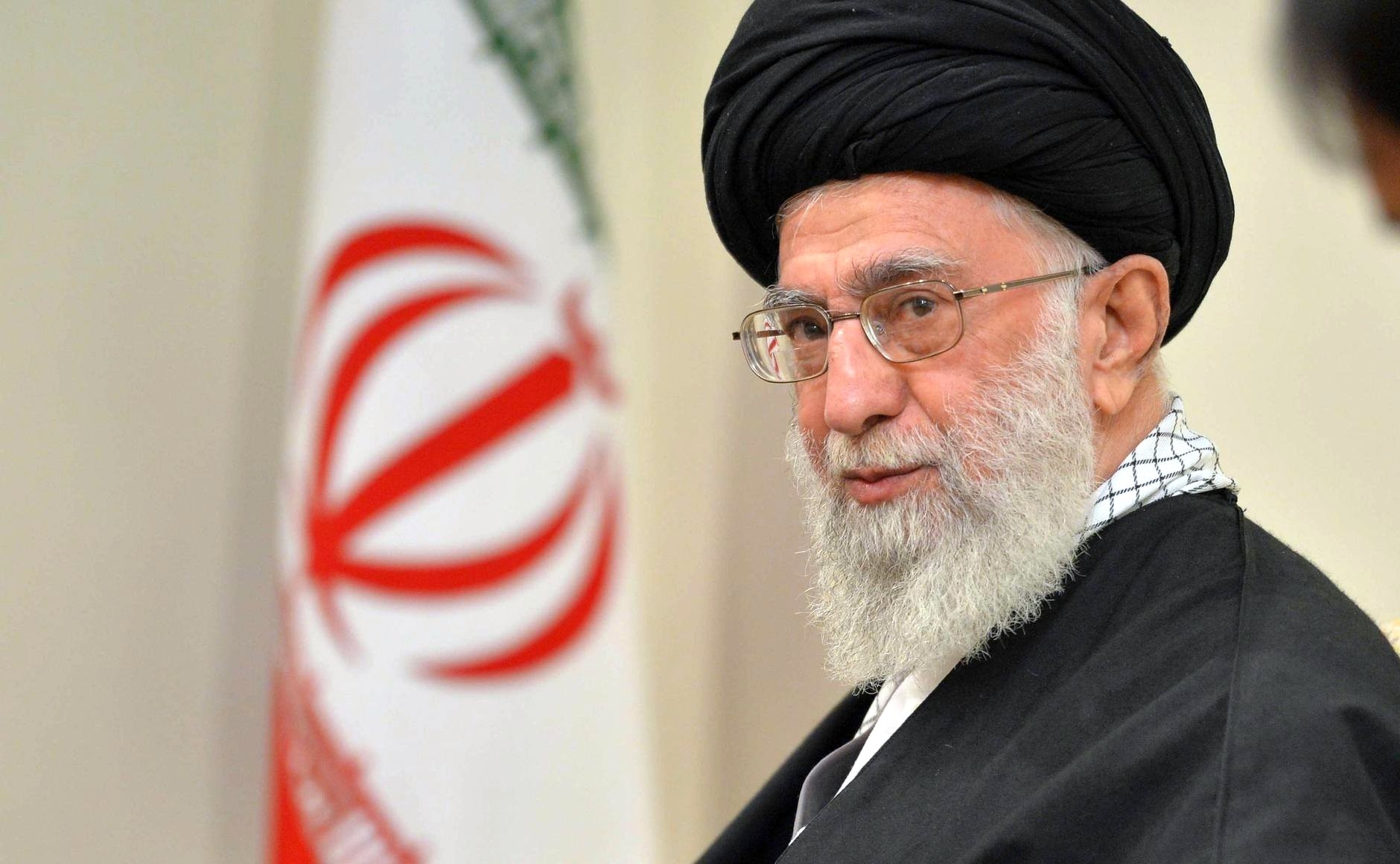 Iran's "Supreme Guide," Ayatollah Ali Khamenei. (Image source: kremlin.ru)
A longer list could be established of cases in which Khamenei's orders have been ignored because there is no realistic way to carry them out.
Khamenei's power is declining not because he is challenged by anyone inside the establishment but by knocks on his door. Even if he wanted to do a Kim Jong-un, he can't. He has no organized political party and, heading for his 80th birthday, is unable to attract young Shiites who are thinking of their future.
I don't know whether that is good or bad news. The Islamic republic was a wayward ship from day one but at least had a captain. Today, it is not clear who is in charge, which means the Islamic Republic is in a worse state than Kim Jong-un's People's democratic republic of Korea.
Amir Taheri was the executive editor-in-chief of the daily Kayhan in Iran from 1972 to 1979. He has worked at or written for innumerable publications, published eleven books, and has been a columnist for Asharq Al-Awsat since 1987.

This article was originally published by Asharq al-Awsat and is reprinted by kind permission of the author.