President Recep Tayyip Erdoğan's motorcade arrived at his 1,100-room palace on an unusually rainy day in Ankara on July 9. His armored Mercedes was showered with red roses, thrown at the car by crowds cheering him hours before an extravagant inauguration ceremony. A 101-gun salute and an Ottoman military band greeted him along with 10,000 selected guests (this author was on the guest list but, in protest, preferred not to attend).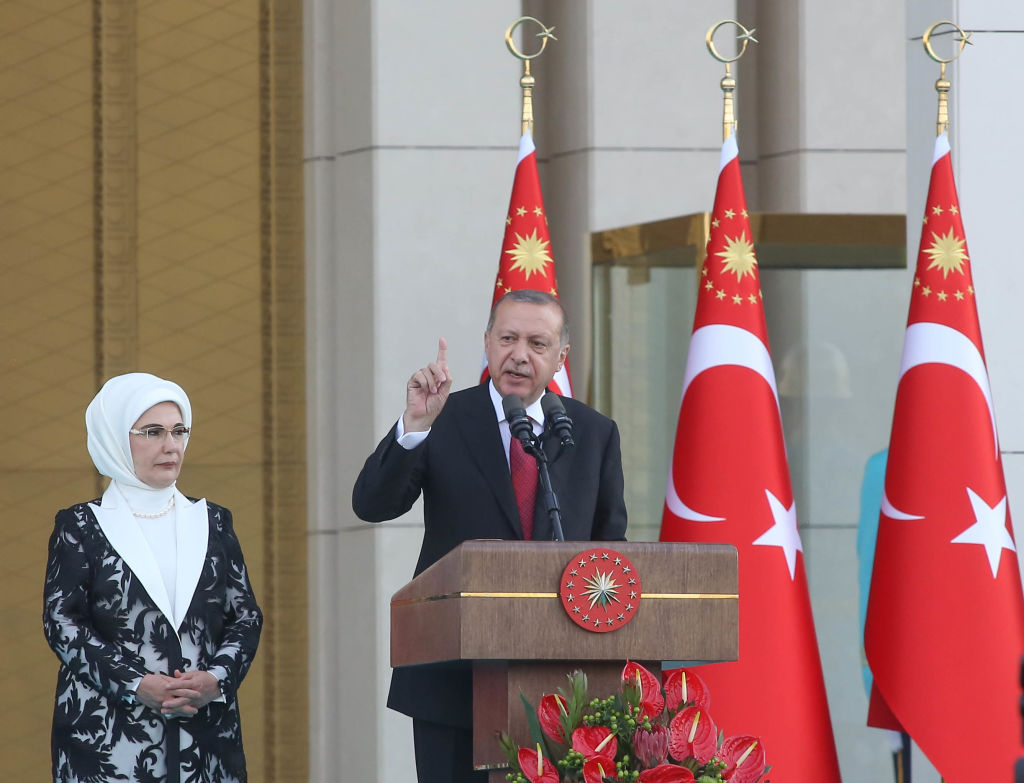 Turkey's President Recep Tayyip Erdoğan makes a speech at his inauguration ceremony in Ankara on July 9, 2018. (Photo by Stringer/Getty Images)
Whereas pompous scenes from Erdoğan's palace ceremony showed the glittering face of Turkey on July 9, events from the day before were saddening and unveiled "the other Turkey." A passenger train derailed in the Thrace region west of Istanbul, killing 24 and injuring more than 300. On the same day, students from the Middle East Technical University in Ankara were arrested for carrying placards "insulting the president" at their graduation ceremony.
Also on July 8, more than 18,000 government employees were fired "over suspected links to groups that 'act against national security.'" That brought the number of people purged to 125,806 since the July 2016 coup attempt.
Back at the palace, on July 9, everyone was smiling and greeting Erdoğan. Nicolás Maduro, for instance, Venezuela's autocratic president, called Erdoğan "a friend of Venezuela and leader of the new multi-polar world." Maduro seems to have almost forgotten that he is the unwanted leader of a country mired deeply in undemocratic chaos and violence, where the annual inflation rate has shot up to over 82,000%.
In Maduro's Venezuela, according to the 35-member Organization of American States, systematic crimes against humanity are being committed, including torture, rape and more than 8,000 extrajudicial executions.
The list and profile of the foreign dignitaries and statesmen who were Erdoğan's guests further revealed his own political profile, ideological inclinations, friends and foes, possibly causing shy smiles in the world's more civilized capitals: heads of state from Qatar, Bulgaria, Georgia, Macedonia, Moldova, Bosnia, Serbia, Kosovo, Pakistan, the [breakaway] Turkish Republic of Northern Cyprus (recognized only by Turkey), Kyrgyzstan, Guinea, Zambia, Guinea Bissau, Equatorial Guinea, Somali, Mauritania, Gabon, Chad and Djibouti. Russian President Vladimir Putin sent his prime minister, Dmitry Medvedev, to the festivities in Ankara.
Another presidential guest, one of Erdoğan's favorite Islamist friends, was Sudan's president, Omar al-Bashir, who is the first sitting president to be indicted by International Criminal Court (ICC) for genocide and crimes against humanity, for presiding over the deaths of "between 200,000-300,000 people" in Darfur since the start of the conflict there in 2004. Erdoğan has in the past to defended al-Bashir, saying: "It is not possible for those who belong to the Muslim faith to carry out genocide."
About two weeks after he posed for the cameras with his happy smiles, according to Reuters, "Erdogan said on Tuesday an Israeli law declaring that only Jews have the right of self-determination legitimizes oppression and shows that Israel is a fascist and racist country where the spirit of Adolf Hitler has re-emerged."
Just like his friends Maduro and al-Bashir, Erdoğan's foreign ministry keeps bullying his country's neighbors and the region. On July 30, Turkey warned Israel and Egypt not to "exceed their limits" after the two countries' ambassadors to Cyprus reportedly "both suggested that military action against Turkish naval forces in the Eastern Mediterranean was an option" to protect Cyprus's offshore energy exploration in the face of "Turkish provocations."
Erdoğan has an ideological commitment to the "new multi-polar world," as his friend Maduro put it. His palace party was like a birthday party bringing together all the school bullies of the neighborhood. Teachers and parents in the neighborhood are fearfully waiting for the gang's new venture. Kids will be kids. But this gang is not always content just vandalizing the enemy's cars or throwing stones at the enemy's windows.
Burak Bekdil, one of Turkey's leading journalists, was recently fired from Turkey's leading newspaper after 29 years, for writing what was taking place in Turkey for Gatestone. He is a Fellow at the Middle East Forum.