A veteran journalist in Europe's last divided city, Nicosia, has been targeted and intimidated by Turkey's President Recep Tayyip Erdogan for criticizing Turkey's actions in Cyprus and elsewhere in the region.
Şener Levent, editor-in-chief of the Turkish-language daily newspaper, Afrika, in Cyprus, has been charged with crimes by Turkish prosecutors in Ankara. The charges concern the January 21 front page of the newspaper, which criticized Turkey's invasion of the Syrian city of Afrin as well as an article by Levent about a violent mob action against his newspaper on January 22.
Afrika, which has a left-wing political stance, is located in the occupied northern section of Nicosia and covers news related to Cyprus, Turkey and the wider region. The initial version of Afrika was the newspaper Avrupa ("Europe"), established in 1997 and printed for 4 years before Afrika replaced it.
The paper has been especially critical of Turkey's occupation of the island, and various crimes the Turkish military has committed there.
As a result of the Turkish invasion in 1974, Nicosia, the capital of the Republic of Cyprus, remains divided, with the northern part occupied and controlled by the "Turkish Republic of Northern Cyprus," or the "TRNC", recognized only by Turkey. The free, southern section of the city is governed by the Republic of Cyprus. The two parts of the city are separated by a UN-patrolled demilitarized "buffer zone."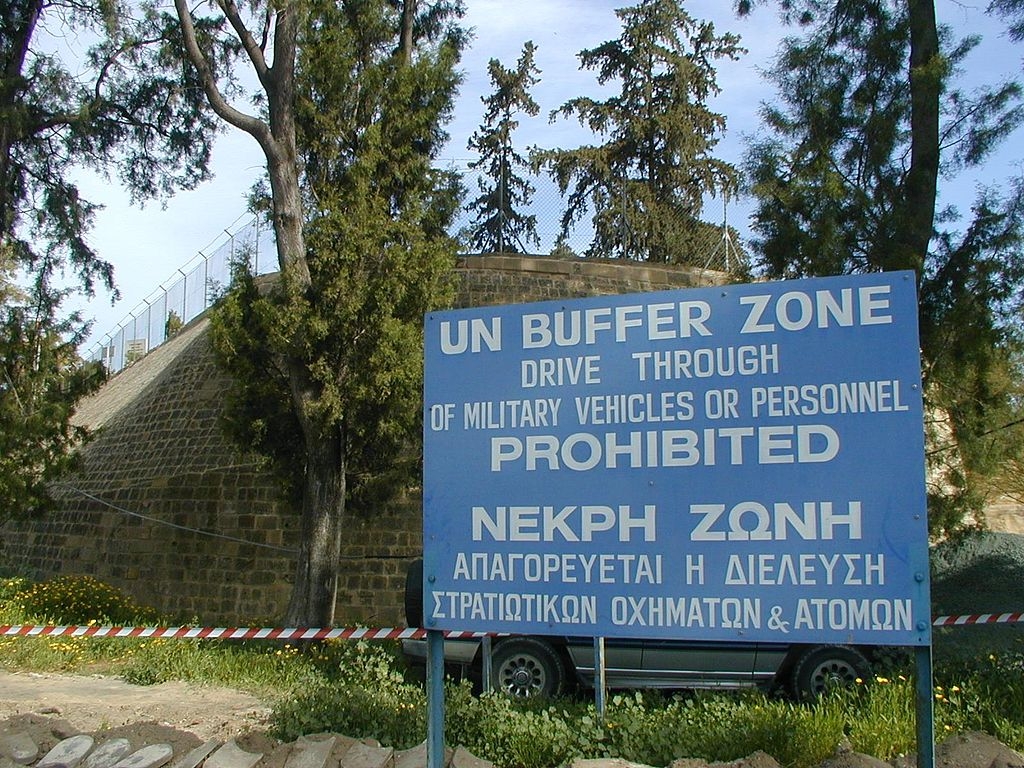 Cyprus' capital of Nicosia is divided by a UN-patrolled demilitarized "buffer zone," between a free, southern section, and a northern section occupied by Turkey's army. (Image source: Jpatokal/Wikimedia Commons)
Because of its reporting, Afrika has become used to attacks and intimidation from pro-Turkish mobs and faced dozens of court summonses from Turkish Cypriot authorities. Previous court summonses were carried out by authorities in Turkish-occupied Cyprus; these recent ones are ordered by the Turkish government in Ankara. Levent has also been jailed for allegedly undermining the authorities in Turkish-occupied Cyprus and released after protests.
Yet, the 2017 Turkish constitutional referendum that officially increased the powers of President Erdogan, coupled with Erdogan's reelection as president on June 24, as well as Turkey's increasingly aggressive foreign policy, seem to have escalated pressures against Levent and his newspaper. In an interview with Gatestone, Levent said:
"For the first time in our history, Ankara is putting us on trial. I am not a citizen of Turkey. But the police came to my office on behalf of Ankara to inform me of the criminal charges against me and the impending trial and requested that I should raise a defense. I said I will not, for I have not committed a crime. And I rejected the accusations."
Turkish authorities refer to the brutal Turkish invasion of Cyprus in 1974 as "a peace operation" and have code-named Turkey's 2018 military intervention in Afrin "Operation Olive Branch". Afrika, however, in its headline denounced the Afrin offensive, calling it "a campaign of invasion by Turkey." Levent also wrote a column drawing parallels between Turkey's invasion of Afrin and Turkey's invasion of Cyprus.
Outraged by Afrika's reporting, Turkish President Recep Tayyip Erdogan attacked it as "a shabby newspaper" and called on his "brothers from northern Cyprus... to give the required response."
On January 22, Erdogan supporters in Cyprus attacked the newspaper's building. They removed and destroyed the newspaper's sign and replaced it with a Turkish flag, then raided and plundered the offices inside.
Levent penned another article on February 1, calling out those who targeted the newspaper. He wrote, in part:
"My pen is persistent. Even I can't make it stop. Do you think your stones, your Sultan, or your slogans of takbir ['Allah is the greatest'] can? You are hostile. Hostile to everything that is good, beautiful and right.

"You are not protesters, you are terrorists. You are like the Ku Klux Klan in Mississippi, Boko Haram in Nigeria, and jihadist marauders who carry out beheadings in Syria.

"You came here in 1974. We still have not been able to even find our [Cypriot] missing people after you cut off their ears and threw them in wells. The women and young girls that you raped continue their lives with the shame [of what you did to them]... From what hell and how did you come to my country [Cyprus], which smells of jasmine and lemon? Buzz off. You will go back! You will go back just like you came."
The result: Criminal cases have been filed by prosecutors in Ankara against Levent and the paper's director, Ali Osman, for "offences including plotting mischief and insulting and degrading Turkey," Levent said.
"We are also being tried for a cartoon about Erdogan printed in our newspaper. I don't even know who the cartoonist is. I found it on the social media and published it with the caption that reads 'no comment'. But we are investigated for that, too."
Levent's first hearing was held in Nicosia in June and the second one is scheduled to take place there on September 20. About 30 to 40 "expert witnesses" will testify against him in court, he said.
Physical threats to Afrika are also nothing new. "Our printing plant was bombed twice -- in 2000 and 2001," Levent told Gatestone. "The perpetrators have not been found yet. Some hitmen from Turkey also fired bullets at our building twice in 2001."
Levent said that he has recently filed a lawsuit against Erdogan for "inciting violence against Afrika" prior to the January 22 mob attack.
"For the last 20 years, hundreds of court cases have been filed against me due to my writings. These cases requested up to 5,000 years prison sentence for me in total.

"Most of those have dropped due to a lack of grounds for legal action. I won some of them but was convicted for others. For example, in 2002, I was sentenced to 6 months in prison and was jailed for two months. Then the High Court decided that I should be released, ruling that monetary fines rather than imprisonment should be given in media trials. There are also other cases that are ongoing.

"I have been exposed to all kinds of pressure and violence. The only thing they have not done yet is kill me."
Levent, as a citizen of the Republic of Cyprus, says he will run as a candidate for the 2019 European Parliament election and that EU institutions and Greek Cypriot journalists in Cyprus have been very supportive of Afrika.
In response to the pressures, the government in non-occupied Cyprus has reached out to the European Union and the Organization for Security and Co-operation in Europe (OSCE) asking them to step in and defend the freedom of expression and freedom of the press. Cypriot government spokesman Prodromos Prodromou wrote in a statement that the European Parliament was "closely monitoring the case." The European Commission also told Cyprus News Agency that it was aware that criminal proceedings had been initiated in Turkey against Levent, Osman and Afrika.
In the meanwhile, the OSCE Representative on Freedom of the Media, Harlem Désir, has urged Turkish authorities to drop the lawsuits against Levent and Osman:
"The Representative recalled that the Nicosia-based newspaper Afrika has been under significant pressure for an extensive period of time... and stressed that violence and intimidation of journalists is unacceptable."
So far, there has been no response from Erdogan's government.
The Cyprus Federation of America describes the actions of Turkey's military in Cyprus during and after the 1974 invasion:
"The atrocities of the Turkish army included wholesale and repeated rapes of women of all ages, systematic torture, savage and humiliating treatment of hundreds of people, including children, women and pensioners during their detention by the Turkish forces, as well as looting and robbery on an extensive scale, by Turkish troops and Turkish Cypriots."
Since 1974, in an attempt to change the demographic structure of the island, thousands of illegal settlers have been brought from Turkey to the occupied part of Cyprus, and around 43,000 Turkish occupation troops have been stationed there.
In the 21st century, Cyprus, a member state of the European Union, continues to be occupied by a NATO member and EU hopeful, Turkey, which does not want any of its crimes against the island to be exposed -- particularly by Turkish Cypriots.
It appears that what is once again being targeted in these court actions against Afrika is not only Levent's courageous journalism but also the freedom and sovereignty of Cyprus.
Uzay Bulut, a journalist from Turkey, is a Distinguished Senior Fellow at Gatestone Institute. She is currently based in Washington D.C.