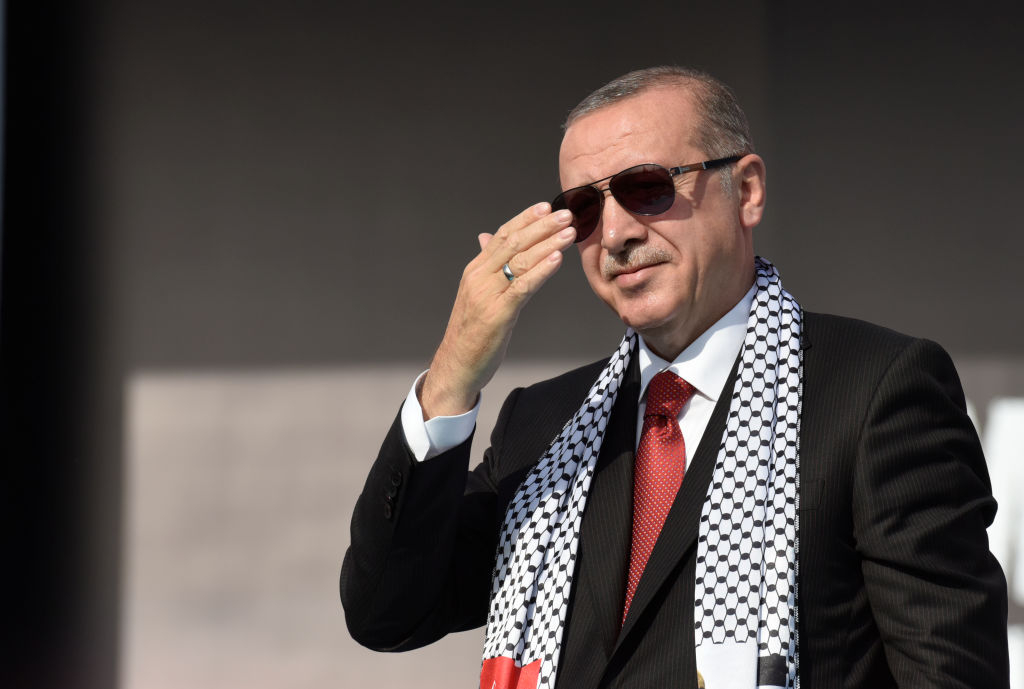 Torture and other forms of unlawful abuse are increasingly widespread in Turkish jails and prisons, under the rule of Turkish President Recep Tayyip Erdoğan. (Photo by Getty Images)
In the early 2000s, after the Justice and Development Party (AKP) first came to power in Turkey, its leader, then Prime Minister (now President) Recep Tayyip Erdoğan, proclaimed a policy of "zero tolerance" for torture.
In June of this year, Turkish Justice Minister Abdulhamit Gül repeated the same mantra. "We -- as the AKP government -- are implementing a policy of zero tolerance for torture," he said.
Statements by many prisoners, their lawyers and human-rights defenders, however, tell a much different story; victim and witness accounts reveal that torture and other forms of unlawful abuse are increasingly widespread in Turkish jails and prisons. Inmates in a jail in Şanlıurfa in southeast Turkey, for example, tell of the plight of 27-year-old Uğur Yeloğlu, who they say has been isolated and tortured so badly since his imprisonment seven months ago that his level of functioning is like that of a baby. He has apparently lost his memory and is unable to walk, or even eat, on his own. In addition, these inmates said, the prison's healthcare staff are lax in their treatment of him.
Yeloğlu was arrested in Istanbul in January for allegedly "aiding a terrorist organization." His lawyer, Abdülkadir Aslan, said that in spite of the many months his client has been in jail, his indictment has not yet been prepared by prosecutors. "We have officially appealed to authorities for my client to be transferred to a full-fledged hospital," Aslan said. "But we have not received a response yet. The investigation file is also marked 'confidential,' so we do not know what it contains."
Opposition MP Tuma Çelik of the Peoples' Democratic Party (HDP) submitted a motion on behalf of Yeloğlu to Justice Minister Gül, which said, in part:
"Is it true that Yeloğlu is exposed to torture and mistreatment? Has the ministry started an investigation into these allegations? Will authorities provide a response to his lawyer's request to place him in a hospital due to his deteriorating health? What are the legal grounds for having kept him in solitary confinement?"
Gül has yet to respond.
Yeloğlu is one of many prisoners and other detainees accused of having ties to organizations, such as the Kurdistan Workers' Party (PKK), and what the Turkish government now calls "Fethullahist Terrorist Organization (FETO)," followers of the US-based Muslim cleric, Fethullah Gülen, whom Erdoğan accuses of having orchestrated the failed military coup attempt in July 2016.
According to a 2017 report by Human Rights Watch (HRW):
"People in Turkey accused of links with terrorism or with the 2016 military coup attempt have been tortured in police custody, while others have been abducted, amidst growing evidence of detention abuses.

"Several lawyers told Human Rights Watch that their clients told them of torture or showed them physical evidence. But they said that many victims are afraid to complain, fearing reprisals against their family members. In one case Human Rights Watch documented, the former head of a preschool told a court at length at his trial in February that police had beaten and threatened him with sexual assault and rape to make him 'confess' his involvement with 'FETÖ.' Six other men on trial with him made similar assertions."
Although such prisoners or detainees are accused of terrorism-related offenses, the United Nations Human Rights Committee expressed concern as early as 2012 that several provisions of the Turkish Anti-terrorism Law are incompatible with the International Covenant on Civil and Political Rights, citing:
"(a) the vagueness of the definition of a terrorist act; (b) the far-reaching restrictions imposed on the right to due process; (c) the high number of cases in which human rights defenders, lawyers, journalists and even children are charged under the Anti-Terrorism Law for the free expression of their opinions and ideas, in particular in the context of non-violent discussions of the Kurdish issue."
In November 2017, the Diyarbakır Bar Association released a report on human rights violations at prisons in Elazığ and Şanlıurfa, according to which, among other things, "female prisoners are exposed to violence, including sexual violence, and child prisoners are battered. A transsexual prisoner was sexually assaulted by wardens."
Attorney Öykü Çakmak, a member of the Prison Watch Commission, said that the most fundamental rights violations at prisons included "physical and psychological pressures, sexual violence, mistreatment and torture." In addition, she added:
"The prisoners' right to health is restricted. Cameras are placed in common use areas in rooms. Warm water is not regularly provided. Disciplinary punishments, which are more severe than those specified in the rules and regulations, are arbitrarily imposed on the prisoners. Prisoners are forcibly frisked naked before they are taken to other prisons, hospitals or courts. They are handcuffed during their treatment at hospitals. Bans on their communication with their families and visitors are commonplace, and their access to books, magazines and newspapers is often precluded."
In the Diyarbakır Bar Association's February 2018 report on human rights violations at a prison in Elazığ that "a special team of wardens was formed for torturing prisoners."
Another member of the Prison Watch Commission, Attorney Önder Alçiçek, said:
"The prisoners are battered and tortured when they refuse to stand single file, as if in a military formation. A special team of wardens beats the prisoners, insults and threatens them with death and rips up their possessions. The prisoners said they have no security and are not allowed to go to the prison's hospital to receive medical attention."
Alçiçek added that all the prisoners that members of the Commission saw had signs of beatings on their bodies.
Meanwhile, Barış Yarkadaş, an MP from the opposition Republican People's Party (CHP), presented a parliamentary motion to Justice Minister Gül, stating:
"On February 26, 2018, at Tekirdağ T-type prison, about 50 wardens laid five prisoners on the floor and tied their hands and feet. One was then taken to a 'sponge room' [cells named for the yellow foam that pads their interiors] and was kept waiting there with his hands tied. His hands and feet started getting numb and he felt pain on his head because he was kicked in the head. He was taken out of the room after an hour and a half."
Yarkadas added that many other prisoners suffered similar fates. "Torture has become systematic," he said. "It is not isolated."
The speaker of Turkey's Grand National Assembly (parliament), İsmail Kahraman, rejected Yarkadaş's motion, however, claiming that it "contained personal opinions and the questions in it concerned private lives."
Yarkadas then said:
"This answer means that they [members of the government] are protecting and encouraging torturers instead of confronting them. Kahraman rejects all motions regarding torture and mistreatment. He does not want to document any of the torture experienced under AKP rule. He thinks he can hide facts by covering up torture. But the reality of torture is crystal clear and continues to hurt people."
According to a report on the news website Haberdar, university and high school students have been similarly treated. There are currently around 70,000 students in Turkish prisons, and many of them do not even know what they are accused of, since their lawyers are not allowed to see their indictments.
The mother of one such youth told the newspaper Evrensel that her 18-year-old son, who has been in jail for eight months, was tortured in rooms where there are no security cameras. She said that in August 2017, a group of 30-40 wardens attacked her son and two other boys at Maltepe prison in Istanbul. "My son passed out due to the beatings," she said. "When he woke up, he noticed he was handcuffed behind the back. He showed me the bruises all over his body; he had difficulty raising his right arm; he said he was hit hard on his ear; and he had pain in his ribs."
She also said that she was not allowed to exchange letters with her son and that it is hard to obtain information about his and other prisoners' health. Meanwhile, she added, although her son has appeared in court three times over the past eight months, nobody has been able to provide a convincing explanation as to why he is in jail.
Another mother, two of whose children are in prison, told Evrensel:
"We cannot see prosecutors. They tell us the case files were classified as confidential. The wardens act as if we are criminals. They say, 'If your kids are good, why are they here?' They often impose bans on visiting our children..."
On March 2, the opposition Peoples' Democratic Party (HDP) issued an "urgent call" about Turkish prisons, which it claims "have evolved into torture centers," and reported that charges of "terrorism" by the government are lodged at "almost any dissident voice -- politicians, members of parliament, mayors, activists, human rights advocates, trade unionists, journalists, intellectuals, academics and the like." The HDP report stated, in part:
"In February 2018, alarming news about the torture of prisoners have come from many prisons across the country. In some prisons torture and ill treatment have peaked and become routinized... Prisoners are physically abused on a regular basis. Prisoners are beaten up and sometimes killed, when they refuse to roll-call standing up, give military salute, reject strip searches, or ask to see a doctor.

"The most recent dreadful death was that of Ulaş Yurdakul, a Kurdish man who was sleeping on a mat under the stairs due to lack of space. Prisoners and prison guards beat him up regularly. Eventually, he was beaten to death."
The report also decried the government's recent decision to impose uniforms on prisoners charged with terrorism, claiming that if this is implemented, "it is most likely that Turkey's prisons will become extremely tense spaces of violence, torture and death. Political prisoners have expressed strong commitment to resisting this decision."
The HDP's "urgent call" was addressed to "the international institutions, including the United Nations, the European Parliament, the European Commission and their rapporteurs on torture and human rights; the political parties from the world; and embassies to urgently take action against alarming levels of torture and ill treatment in Turkish prisons."
For the sake of the victims of torture and abuse in Turkish jails and prisons, let us hope that those institutions heed this desperate appeal and hold the Erdoğan government accountable.
Uzay Bulut, a journalist from Turkey, is a Distinguished Senior Fellow at Gatestone Institute. She is currently based in Washington D.C.