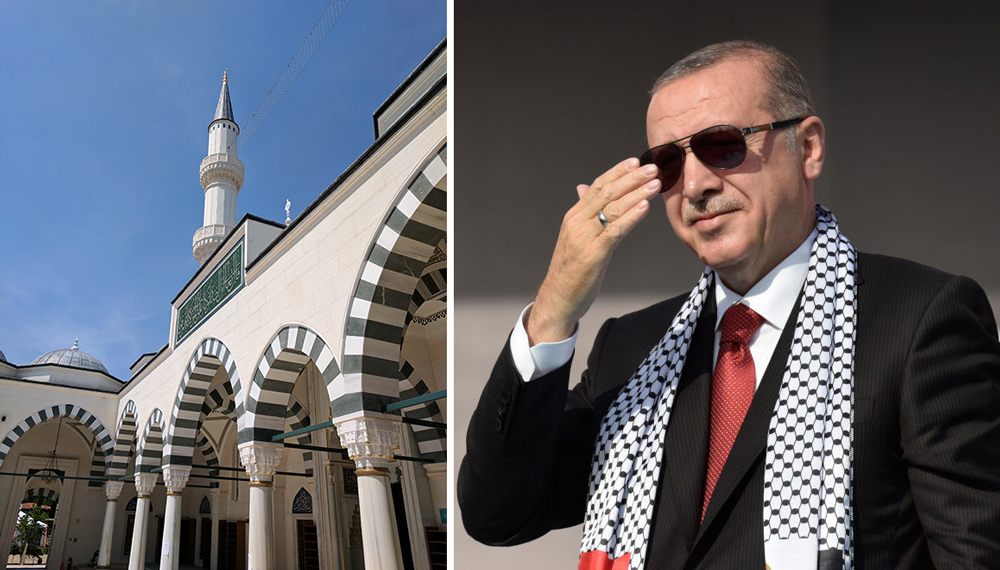 If Turkish President Recep Tayyip Erdogan's mosques in Europe, Africa, Australia and Asia are being used as a conduit to spy on Turkish nationals who possibly oppose his rule, is it not safe to assume that similar activity has been going on in the United States, for example, at the $110 million Diyanet Center of America mosque complex (pictured at left) near Washington, D.C.? (Image sources: Diyanet Center - DBull360/Wikimedia Commons; Erdogan - Getty Images)
According to Turkish media reports, the Turkish government's Directorate of Religious Affairs (Diyanet) gathered intelligence via its imams and other employees in 38 countries on the activities of Turks suspected of supporting the US-based Turkish Islamic cleric Fethullah Gülen, whom Turkey's government accuses of organizing a failed coup attempt in July 2016. Diyanet reportedly requested from its branches abroad to submit their findings in time for the 9th Eurasia Islamic Council, which took place in October 2016. These findings were then reportedly submitted to the "Coup Commission" of the Turkish parliament (TBMM).
The findings included photos of the people who were being spied on by mosque employees hired by Diyanet and detailed information on the schools, companies, associations, foundations and media outlets allegedly linked to the Gülen movement, which the Turkish government has since labeled the "Fethullahist Terrorist Organization" (FETO).
According to the newspaper Hurriyet,
"The Diyanet said it gathered intelligence and prepared reports on Gülenists in Abkhazia, Germany (three reports from Dusseldorf, Cologne and Munich), Albania, Australia (two reports from Melbourne and Sydney), Austria (two reports from Salzburg and Vienna), Azerbaijan, Belarus, Belgium, Bosnia and Herzegovina, Bulgaria (two reports from Plovdiv and Sofia), Denmark, Estonia, Finland, Georgia, the Netherlands, the United Kingdom, Sweden, Switzerland, Italy, Japan, Montenegro, Kazakhstan, Kenya, Kyrgyzstan, Kosovo, Lithuania, Macedonia, Mongolia, Mauritania, Nigeria, Norway, Poland, Romania, Saudi Arabia, Tajikistan, Tanzania, Turkmenistan and Ukraine."
During a recent three-day state visit to Germany to discuss ways to "develop trade and economic investments... and how to effectively struggle against racism, xenophobia, and Islamophobia," Turkish President Recep Tayyip Erdogan attended the inauguration ceremony of the Cologne Central Mosque, established by the Turkish-Islamic Union for Religious Affairs (DiTiB).
DiTiB, the largest umbrella organization of mosques in Germany, provides the financing and imams for the Cologne Central Mosque. It is also linked to the Turkish government's Diyanet.
DiTiB has been at the center of multiple scandals, such as its refusal to attend an "anti-terrorism march" in Cologne; its calls on worshippers to pray for a Turkish military victory against Kurds in northern Syria; its staging of a military re-enactment involving Turkish flags and fake guns handed to child "martyrs;" and its own admission that some of its imams were spying for the Turkish government.
In the two years since this spying was made public, the German government has been paying closer attention to DiTiB activities, going as far as to detain a number of imams. According to a February 2017 report by the German international broadcaster Deutsche Welle (DW):
DITIB says it only provides religious and cultural services and does not conduct political activities. Green [Party] politician Volker Beck, who filed a criminal complaint in December, said DITIB's claims of innocence do not add up.

"Diyanet, religious attachés at consulates and the local DITIB associations are an entity which normally executes the political orders of Ankara concerning religion. But at the same time this is an entity that is capable of acting as a secret service," he told DW.

He said people mentioned in the report have become victims of ongoing purges in Turkey, with some relatives of those informed upon being questioned in Turkey and people's bank accounts frozen.

The Turkish state's collection of information on Gulen activities has likely occurred "all over the world," Beck said.
As a result, the German government said in January 2018 that it would not approve funding for the DiTiB -- which has received about €6 million ($6.9 million) since 2012 for counter-extremism programs and for aiding refugees.
A week before Erdogan arrived for his state visit in Germany last month, Germany's domestic intelligence agency, the Federal Office for the Protection of the Constitution (BfV), began to examine the possibility of putting DiTiB under surveillance.
Sevim Dagdelen, the deputy parliamentary head of the Left Party, said:
"The federal government and the federal states must stop cooperation at all levels with Erdogan's outpost in Germany. It must be examined whether the preferential tax treatment of the association can be further justified. DITIB is not charitable, but a danger to the public."
Germany is not the only country to express growing concern over Turkish operations within its borders and beyond, however. Peter Pilz, then an Austrian member of parliament, last year accused Turkey of spying on suspected Gülen supporters in Austria, via ATIB, an umbrella organization headed by the religion attaché at the Turkish Embassy in Vienna, which oversees dozens of mosques in the country. According to Reuters, Pilz said:
"The ATIB umbrella group is an instrument of hard, ruthless and...legally unacceptable Turkish government politics in Austria, [which]... also monitors Turkish Kurds, Turkish opposition politicians and journalists in Austria."
Subsequently, Pilz revealed that he had received documents from a Turkish source indicating the existence of "a global network of informants" -- spanning four continents -- reporting to Turkey's Diyanet on alleged Gülenists. In most cases, these informants were religion attachés at embassies and consulates.
In 2016, the Diyanet Center of America (DCA) completed the construction of a $110 million mosque complex in Lanham, Maryland. According to the DCA website, "The result is a small village that will be an important cultural hub for all visitors and residents of Washington DC area." Here, too, Erdogan inaugurated the complex, one of many Diyanet-affiliated mosques in North America.
The Trump administration should take notice and be on guard. If Erdogan's mosques in Europe, Africa, Australia and Asia are being used as a conduit to spy on Turkish nationals who possibly oppose his rule, is it not safe to assume that similar activity has been going on in the United States?
Uzay Bulut, a journalist from Turkey, is a Distinguished Senior Fellow at Gatestone Institute. She is currently based in Washington D.C.