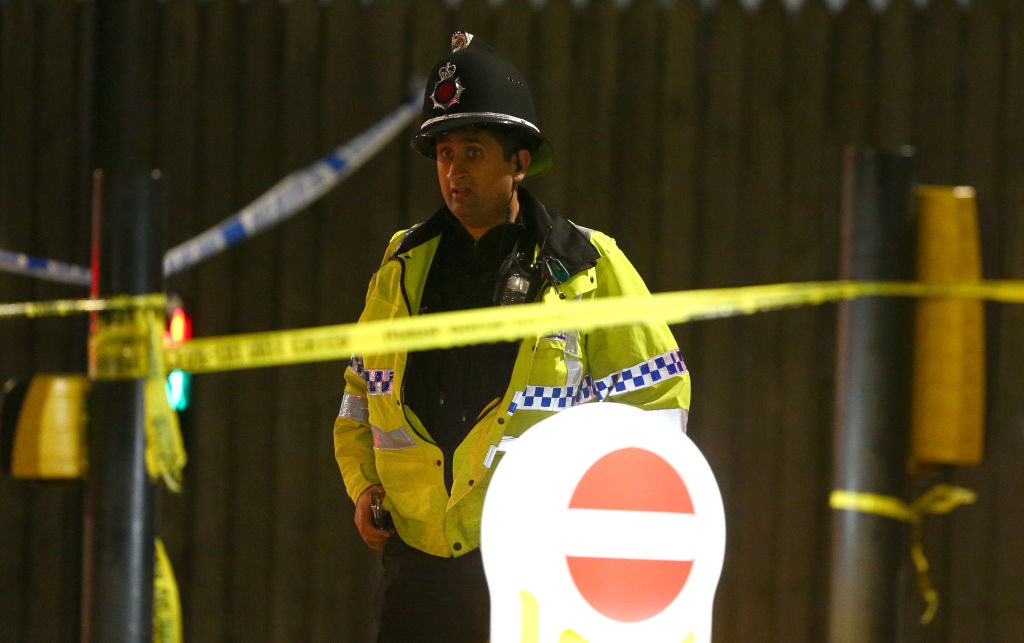 Pictured: A police officer stands guard near the Manchester Arena on May 23, 2017, following a suicide bombing by Salman Abedi, who murdered 22 concert-goers. (Photo by Dave Thompson/Getty Images)
Britain's Independent Reviewer of Terrorism Legislation, Max Hill, recently recommended:
"...the Police should consider and reflect upon the community impact of a large-scale [terror] investigation, centering as it did on particular areas of Manchester with a large Muslim population... Good community policing, as well as good counter-terrorism policing, demands that real efforts are made to work within and with local communities, where many blameless residents will have been inconvenienced if not traumatised by the regular appearance of Police search and arrest teams on their street or in their home. I would like to see the outcome of Police reflections on this aspect..." [Emphasis added]
Hill's recommendation was published in his recent report on how the UK handles its counter-terrorism efforts. In the report, Hill examines police investigations of the major 2017 terrorist attacks; his recommendation was connected to the investigation into the terrorist attack in Manchester in May 2017, in which Salman Abedi murdered 22 people and injured 139, half of them children, at an Ariana Grande pop concert at the Manchester Arena.
The police, in other words, should consider making it a priority to work in a way so that their investigations of the murder and maiming of all these people will not "inconvenience" the community in which the suicide bomber lived.
Hill based his recommendation on talks he had previously had with various Muslim organizations across the UK about the impact of counter-terror legislation on their lives and the aftermath of the terrorist attacks in London and Manchester in 2017.
The talks with the Muslim organizations were recorded in the report, "Community Roundtables: A report on the aftermath of the terrorist attacks in London and Manchester" published by Forward Thinking's "Building Bridges" Program. This program, which "empowers grassroots communities," facilitates dialogue between UK Muslim communities and grassroots organizations, British authorities (local government, parliamentarians, policymakers), and the national media.
The "Community Roundtables" report described a meeting with representatives of the Libyan-Muslim community in Manchester -- from which Abedi emerged:
"Throughout the meeting, almost all participants articulated a profound sense of anger and frustration at the consequences of extensive police raids within the community and a perceived lack of support to deal with these consequences, including the fear of being ostracised and targeted by wider society... Individuals -- particularly children and teenagers -- who have been directly affected were said to have been left traumatised and humiliated, creating a sense of alienation that it was warned could have profoundly damaging consequences for the UK unless urgently addressed... Specific concerns were raised about the potential for a rise in Islamophobic attacks in the current context and it was hoped that the authorities would take such a threat seriously and offer increased support to communities."
No one, however, seems to be holding roundtable talks with non-Muslim communities across the UK to address their legitimate fears and concerns about religiously-motivated terrorism on their lives.
According to the National Society for the Prevention of Cruelty to Children (NSPCC) a leading UK children's charity, more than 300 counselling sessions were held by the organization with children after the terrorist attack at the Manchester Arena -- apparently four times as many sessions as usual. In addition, the organization received hundreds of calls from children after the Manchester attack. An 11-year-old who called the helpline said: "I constantly feel anxious... I am really worried that they will get someone in my family. I haven't been sleeping because it is all I can think about." Another caller, a 14-year-old girl, said: "I'm always on the edge when I leave the house and am always looking over my shoulder."
The number of children and young people seeking help from mental health services also rose after the Manchester attack, according to the Royal College of Psychiatrists (RCP). Hospitals across the Manchester region saw an estimated 10% increase in children seeking psychological help, which received hundreds more patients from June to July compared with previous months.
"Dr Louise Theodosiou, a consultant child and adolescent psychiatrist at Royal Manchester children's hospital and a member of the RCP, described the increase as significant and said the terror attack had a 'profound impact on the way the children view their city.'

"Just a small fraction of those treated had been at the concert; the majority of patients had felt increased anxiety after watching the events on the news. Anxiety and insomnia were the most common complaints, with children worrying about going out or being on public transport after the attacks."
A similar trend had been seen in London after the terrorist attacks there.
In March, an independent review, the purpose of which was to examine the quality of the emergency response to the Manchester bombing, found that many respondents did not know where to turn for support after the attack. Some suffered post-traumatic stress disorder, flashbacks, trauma and anxiety causing them to lose jobs and drop out of the educational system.
It is mystifying that the victims of terror had nowhere to turn: it has been more than a decade since the first mass terrorist attack in the UK, in 2005 on London's transit system, where 56 people were killed and 700 wounded. Since then, Britain has only seen the terror threat continue.
Perhaps the main reason that terror victims had nowhere to turn is that even after years of living with Islamic terrorism, British authorities and public services still appear to be more concerned with dealing with perceived "Islamophobia" than with the real, devastating consequences of terrorism.
If you do not even dare to link terrorism to its source, then surely neither can you prepare for it. You cannot even speak about the gravely detrimental effects that Islamic terrorism has on the well-being of children and others in general society, because Islamic terrorism is (officially) not even supposed to exist.
It is only in such a society -- where everything has been turned on its head, where the authorities cannot tell who are the victims and who are the people who may feel as if they are victims if someone asks them some questions -- that a terrorist investigation can be considered "an inconvenience."
As the saying goes about children in a playground: "It all started when he hit me back."
Judith Bergman, a columnist, lawyer and political analyst, is a Distinguished Senior Fellow at Gatestone Institute.