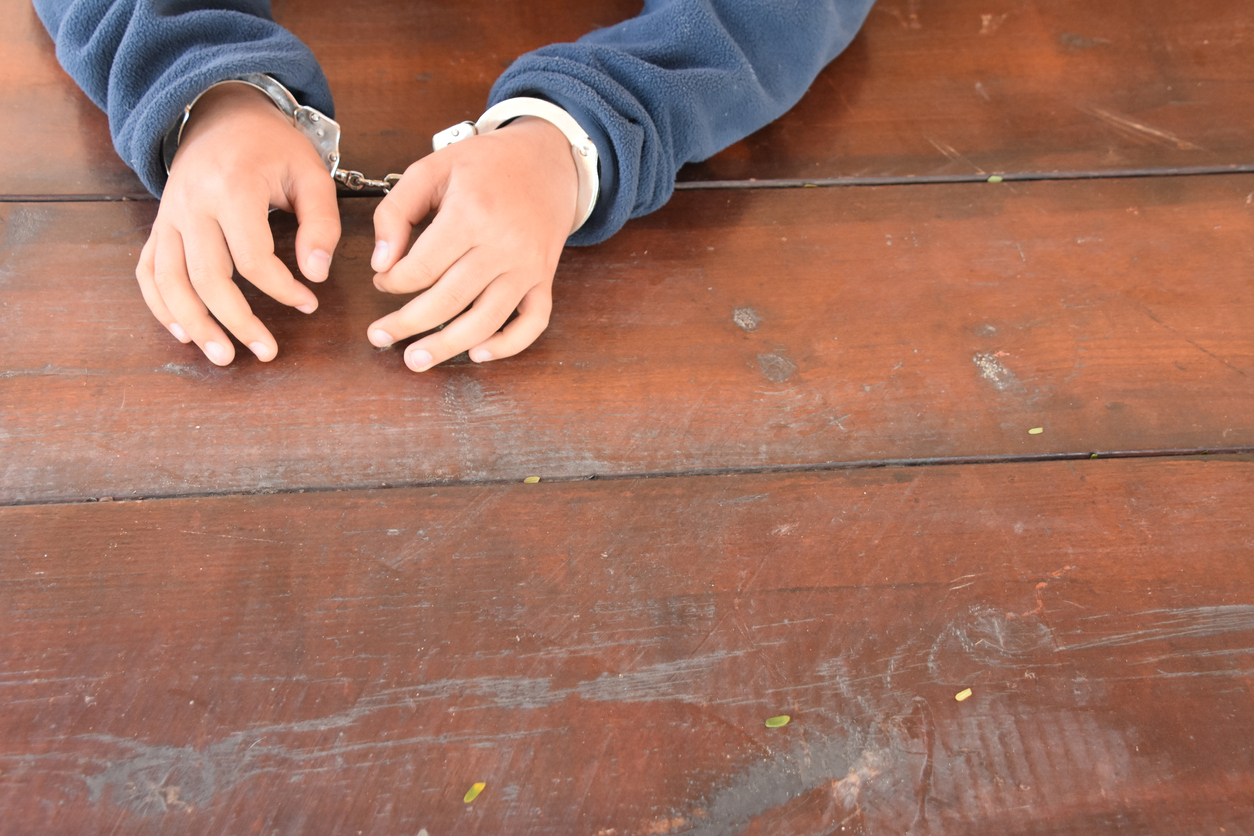 Self-proclaimed "humanitarian superpower" Sweden, with its pride in upholding "human rights," decided to take a 6-year old boy, who lost his mother, away from his grandparents and deport him to an orphanage in Ukraine. (Image is illustrative and does not represent the child in the article.)
In October, Sweden, which apparently likes to see itself as a "humanitarian superpower," decided to expel and deport a 6-year old boy to the Ukraine. The boy had been technically orphaned when his mother died and his father, who lives in the Ukraine, formally renounced custody of his child in a Ukrainian court. The boy, Denis, has no other relatives in the Ukraine and would therefore have to go straight to an orphanage.
In 2015, Denis's mother brought him from the Ukraine to Sweden -- where his mother's parents were already living. She applied for a residence permit for herself and her son, but it was rejected, for reasons apparently still undisclosed. News outlets do not seem to have been digging into why her original request was rejected. The Swedish Migration Agency (Migrationsverket) decided to deport Denis, even though he is living with his maternal grandparents, who have applied to adopt the child.
Denis "has not given probable cause that he will not be suitably taken care of upon [his] return to Ukraine" wrote the migration authority in its decision. They also mystifyingly referred to the decision as being "in the child's best interest".
That the boy is technically an orphan and that his grandparents, with whom he lives in Sweden, have begun adoption proceedings, is not enough to stop the deportation, said Karin Fährlin, unit head at Migrationsverket.
"This is a matter of... a boy who is a Ukrainian citizen, and then it is primarily family, or the father, or Ukrainian authorities who must answer for this child. That's the reason [for the deportation]", she said.
The decision to deport Denis, after it became known to the public in Sweden, caused an enormous scandal. More than 60,000 Swedes signed a protest against the deportation on Facebook and several celebrities and politicians expressed their revulsion over the decision. "His mother just died. He has no father. He is six years old and cannot stay with his grandparents in Sweden but will be deported to a Ukrainian orphanage. This is inhuman and disgusting," wrote one TV personality, Jessica Almenäs.
The pressure from the public evidently became too much. Officials at Migrationsverket temporarily stopped the deportation and admitted that they had made their decision "too quickly".
"There are several investigative measures that we should have taken," said Per Ek, Press Director at Migrationsverket. "That's what we will be working on now".
Wrong decisions are made by state authorities and government agencies all the time; what makes this decision different is that it was made by the migration authorities of Sweden, the Foreign Minister of which claims that the country is a "humanitarian superpower."
A self-proclaimed "humanitarian superpower" is not supposed to take 6-year-olds away from their grandparents and deport them to orphanages in Ukraine. Sweden takes such pride in upholding the "human rights" of all, that it refuses to deport the worst criminals and terrorists if there is the tiniest perceived risk that they might be harmed in the country to which they would be sent.
In contrast to the decision about deporting 6-year old Denis, the Swedish parliament, in June, passed a special law allowing a very large number of rejected asylum seekers to stay in Sweden, despite harsh criticism from the highest government agencies. The new law allowed 9,000 unaccompanied male "minors" from Afghanistan, whose asylum applications were rejected -- and who therefore should have been deported -- to acquire temporary residence permits in Sweden.
Approximately 7,000 of these "unaccompanied child migrants" reportedly turned out to be older than 18 and therefore were not even minors. The temporary permits would be given if the "minors" planned to attend high school or were already enrolled in one. Notably, even those among the 9,000 whose identities were unverified -- presumably, because they had no papers -- were allowed to stay.
So, in spite of sharp criticism from Sweden's highest government agencies, the Swedish government defied Swedish law to allow 9,000 rejected, mainly undocumented, Afghan men to study in high school alongside Swedish adolescents.
Both the police and the Swedish migration courts heavily criticized the legislation: it broke with Swedish law, which requires people who want to stay in Sweden to be able clearly to identify themselves. Lowering this requirement reduces the ability of the Swedish authorities to know who is living in the country.
The Swedish Council on Legislation (Lagrådet), a government agency consisting of current and former Supreme Court justices who deliberate on the legal validity of legislative proposals, reportedly pronounced its harshest critique ever about the measure. It wrote that, "the limit has been reached for what is acceptable in terms of how legislation can be formulated". This verdict, however, did not stop the Swedish parliament from passing the law anyway. Neither did the fact that a majority of Swedes -- 54% -- were against letting the 9,000 Afghans stay. According to the government, the cost to taxpayers of absorbing the 9,000 Afghan "minors" is estimated at more than SEK 2.9 billion (roughly $319 million) over the next three years.
Sweden then determined that a vulnerable 6-year old child who just lost his mother, and who is living with his grandparents and studying in a Swedish preschool must be deported. (At least until public outrage forced it to reexamine its decision.)
Unfortunately, the decision to deport Denis does not even appear to be a one-time error, but rather an indication of what seems a trend in Sweden of favoring certain immigrant groups over others.
As early as 2001, a news report by the newspaper Dagen showed that Christian asylum seekers had their applications rejected in Sweden far more frequently than Muslim asylum seekers. Out of all Christian refugees who had applied for asylum in Sweden in 2000, fewer than half (40%) were granted asylum. In the Muslim group, 75% of all applicants were granted asylum.
After the overthrow of Saddam Hussein in 2003, the persecution of Iraqi Christians by jihadists began to exponentially increase. Nevertheless, Sweden was rejecting and deporting Christian Iraqi asylum seekers back to Iraq in 2009: Of 25 Iraqi Christians whom Sweden deported in 2009, 24 fled from Iraq again, while one hid in Mosul, according to Sveriges Radio.
One Christian couple, who had fled Iraq in 2005 and lived in Sweden for four years, were forcibly deported back to Iraq in 2009. They then fled from Iraq to Turkey. "I loved Sweden and the Swedish people, but I will never forget how inhumanely the people who threw us out treated us. It was like a nightmare. Were they really Swedish?" the couple told Sveriges Radio.
At the time, Sveriges Radio also spoke to Nina Shea from the US Commission on International Religious Freedom, who said that an ethnic cleansing of Christians was ongoing and that it was enough just to be a Christian in Iraq to be considered under persecution. Human rights organizations at the time also said it was not safe to return Christians to Iraq: they were certain to be persecuted for their faith.
None of that, however, stopped the Swedish migration authorities from deporting Christians. The authorities said again that the Christians had "not given probable cause that there is an actual, predictable risk that they would personally be submitted to serious abuse" if they were to return to Iraq.
In 2014, the "humanitarian superpower" was deporting Christian minorities, such as Assyrians, to Iraq, where ISIS had appeared on the scene with its ruthless campaign of ethnic cleansing of all religious minorities with rape, torture, enslavement and murder. However, that did not impress the "humanitarian superpower". In one of several decisions to deport Assyrian Christians to Iraq, the Swedish migration authorities wrote
"Because of IS's [Islamic State's] activities in the North, fighting has decreased in Bagdad. There are, however, terrorist attacks and shootings in Baghdad... The Migration Authority finds that you have not given probable cause that your fear of being seriously abused is justified... You are therefore not seen as... needing protection..."
In July 2017, Swedish migration authorities decided that an Iranian actress, Aideen Strandsson, who had secretly converted to Christianity in Iran before coming to Sweden in 2014 on a work visa, should be deported back to Iran, even though in Iran, she could face prison -- with the accompanying rape and torture common in Iranian prisons -- and, as apostasy in Iran is subject to the death penalty, also possibly death. At Strandsson's hearing, a Swedish migration official reportedly told her it would not be as bad for her in Iran as she expected because it "would only be six months in prison". Swedish officials also reportedly told her that converting to Christianity was her decision, so now the consequences of that decision were her problem, not theirs.
Swedish police have a backlog, so mercifully it could take considerable time before Strandsson is deported. As of August 2018, Strandsson still did not know the date of her impending deportation.
There are an estimated 8,000 Christians under deportation orders hiding in Sweden, according to Swedish Attorney Gabriel Donner, who has assisted an estimated 1,000 Christian asylum-seekers facing deportation.
According to Donner, migration officials do not understand why someone would become a Christian:
"This is most apparent when they come to the question when a convert says I converted because of the love I have received from Jesus Christ. And they almost mockingly ask the convert, what do you mean by love? It's just completely alien to them."
Additionally, in January 2018, the UN Committee Against Torture (CAT) stopped Sweden from deporting a former Muslim, Abdul Malik, to Pakistan. Having arrived in Sweden in 2012 from Baluchistan (a region in Pakistan), he converted to Christianity in 2015, was baptized and worked on Bible translations. Despite all this, the Swedish authorities did not believe that his conversion was genuine and in 2017 decided to deport him. In Pakistan, he was at risk of torture and arrest, not only for his political activities on behalf of Baluchistan, but also for converting to Christianity.
As it turns out, Sweden does not seem to be such a "humanitarian superpower" after all.
John Richardson is a researcher based in the United States.