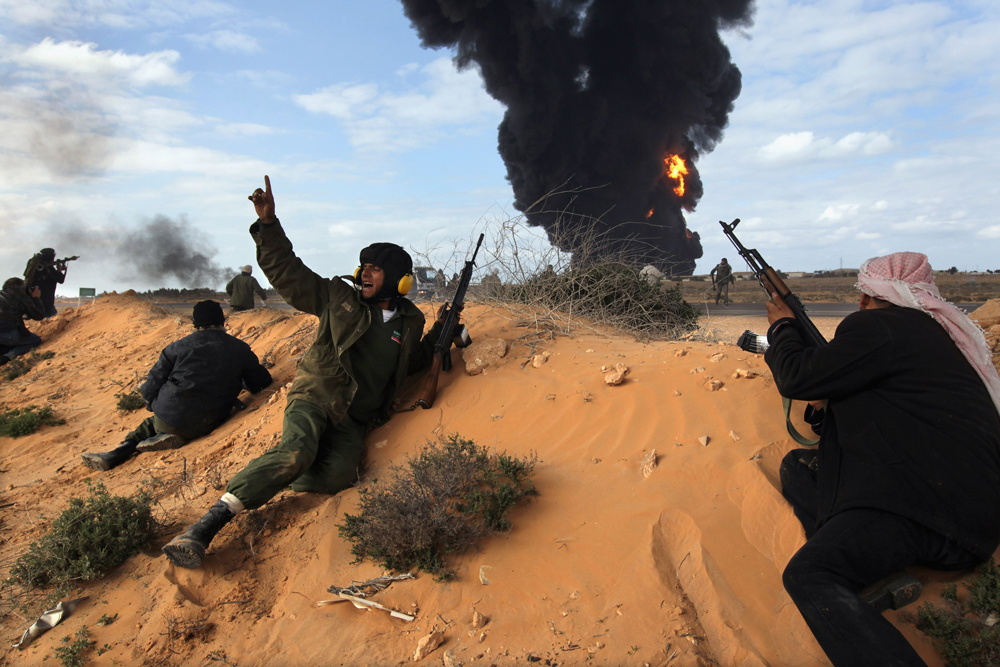 Libya has been in turmoil since 2011, when an armed revolt during the "Arab Spring" led to the ouster and death of dictator Muammar Gaddafi. Pictured: Anti-Gaddafi rebels take positions while fighting government troops on March 9, 2011 near Ras Lanuf, Libya. (Photo by John Moore/Getty Images)
Turkey was miffed. A Turkish delegation, including Vice President Fuat Oktay, stormed out of a recent two-day international conference in Palermo, Italy, held to deal with the crisis in Libya, on the grounds that it was not included in an unofficial meeting.
Claiming that Turkey was purposely being "excluded" from the meeting between eastern Libyan military officer Khalifa Haftar and other conference participants, Oktay released the following written statement:
"Unfortunately, the international community has not acted as one body today. Through a last-minute fait accompli, some people exploited the Italian hosting and intervened in the process one-sidedly...

"Unlike others, we are open to wider dialogue with all Libyan and regional actors...It is impossible for conferences like these to contribute to the process without Turkey's participation..."
Libya has been in turmoil since 2011, when an armed revolt during the "Arab Spring" led to the ouster and death of dictator Muammar Gaddafi. The Colonel, as Gaddafi was called, ruled the "Socialist People's Libyan Arab Jamahiriya" for 42 years after a 1969 military coup that overthrew King Idris I.
Political power in the country, the current population of which is around 6.5 million, has been split between two rival governments. The western regions of the country, led by Prime Minister Fayez al Sarraj, have been governed by the UN-backed Government of National Accord (GNA), created in 2015 and based in Tripoli. The Tobruk-based government, led by Haftar, is in control of eastern territories.
According to "A Quick Guide to Libya's Main Players" released by the European Council on Foreign Relations:
"In Libya there are very few truly national actors. The vast majority are local players, some of whom are relevant at the national level while representing the interests of their region, or in most cases, their city. Many important actors, particularly outside of the largest cities, also have tribal allegiances...

"Several types of actor scramble for power in today's Libya: armed groups; 'city-states', particularly in western and southern Libya; and tribes, which are particularly relevant in eastern and southern Libya...

"Turkish companies have, according to the UN panel of experts, delivered weapons to one side (the defunct Libya Dawn coalition) and Qatar has maintained links with one Libyan politician and former jihadist – Abdelhakim Belhadj – since 2011. Yet none of the major Libyan actors respond to input from Ankara or Doha the way that Tobruk aligns itself with Cairo's policies."
In February 2015, Reuters reported that then Libyan Prime Minister Abdullah al-Thinni "said his government would stop dealing with Turkey because it was sending weapons to a rival group in Tripoli, so that 'the Libyan people kill each other.'"
In October 2017, Libya's attorney general issued arrest warrants for and imposed travel bans on 826 suspected terrorists, most of whom lived in Turkey and Qatar. In June 2017, the Libyan Army spokesman, General Ahmed al-Mesmari, described Turkey, Qatar and Sudan as "the triad of terrorism in Libya."
In an analysis for the Arab Center Washington DC think tank in December 2017, the scholar Mustafa Gurbuz wrote:
"Turkey has long been at odds with the HoR, popularly known as the Tobruk government. Ankara supported the General National Congress (GNC), which was dominated by Muslim Brotherhood-affiliated parties -- the Justice and Construction Party and Loyalty to the Martyrs Bloc... [Haftar] has gained legitimacy in the eyes of western powers as his militia forces crushed the al-Qaeda-linked Ansar al-Sharia and other Islamist militants in eastern Libya. Moreover, his war on the Muslim Brotherhood-affiliated Libya Dawn coalition attracted armed support from Sisi's Egypt... The Turkish government believes that Haftar's controversial past -- as Qadhafi's general and later his archenemy supported by the CIA -- is a serious impediment for Libya's Islamic-leaning constituency to accept him..."
In a recent article, Dr. Mordechai Kedar and Dr. Dan Gottlieb concluded:
"The state is divided, and there are no prospects of a solution in the foreseeable future.

"The chaotic situation enables the emergence of enclaves of terror, inspired by the ideology of ISIS and al-Qaeda. The world should make sure that Libya does not turn into another pre-2001 Afghanistan-like state on the doorstep of Europe.

"Since there is almost no power on the ground in Libya with which the EU can come to an agreement to stop the influx of illegal migrants from the sub-Saharan states through Libya to Europe, this migration route will probably continue to be a gateway for many more thousands of Africans into Europe. The consequences for the EU are complex and difficult.

"The question that Europe, the US, Canada, and the UN should deal with is this: in what situation will the world intervene in Libya once again to contain the domestic chaos before it spills out to other parts of the world? The sooner this question is answered, the better."
Italy's international conference appears to have been an attempt to do just that.
The West's bearing responsibility for the problems in Muslim states such as Libya, however, is short-sighted. Islamic jihadism arrived in Libya and the rest of North Africa in the 7th century, at the time of the Christian Byzantine Empire, and has largely remained there ever since. Chronic violence, brutal repression of dissidents and the persecution of non-Muslims and non-Arab natives have been part of the regional landscape there since then, and continue to this day.
Although some analysts romanticize Gaddafi's rule, and place sole blame for the current mess in Libya on US foreign policy, Gaddafi was no "moderate."
As the Middle East Media Research Institute (MEMRI) reported in 2010, Gaddafi "called to wage Jihad against Switzerland and called upon Muslims to boycott Swiss products, airlines, shipping companies, and embassies, [stating] 'If Switzerland were situated on our border, we would fight it."
To a certain extent, Gaddafi practiced what he preached. According to the History Channel:
"During the 1970s and '80s, Qaddafi's government financed a wide variety of Muslim and anti-U.S. and anti-British terrorist groups worldwide, from Palestinian guerrillas and Philippine Muslim rebels to the Irish Republican Army and the Black Panthers. In response, the U.S. imposed sanctions against Libya, and relations between the two nations steadily deteriorated. In 1981, Libya fired at a U.S. aircraft that passed into the Gulf of Sidra, which Qaddafi had claimed in 1973 as Libyan territorial waters. That year, the U.S. uncovered evidence of Libyan-sponsored terrorist plots against the United States, including planned assassination attempts against U.S. officials and the bombing of a U.S. embassy-sponsored dance in Khartoum, Sudan."
The current turmoil in Libya, then, appears also to be the result of the decades-long pro-jihadist legacy of Gaddafi. The question nevertheless remains as to what can be done to counteract it today.
The West's interests lie with the actors of stability, such as Egypt's President Abdel Fattah el-Sisi. As Giuseppe Dentice -- a research fellow at Italy's Institute for International Political Studies (ISPI) -- explained:
"...The main objective of the Egyptian involvement in Libya is the containment of Islamist and Jihadist militias in the Sinai Peninsula to avoid their spread along the Western Desert. Moreover, these actions are aimed to eradicate a deeper proliferation of illicit traffics (illegal immigration, arms and drugs smuggling) through Libya to Egypt and vice versa."
The forging of alliances among the key players in the Mediterranean -- such as Italy, Greece, Cyprus, Egypt, Israel and the Balkan states -- is equally crucial in the endeavor to stabilize Libya.
If Turkish President Recep Tayyip Erdoğan's policies ever change, Turkey could become a member of this alliance. Ankara's questionable ties with the violent Islamist forces in Libya, however -- and its sudden withdrawal from the international conference on the Libyan crisis -- demonstrate that Turkey currently has little, if anything, to contribute to stabilization.
Uzay Bulut, a Turkish journalist, is a Distinguished Senior Fellow at Gatestone Institute. She is currently based in Washington D.C.