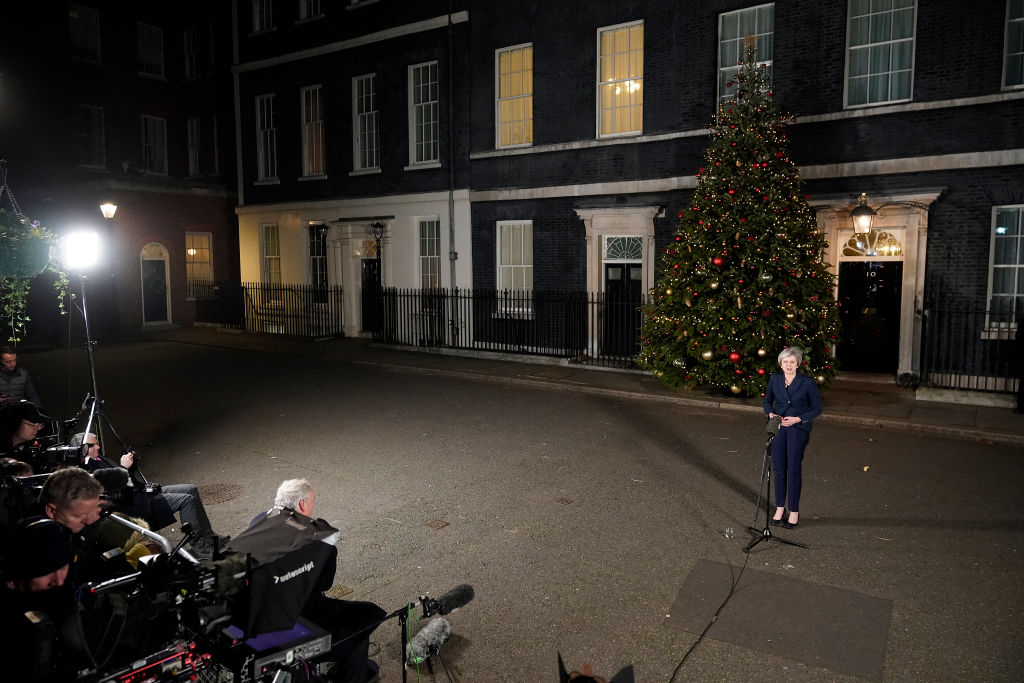 British Prime Minister Theresa May gives a speech in London after surviving a vote of no confidence in her Conservative Party on December 12, 2018. (Photo by Christopher Furlong/Getty Images)
Theresa May has survived a no confidence vote in her Conservative Party. She says she now has a renewed mission; "delivering the Brexit people voted for, bringing the country back together and building a country that works for everyone".
Whether she has any troops willing to follow her charge is unclear.
Just 200 Conservative MPs voted for her to stay on as leader of the party; 117 voted against. Many of those who voted for her said they will vote down her Brexit deal nonetheless.
As a result of this challenge, MPs cannot call another vote of no confidence for 12 months, meaning that Theresa May will be the woman to succeed or fail in taking Britain out of the European Union.
Many questions are still unanswered by this vote. If Parliament looks set to vote down her deal -- especially with so many in her own party apparently planning voting against her -- where on earth will Brexit go from here??
To trigger a confidence vote, 15% of Conservative MPs must submit letters of no confidence to the Chairman of the 1922 Committee, the parliamentary group of the Conservative Party in the UK House of Commons.
Once at least 48 letters were received, Sir Graham Brady, the Chairman of the 1922 Committee alerted May that there would be a vote of confidence in her continuing as party leader. May was determined to contest this vote as soon as possible. So it was scheduled for 6pm Wednesday. The process is ruthless. As a result, on the streets of the U.K., there is a great deal of sympathy for Theresa May
Abby Handbridge, a trader at Chapel Market in north London, said, "I feel really sorry for Theresa May. She's being battered by everybody and Boris Johnson has just come out with a haircut and weight loss so we know what he is looking for."
Some suggested that she might resign at the news of the vote, in exasperation as much as anything else.
Doubters, however, were surprised. Theresa May, in fighting form, bowled out of Number Ten to address the press. "I will contest that vote with everything I've got", she said. She then defiantly restated her priorities: "delivering the Brexit people voted for... And I stand ready to finish the job".
Her win, nevertheless, was not without a huge concession to Conservative MPs. She promised that she will not lead the party into the next election in 2022.
The key message, according to deputy Tory chairman James Cleverly, was that it would be "a very, very bad time to replace the prime minister". Or it might have more like: I know you don't want me, but you need me for now. Not quite the "strong and stable" leadership she promised in her election campaign in 2017.
Winning this vote has been positive in one sense for the Prime Minister. The Leave rebels who mounted this failed coup against her are now on the back foot; arguably, she no longer needs to placate them with her deal.
In addition, her dogged determination seems widely admired. She has proved to be a remarkably hard to get rid of, like some sort of ailment. Which of us could withstand the same?
Critics say she had to win by a decent margin to have any authority, yet a huge 37% of her own party are against her. She is fatally wounded. What authority is wielded by a Prime Minister surviving a no confidence vote in her own party by a narrow margin?
Ardent Brexiteers are increasingly despondent. Many had hoped for a vote of no confidence in Theresa May with a strong Leave-supporting leader installed in her place, prepared to take the United Kingdom out of the untransparent, unaccountable and unable-to-be-voted-out EU.
Instead, Theresa May's "deal" not to leave the EU makes the UK a vassal state, locked into the EU but without a voice. Leave voters did not vote for a "deal". They voted to take back the Britain's sovereignty.
At present, Britain remains perched at the edge of a cliff and unsure how it will make a descent or in which direction. Will she leave the EU with no deal, or go for a hideous climb down from Brexit: an extension of Article 50 -- which says that by law Britain will leave the EU on March 29, 2019 -- and the likelihood of a second referendum?
By defeating the Brexit rebels in the vote of confidence, there is a real possibility she will now return to parliament with a deal that is even more pleasing to the Remain side. Otherwise, if her deal fails to pass through the Commons, it is possible she will allow Parliament to vote: either to keep Britain in the EU, or to leave the EU with no deal.
MPs will be torn. The establishment does not want a no-deal Brexit. They have fought it for over two years. But their constituents -- the people who voted them to be their voice in Parliament -- do. 70% of Conservative constituencies and 60% of Labour constituencies voted Leave.
Politicians voting to remain in the EU would be doing it in flamboyant disregard of the will of the people -- the very people they need to be re-elected.
Theresa May has said there will not be a second referendum whilst she is leader of the party. Recent history nevertheless suggests her words are cheap. Five times in 2016 and 2017 she said there would not be a general election -- before calling one just three months later in June 2018.
Theresa May says she has a renewed mission -- to deliver Brexit and bring the country back together. She may have won the battle, but she seems doomed to lose the war.
David Brown is based in the United Kingdom.