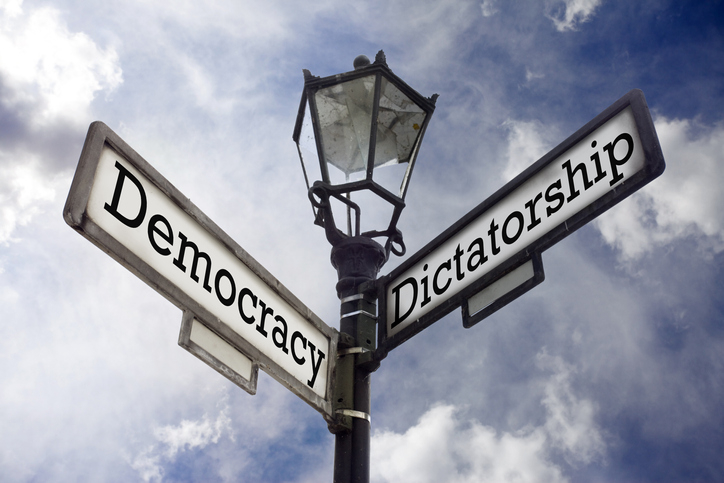 (Image source: iStock)
During a recent interview, Ambassador Ron Dermer, Israel's Ambassador to the United States, suggested that a "League of Democracies" would help freedom-loving states survive the challenge to democratic values presented by authoritarian states and extremist ideologies.
According to Dermer, the league could be made up of a consortium of "Free World" nations unlimited by territorial region, race or culture. The alliance could be global in scope, not confined, as is NATO to a North Atlantic community of nation-states. Nor would the league be exclusively military in nature. Dermer proffered that it could include India, the world's most populous democracy; Israel, the Middle East's only democracy, and Japan, an Asian democracy.
Such a league might also serve as a vehicle to increase the numbers of democracies in the world: a League of Democracies could have as its overriding objective the expansion of democracy throughout the planet. This goal was previously suggested by Dermer and the former Soviet dissident Natan Sharansky in their book, The Case for Democracy: The Power of Freedom to Overcome Tyranny and Terror. In it, the authors underscore this sentiment by quoting from former British Prime Minister Tony Blair's address to a Joint Session of the United States Congress in 2003:
"Ours are not western values. They are the universal values of the human spirit. Anywhere and anytime, ordinary people when given the choice, the choice is the same: freedom not tyranny, democracy, not dictatorship, the rule of law, not the rule of the secret police."
Advocates for a League of Democracies might feel inclined to propose a prerequisite for league membership candidacy. Its defining requirement could be a constitution embracing the inalienability of human rights and a tradition of law and policy that protects these rights.
Perhaps, also non-democratic states that appear to be evolving toward establishing a democracy -- such as Indonesia, Ethiopia, and Tunisia -- could eventually be admitted. Conditional admission to the League could rest on the voting judgment of existing League members. Moreover, if these states fail to make continued progress toward democracy, states could be expelled from the League.
Membership in it might act as an incentive for borderline states to travel even more forcefully toward a path to democratization.
Democratic societies such as Taiwan and the Republic of Korea, both overshadowed by the People's Republic of China, might seek League membership. Admission might guarantee a protective shield for these nations against aggression by a militarily-superior China. Such a guarantee would be part of a NATO-like Article V, that an attack on one member will be viewed as an attack upon all, thus serving as a deterrent to aggression.
Further, recently-established democracies in Eastern Europe and the Baltic region might likely lend vigor to a League of Democracies after having been so long denied freedom and sovereignty by the Soviet Union. Appropriate countries in South America might also qualify and seek to join. A League of Democracies might also serve as an institutional counterweight to the 57-member Organisation of Islamic Cooperation, headquartered in Saudi Arabia, and as a worthy competitor to the Chinese model of sacrificing political freedom and human rights for economic gain and domestic determinability.
Just as significant as countering China, the League could buttress the world's most populous democracy, India, in its struggle to raise economic and social standards, thereby increasing its political stability.
In addition, a League of Democracies could have the potential to tackle transnational problems such as illicit human- and drug-trafficking, transcontinental criminal syndicates and terrorist organizations, as well as being able to help preserve freedom of speech and human rights.
The egalitarian energy generated by such a consortium of democracies could have the beneficent effect of extending equality under law to ethnic, religious and social minorities in the League's member states, and offer hope to the world's oppressed people now ruled by tyrants and other autocrats.
Dr. Lawrence A. Franklin was the Iran Desk Officer for Secretary of Defense Rumsfeld. He also served on active duty with the U.S. Army and as a Colonel in the Air Force Reserve. He is also a practicing Catholic.