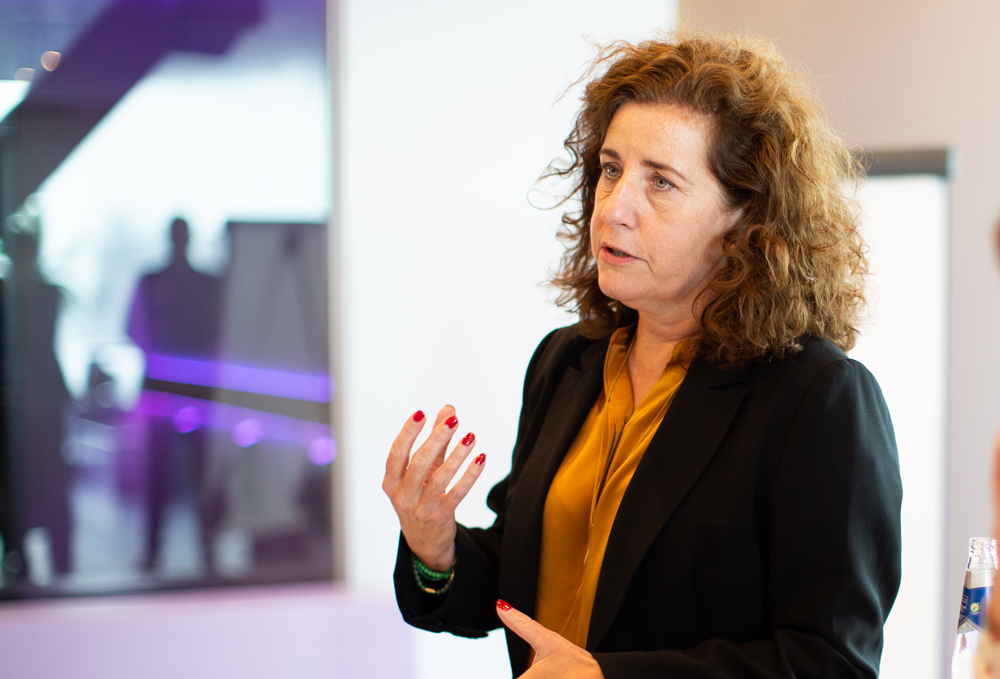 Dutch Education Minister Ingrid van Engelshoven (pictured) called the statements of Ahmet Akgündüz, former rector of the Islamic University of Europe, "horrifying", and said that a special committee will be formed to investigate his remarks and that, if necessary, the accreditation of the school will be revoked. (Image source: Sebastiaan ter Burg/Kennisland/Wikimedia Commons)
A recent development in a two-year-old corruption scandal -- involving the so-called "Islamic University of Europe" in the Netherlands -- has renewed public interest in the institution, involving tax fraud.
Its rector, professor Nedim Bahçekapılı, has gone missing after Dutch prosecutors decided to arrest him as part of an investigation addressing the school's "tax evasion of millions of Euros, corruption, and opening fraudulent classes." The Dutch Ministry of Justice and Security said that the rector could not be found and is believed to have left the country.
Less attention has been paid, however, to the dangerous course content of the Rotterdam-based school, which, in 2016, was stripped by the Dutch Parliament of its "university" status for financial reasons.
A 2012 Turkish YouTube video describes the "Islamic University" as a school "established in 2001 to build an aware and cultivated European Muslim identity in Europe and to promote Islam, which is considered by the Dutch to be an unwanted and feared religion, with proper language, and to bring to life the mentality that is 'to serve humanity is to serve Islam.'"
Bahçekapılı's lectures are in keeping with this mission. One such lecture glorifies the eighth-century Muslim military invasion of Spain and the establishment there of the Islamic state of Al-Andalus (Andalusia):
"About 80 years after Prophet Mohammed's death, Muslims conquered all of North Africa and through the Strait of Gibraltar, they reached Spain... According to an account, Muslim commander Tariq ibn Ziyad burned down the [Muslim soldiers'] ships there to make them feel desperate, but at the same time even more resistant and motivated. And that army became victorious in the war there. Muslims then established a Muslim state there called Al-Andalus. It remained a state for 800 years. The state eventually fell, but the Muslim presence there has continued to this day. There are still Muslims of Spanish origin in some villages."
Bahçekapılı also describes how supposedly enlightened Islamic rule was in Al-Andalus:
"Cordoba was the capital of the state. Abd al-Rahman I, the first ruler of the country, turned Cordoba, which was then a savage city, into a center of civilization. They established a palace, a university, madrassas [Islamic theological schools] and mosques there... They built a mosque even more glorious than those in [the Iraqi cities of] Kufa and Baghdad.

"Al-Andalus lived for 800 years while even the Ottoman Empire lived for 600 years... This land [Spain] is a land that smells of Islam with everything it has."
This is historical revisionism at its best, in line with the popular view that Islamic armies never invade non-Muslim lands, but rather "liberate" them. In Islamic theology, the world has always belonged to Allah. Then, according to the narrative, Jews and Christians came along and tampered with the sacred text of the Quran. This is how come Abraham, Moses and Jesus [Ibrahim, Moussa and Issa], for instance, were all -- as supposedly was the universe -- originally Muslim. Finally, Allah sent the Angel Gabriel [Jibril] to his messenger, Mohammed, to begin taking back the world of Islam that had, in the view of fundamentalists, been taken wrongly over time. This re-conquest involves imposing sharia law, Islamizing the population and assigning an inferior status to Christians, Jews and others who refuse to convert.
Such revisionism is widespread (here, here, here and here).
While many apologists portray Al-Andalus as "a magnificent Muslim civilization of religious tolerance," scholars such as Andrew G. Bostom and Bat Ye'or have painstakingly researched what actually happened in Al-Andalus: "massive pillages, enslavement, deportations and killings." As a result of the Islamic colonization of Spain, "[m]ost churches were converted into mosques" and a humiliating status was imposed on the Christian and Jewish dhimmis, a "protected" but unequal, second-class minority who had to pay the heavy Islamic tax (the jizya) to survive.
"Al-Andalus represented the land of jihad par excellence.... Society was sharply divided along ethnic and religious lines, with the Arab tribes at the top of the hierarchy, followed by the Berbers who were never recognized as equals, despite their Islamization; lower in the scale came the mullawadun converts and, at the very bottom, the dhimmi Christians and Jews."
That, to Bahçekapılı, is how jihadists brought "civilization" to "savage" Christian Spain. A report sent by his school to the Dutch Inspectorate of Education in 2016 refers to him as a "spiritual leader."
Many Muslims living in Europe -- including Turks who support Turkish President Recep Tayyip Erdogan -- would, perhaps not surprisingly, choose Andalusia over a modern Europe founded on Judeo-Christian values and the Enlightenment.
Appearing in the YouTube video promoting the "Islamic University," Bahçekapılı, describes "the importance Islam attaches to education" by referencing caliph Umar, who "conquered Iraq in the seventh century and built madrassas (Islamic theological schools) there." He continues:
"The Muslim presence in Europe is now a reality. Our people who came here first might have thought that they would stay here temporarily, but today our fourth generation is being raised in Europe. It is unthinkable that we would have no educational centers in a geographical area, country and region where there are so many of our people."
The school's former rector, professor Ahmet Akgündüz, has been equally open. In 2013, it was reported that he called Erdogan's opponents "enemies of Islam" and stated that stoning people to death is "one of the prescribed punishments within Islam."
Recently Akgündüz was in the Dutch news once again. On December 16, on the Islamist Akit TV, the former rector said that the Koran "considers it permissible to kill those who rebel against the state."
According to the news website Haberdar, what Akgündüz meant was that the members of the Fethullah Gülen movement, which the Turkish government accuses of organizing the coup attempt in 2016, may be killed.
The official website of the school issued a statement claiming that the former rector's words were presented by some journalists in a "false and biased" way. According to the website, what Akgündüz said was that "the Koran rejects coups and even puts the death penalty on them" and "Akgündüz's remarks did not express his personal opinion but were an explanation of the Koran."
Calling the rector's statements "horrifying", Dutch Education Minister Ingrid van Engelshoven said that a special committee will be formed to investigate his remarks and that, if necessary, the accreditation of the Islamic University of Europe will be revoked.
Stripping the school of its university title and investigating its administrators are important first steps taken by the Netherlands to hold such an institution accountable, not only where financial fraud is concerned. Europe might wish to look into what is being taught at Islamic schools, particularly those that receive government money.
Uzay Bulut, a Turkish journalist, is a Distinguished Senior Fellow at Gatestone Institute. She is currently based in Washington D.C.