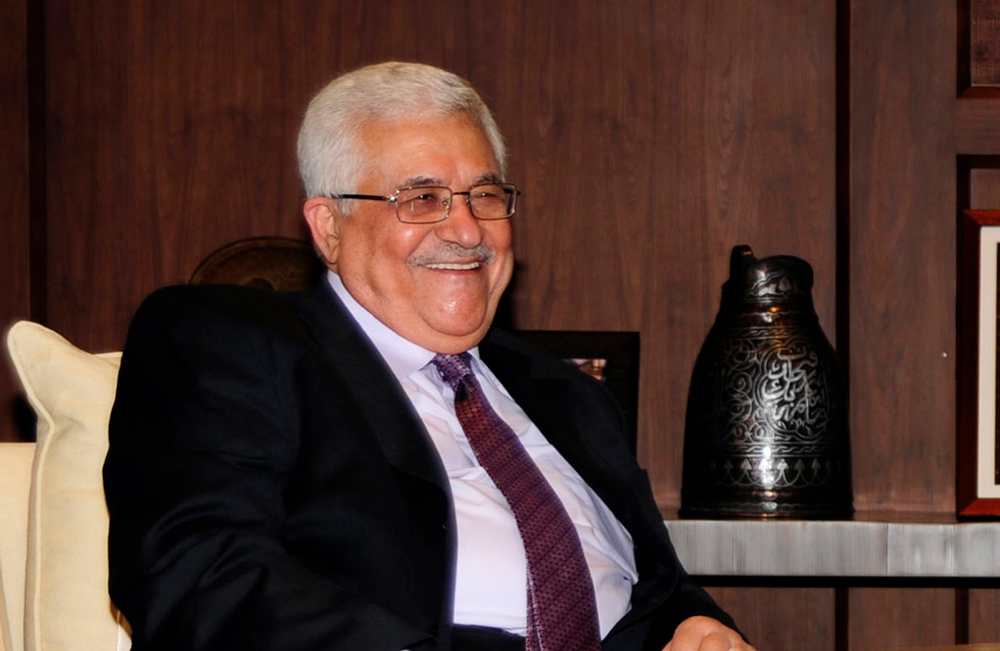 As the latest reports from Syria revealed that 82 Palestinians died in 2018 as a result of torture in Syrian government prisons, the indifference of Palestinian leaders to the suffering of their own people is hard to justify. Where are the international media when those Palestinians are being brutalized? Pictured: Palestinian Authority President Mahmoud Abbas. (Photo by Omar Rashidi/PPO via Getty Images)
It has been another tragic year for Palestinians living in Syria, but the international community, including pro-Palestinian advocacy groups and mainstream media in the West, seem to have missed the misery.
The latest reports from Syria reveal that 82 Palestinians have died as a result of brutal torture in prisons run by the Syrian government in 2018. The report states that a total of 556 Palestinians have been tortured to death while being held in various Syrian prisons the past few years.
According to the Action Group for Palestinians of Syria (AGPS), a human rights watchdog organization that was established to monitor the situation of Palestinian refugees in war-torn Syria, the real number of the Palestinians tortured to death could be higher: those are just the ones they know about; the Syrian authorities do not provide any details about detainees. In addition, AGPS pointed out, the families of the victims are afraid to announce the deaths of their sons and daughters for fear of being targeted by the Syrian authorities.
AGPS says that according to its research, there are at least 1,711 Palestinians being held in Syrian prisons.
In September 2018, AGPS reported that Marwan Mustafa Judeh and his brother, Muhieddin, had died under torture while being held in Syrian detention. The two, who are from the Yarmouk refugee camp near Damascus, were arrested by the Syrian authorities in 2013.
Another recent victim of torture was Oday Sabri al-Hilu, 22, arrested by the Syrian authorities in 2104 while trying to leave Yarmouk. Hilu's mother is Syrian, while his father is originally from the Gaza Strip. The family has been living in the Yarmouk camp for several years. Al-Hilu's death was reported in September 2018.
Also in September 2018, AGPS reported that Mohammed Dib Abu al-Ruz, a Palestinian singer and political activist who had been arrested by the Syrian authorities in 2013, had also died as a result of torture.
A month earlier, four members of the Palestinian Elayan clan were also said to have been tortured to death while being held in detention in Syrian prison. The four men, who were separately arrested in 2013 and 2014, were identified as Seif al-Din, 49, Mohammed, 47 and his son, Ezaddin, 25, and Ali, 32. The men's families learned about the deaths when they went to check with the Syrian Ministry of Interior about the fate of their sons.
During the same month, the family of Issam Mustafa Shehadeh learned from other Palestinians that their son, who was being held in Syrian prison, had died after being tortured by his Syrian interrogators. Shehadeh was from the Dara'a refugee camp in southern Syria.
The list of names of Palestinian victims of torture goes on and on. The plight of the Palestinians in Syria is not difficult to fathom. What is difficult to fathom is: Where are the international media when those Palestinians are being brutalized?
Since the beginning of the civil war in Syria eight years ago, 3,911 Palestinians have been killed there, according to the latest figures provided by AGPS and other Palestinian human rights groups.
All these numbers may not be of any interest to the international community because the plight of the Palestinians in Syria is not related to Israel. The Palestinians who are being killed and tortured and displaced in Syria receive zero coverage in the mainstream media in the West. The United Nations and other international agencies seem to be totally unbothered by what is happening with the Palestinians living not only in Syria, but also in other Arab countries.
A Palestinian who is shot by Israeli soldiers during a demonstration in the West Bank or Gaza Strip, by contrast, will attract the instant ferocious attention of the international media. Many reporters prefer a story where they can point an accusatory finger at Israel than one that blames an Arab government or president. Stories that rip into Israel go viral on social media and earn their authors appreciation and praise. A story that is critical of the Palestinian Authority (PA), Hamas or most Arab governments, however, will be dismissed as "Jewish propaganda" and its author labeled a traitor, a collaborator or on the payroll of the Jewish or Zionist lobby.
One can make up excuses for the apathy of the international community toward the atrocities the Palestinians are facing in Syria. However, the indifference of Palestinian leaders to the suffering of their own people is harder to justify. It is as if Palestinian leaders in the West Bank and Gaza Strip live on a different planet -- as though the people who are being tortured to death and displaced and wounded in Syria were not Palestinian at all.
Why, though, should Palestinian leaders care when they are busy fighting each other? When was the last time a Palestinian leader in the West Bank or Gaza Strip seriously addressed the tragedy of his people in Syria? The Palestinian Authority in the West Bank does not care about the Palestinians living in Syria. Palestinian leaders do not even seem to care about their people in the Gaza Strip. PA President Mahmoud Abbas has imposed a series of punitive measures against the coastal territory that have further aggravated the economic crisis there. These measures include halting payment of salaries to thousands of Palestinian employees and needy families.
The Hamas rulers of the Gaza Strip care only about keeping themselves in power. Their main objective is to maintain a tight grip on the Gaza Strip and prevent Abbas and his PA from ever returning there. The 3,911 Palestinians who died in Syria in the past eight years were no more to Hamas than a blip on the radar -- if that.
For Hamas, life is about fighting Abbas and his ruling Fatah faction -- and bringing Israel to its knees. Similarly, Abbas lives to bring about the collapse of Hamas, while also isolating and delegitimizing Israel in the international arena.
While Palestinians were being killed and tortured in Syria, Abbas and Hamas were busy hurling insults at each other.
Perhaps Abbas's social calendar does not permit him to hear about the suffering of his people in Syria. As the reports about the Palestinian victims were emerging, Abbas was in Cairo socializing with famous Egyptian actors and actresses. He even found time to visit one of them, Nadia Lutfi, in hospital. Scores of Palestinians who are being treated in the same and nearby hospitals in Cairo would have been happy to have received his visit. Where was he?
Abbas is punishing Hamas and Hamas is threatening Abbas. All the while, Palestinians in Syria are dying daily. Will Abbas and Hamas ever utter critical words about the Syrian leadership or any other Arabs who mistreat and murder Palestinians? Not likely. Abbas and Hamas remain silent about the suffering of their people, while the world also yawns.
Khaled Abu Toameh, an award-winning journalist based in Jerusalem, is a Shillman Journalism Fellow at Gatestone Institute.