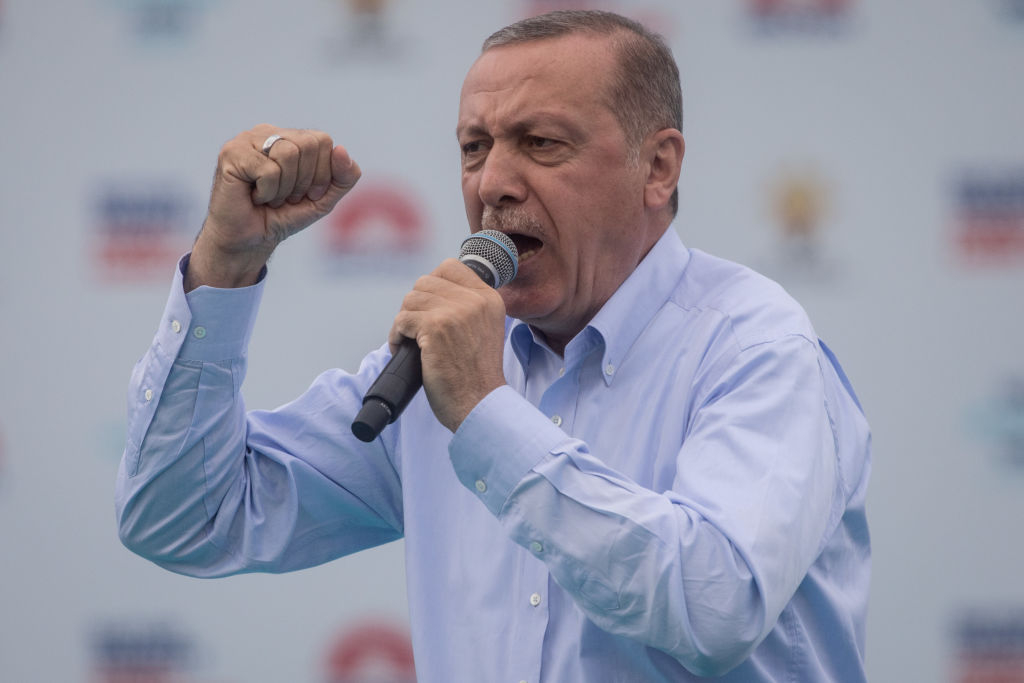 Turkish President Recep Tayyip Erdoğan recently issued a veiled threat to Turkey's 15,000 Jews. (Photo by Chris McGrath/Getty Images)
In the run-up to the Turkey's local elections on March 31, Turkish President Recep Tayyip Erdoğan has taken his diplomatic brawl with Israeli Prime Minister Benjamin Netanyahu to a new level, even issuing a veiled threat to Turkey's 15,000 Jews.
During a rally of supporters on March 13, Erdogan said tauntingly, "Hey Netanyahu, behave yourself. You are a tyrant...who massacred seven-year-old Palestinian children." Erdoğan went on to refer to the unrest on the Temple Mount in Jerusalem -- Judaism's holiest site, and the location of the Al Aqsa Mosque -- by implying that if Israeli soldiers and police continued to "enter our sacred places with their combat boots," Turkish Jewry would pay a heavy price.
A few days later, at a ceremony commemorating the Battle of Gallipoli, Erdoğan compared Netanyahu's son, Yair, to the white supremacist who murdered 50 Muslim worshipers in Christchurch, New Zealand the previous week.
"They [Yair Netanyahu and the Christchurch killer] are being fed by the same source, no matter where they are in the world," Erdoğan said.
The Turkish president also repeated a long-standing falsehood, claiming, "We have never persecuted any Jew here in this country. We have never done to the synagogues the things you do [to mosques]. Do not provoke us."
Contrary to Erdoğan's assertions, anti-Semitism in Turkey is actually widespread. According to a survey conducted in 2015 by the Anti-Defamation League, a full 71% of the Turkish population holds anti-Semitic views -- a trend still apparent today.
When the Kurdish-controlled Syrian city of Afrin in northern Syria fell to Turkey's army in March 2018, for instance, many Turkish Twitter users used anti-Semitic epithets celebrating the event and calling Kurdish PKK fighters there "servants of Jews," "bastards of Jews," "underbred... Jews" and other similar slurs.
Such anti-Semitic statements on Turkish social media are not surprising, given the open anti-Semitism expressed in Turkey by Erdoğan, members of parliament, journalists and political activists.
In July 2018, Erdoğan responded to Israel's passage of its Nation-State Law by saying that the "spirit of Adolf Hitler" had re-emerged in the country.
In December 2017, following U.S. President Donald Trump's recognition of Jerusalem as Israel's capital, Erdoğan took the opportunity to rail:
"Those who think they are the owners of Jerusalem today will not even be able to find trees to hide behind tomorrow."
The remark was a reference to an Islamic hadith (saying attributed to Islam's Prophet Muhammed) according to which:
"The Hour [of Judgement Day] will not begin until you fight the Jews, until a Jew will hide behind a rock or a tree, and the rock or tree will say: 'O Muslim, O slave of Allah, here is a Jew behind me; come and kill him."
Radical Turks echoed Erdoğan's sentiment on social media. Under the hashtag #KudüseSahipÇık ("Safeguard Jerusalem"), which quickly became a trending topic, Turkish Twitter was filled with anti-Semitic posts, such as:
"[With each] Jew massacred, the world will get more relaxed, and say, 'I have got rid of those filths.'"
"The Jew is cowardly. He cannot fight. He trusts his money, and recruits soldiers."
"Oh Allah! Do not take my soul before you grant me the privilege to engage in jihad against Israeli Jewish dogs."
"There is only one thing to be said about Jews: There has never been a more cowardly, dishonorable, and peasant nation like them."
"Close all synagogues in Turkey. Either arrest or deport all Jewish citizens. Close all the water lines to Israel. Then they will croak automatically."
Dr. Andrew G. Bostom, the editor of the book The Legacy of Islamic Antisemitism: From Sacred Texts to Solemn History, writes:
"Sadly, the full scope of Erdogan's widely shared predominant Islamic vision — rife with jihadism and conspiratorial Jew-hatred — dates back more than four decades to a 'seminal' 1970s play the current Turkish leader wrote, directed, and 'starred' in... The ugly Islamic Jew-hating 'ethos' of Erdogan's 'Mas-Kom-Yah has been a 'green thread' knitting together his entire subsequent career as a local and national Turkish Muslim politician."
Meanwhile, a popular Turkish TV series that has been airing for the past two years contains unabashedly anti-Semitic themes. As the Middle East Media Research Institute (MEMRI) reported on March 21, the drama ("Sultan Abdülhamid") – broadcast by the state-owned Turkish Radio and Television Corporation -- includes an episode in which:
"Theodor Herzl, the founder of modern political Zionism, and his co-conspirator Emanuel Carasso, celebrate Purim in Istanbul while Herzl's plot to kidnap and kill Jews in Palestine is underway. Later, Herzl and Carasso get mugged in the street, and Carasso manages to contain the situation, teaching Herzl a lesson: 'We shall spread discord among the Ottomans – through money and women... fame, power mania, ethnic disputes, and lies about freedom.'"
In addition, books such as Protocols of the Elders of Zion, Hitler's Mein Kampf, and The International Jew by Henry Ford – which, as the leading scholar of Turkish Jewry, Rifat N. Bali, has pointed out -- "form the basic texts for anti-Semites the world over, are perennial bestsellers" in Turkey.
Then there is the anti-Semitism expressed by Erdogan supporters, claiming that Fethullah Gülen -- the self-exiled, U.S.-based Turkish Muslim cleric whom Erdogan blames for the failed 2016 coup attempt -- is actually a Jew.
Burhan Kuzu, a member of parliament from Erdogan's ruling Justice and Development Party (AKP) explained this "Jewish connection" to the coup attempt as follows:
"Three American agents are involved in [the failed coup]. All of them are originally Israelis -- I mean Jewish... America is ruled by Israel or, to put it more correctly, by the Jewish lobby... 40 or 45 percent of the most powerful media belongs to them. They also own [a large portion of] the capital and intelligence units. Why did they kill Kennedy? Because Kennedy was a friend of Turks."
Erdogan's implied threat to the Jews of his country -- that they might suffer negative consequences as a result of the actions of Israel -- should be viewed with deep concern.
Uzay Bulut, a journalist from Turkey, is a Distinguished Senior Fellow at Gatestone Institute.