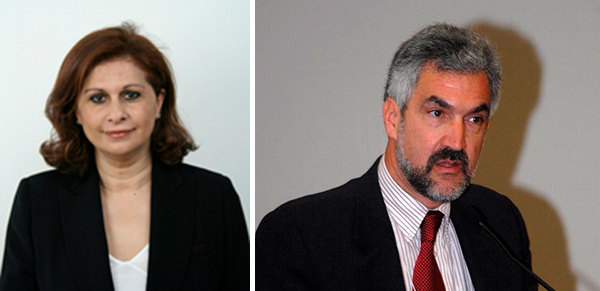 According to Souad Sbai (left), the Moroccan-born president of Italy's Averroes Studies Center, "Qatar extends its proselytizing network every day, with serious damage to European societies, including Italy". Daniel Pipes (right) writes that Qatar "works to influence Western policymakers and the public directly... Its English-language stations produce slick propaganda against Qatar's enemies, dressed up in Western liberal rhetoric... Qatar is now the largest foreign donor to American universities." (Image sources: Wikimedia Commons/Luke Ford [Pipes])
In October, Italian Interior Minister Matteo Salvini visited Qatar, the "energy giant", where he praised the emirate for "not sponsoring extremism anymore". Unfortunately, the opposite is true. Qatar, "the other Wahhabi state", apparently is interested not only in its economic relationship with Europe, but also in exporting its brand of political Islam.
According to a new book, Qatar Papers: How the Emirate Finances Islam in France and Europe, by two French journalists, Christian Chesnot and Georges Malbrunot, Qatar has distributed 22 million euros to Islamic projects in Italy alone. This funding has had virtually a single beneficiary: the Union of Islamic Communities and Organizations in Italy (UCOII), accused of closeness to Qatar's pet organization, the Muslim Brotherhood, the mouthpiece of which is Qatar's media outlet, Al Jazeera, located in the capital city of Doha.
"Qatar is today a leading funder of Islam in Europe," Malbrunot said in an interview. His book, an important exposé of the Islamist penetration into Europe, notes that Qatar has funded 140 mosques and Islamic centers in Europe to the tune of €71 million. The country with the most of the projects (50) was Italy, where Rome's Al Houda Centre received €4 million.
A grandson of Muslim Brotherhood founder Hasan al-Banna, Tariq Ramadan, whom several women have accused of rape and sexual abuse, has received €35,000 per month from the Qatar for being a "consultant". The Muslim Cultural Complex of Lausanne, Switzerland, received $1.6 million. Qatar, in 2015, donated a new £11 million building at Oxford's St Antony's College, where Ramadan is a professor.
Qatar has also been extremely active in France. The emirate, according to the book, financed the Islamic Center of Villeneuve-d'Ascq and the Lycée-Collège Averroès, France's first state-funded Muslim faith school. Lycée-Collège Averroès became the center of a scandal when one of its teachers resigned after writing that the school was "a hotbed of anti-Semitism and 'promoting Islamism' to pupils".
Qatar has also financed other mosques in France. The Great Mosque of Poitiers, for instance, sits in the vicinity of the site of the Battle of Tours (also known as the Battle of Poitiers), where Charles Martel, ruler of the Franks, stopped the advancing Muslim army of Abdul al-Rahman in the year 732. The Assalam mosque in Nantes and the Grand Mosque of Paris are other examples.
In their previous book, "Nos très chers émirs" ("Our Very Dear Emirs"), Chesnot and Malbrunot exposed the close relationship that exists between the French political establishment and the Qatari monarchy. Among Qatar's beneficiaries were the European Institute of Human Sciences -- an Islamic facility close to the French branch of the Muslim Brotherhood -- that offers courses in Islamic theology.
Among the Islamists described in the book is the Doha-based cleric, Yusuf al Qaradawi, who condoned suicide bombings during the Second Intifada; endorsed a fatwa for killing Americans in Iraq and encouraged Muslims to travel abroad to fight in civil wars in Syria and Libya. Qaradawi also called for the "conquest of Rome" and announced on Egyptian television in 2013 that without death as a punishment for leaving the religion (apostasy), "Islam wouldn't exist today".
"We have been reporting Doha's ideological and religious penetration for years", said Souad Sbai, the Moroccan-born president of Italy's Averroes Studies Center. "In the form of investments and financial operations, Qatar extends its proselytizing network every day, with serious damage to European societies, including Italy". The newspaper L'Opinione delle Libertà quotes Sbai calling Qatar "a wolf in sheep's clothing".
Elzir Izzedin, the imam of Florence and president of UCOII, admitted three years ago: "25 million euros arrived from Qatar".
Qatar was also behind the founding of an Islamic university for 5,000 students in the small southern Italian town of Lecce.
Also two years ago, with an investment of over 2.3 million euros, Qatar was carrying out important Islamic projects in Italy's southern island, Sicily, where Qatar apparently supports about a quarter of the mosques.
According to the president of the Middle East Forum, Daniel Pipes, "Doha does not rely only on the Islamist diaspora in the West to advance its agenda; it also works to influence Western policymakers and the public directly":
"Its English-language stations produce slick propaganda against Qatar's enemies, dressed up in Western liberal rhetoric. Al Jazeera's latest venture – its social media channel, AJ+ – is aimed at young, progressive Americans. Its documentaries on the evils of Israel, Saudi Arabia, and the Trump administration are sandwiched between glowing coverage of transgender rights campaigns and emotional appeals for the plight of asylum seekers on America's southern border – seemingly incongruous topics for a broadcaster controlled by a Wahhabi regime."

"Doha also seeks to influence Western educational institutions. The regime-controlled Qatar Foundation hands tens of millions of dollars to schools, colleges and other educational institutions across Europe and North America. Indeed, Qatar is now the largest foreign donor to American universities. Its funds pay for the teaching of Arabic and lessons on Middle Eastern culture and their ideological bent is at times unashamedly apparent, as in the lesson plan in American schools titled, 'Express Your Loyalty to Qatar.'"
Italy's largest newspaper, Il Corriere della Sera, described the Qatari activism in the country:
"On May 24th, Sheikh Prince Hamad Bin Nasser Al Thani, a member of the Qatari royal family, was in Piacenza, where he inaugurated the new Islamic center alongside the main city authorities; the same day he moved to Brescia, to cut the ribbon of the enlargement of the local mosque. Two days later and a smiling prince Al Thani reappeared in Mirandola, in the province of Modena, for the inauguration of the new Muslim prayer center, damaged by the 2012 earthquake and put up as new, unlike the local parish church. On May 28, the sheikh was immortalized in Vicenza, again for the opening of an Islamic center. On June 5, another ribbon-cutting ceremony, this time of a complex for prayer and a Koranic school in Saronno (Varese), even flanked by the episcopal vicar".
An analyst at the Spanish Institute of Strategic Studies of the Ministry of Defense, Colonel Emilio Sánchez de Rojas, charged both Qatar and Saudi Arabia with "campaigns of influence in the West". Qatar has been funding mega-mosques across Europe. Qatar's goal is apparently to Islamicize the European diaspora.
As the German MP and Middle East expert, Rolf Mützenich, said in 2016:
"For quite some time we've had indications and evidence that German Salafists are getting assistance, which is approved by the governments of Saudi Arabia, Qatar and Kuwait, in the form of money, the sending of imams and the building of Koran schools and mosques."
The Economist has also focused on Qatar's takeover of Europe's mosques.
In 2014 the US Treasury Department not only singled out Qatar as a source of funds for al-Qaeda; it seems that Doha has also been, with a few suspensions, a primary supporter of Hamas, the Palestinian terrorist organization that is pursuing the destruction of the State of Israel. During the "Arab Spring" in 2011, Qatar, which, through Al Jazeera, has been credited for its role in "participating in creating the environment for the Arab Spring," supported the Islamists, presumably to replace secular dictators in Tunisia, Libya and Egypt.
Qatar has also been accused of funding the Islamic State (ISIS). General Jonathan Shaw, a former Assistant Chief of Defence Staff in Britain, declared that Qatar and Saudi Arabia are responsible for spread of radical Islam. "This is a time bomb that, under the guise of education, Wahhabi Salafism is igniting under the world really. And it is funded by Saudi and Qatari money and that must stop", said Gen Shaw.
As Qatar's ideological spending spree in the West races ahead, many Europeans, still seemingly lost behind a willful blindness, pursue their futile accusations of "hate speech", "racism" and "Islamophobia", while radical Muslims infiltrate their democracies and continue to encircle them.
Giulio Meotti, Cultural Editor for Il Foglio, is an Italian journalist and author.