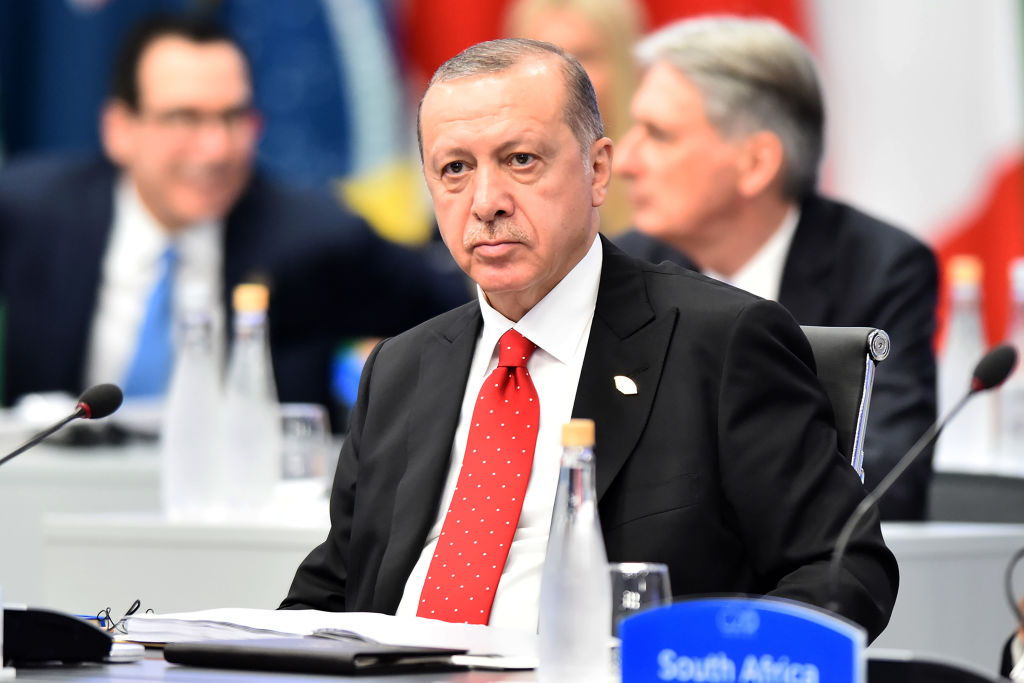 With the exception of Qatar's emir, Sheikh Tamim bin Hamad Al Thani, and Venezuela's troubled man, Nicolás Maduro, Turkish President Recep Tayyip Erdoğan is increasingly friendless. (Photo by Amilcar Orfali/Getty Images)
"World leaders hail Erdoğan on local vote win," the news headline ran, referring to the outcome of Turkey's local elections on March 31. They laboriously ignored that President Recep Tayyip Erdoğan's Islamist AKP party lost in all of Turkey's three biggest cities -- and for the first time in 25 years in Ankara and Istanbul. They were nevertheless able to find one element to hail regarding Turkey's strongman. But, "world leaders?"
Here is the full list: Russia's President Vladimir Putin, Azerbaijan's President Ilham Aliyev, Serbian President Aleksandar Vucic, Palestinian Authority President Mahmoud Abbas, tripartite Presidency of Bosnia and Herzegovina Chairman Milorad Dodik, former Bosniak member of the Presidency of Bosnia and Herzegovina Bakir Izetbegovic, Guinean President Alpha Conde, and Albanian Prime Minister Edi Rama.
Those gentlemen are "world leaders," according to Erdoğan's propaganda machinery.
In reality, with the exception of Qatar's emir, Sheikh Tamim bin Hamad Al Thani, and Venezuela's troubled man, Nicolás Maduro, Erdoğan is increasingly friendless.
The United States is preparing to sanction Turkey because of Ankara's rigid quest to acquire a Russian-made long-range air and anti-missile defense system. When delivered -- scheduled for late this summer -- Turkey will become the first NATO country to deploy Russian S-400 surface-to-air missile system on its soil. The sanctions, through the Countering America's Adversaries Through the Sanctions Act (CAATSA) may include expelling Turkey's defense industry manufacturers from the F-35 Joint Strike Fighter (JSF) program, a move that could damage Turkey by $10 billion in lost business. Washington may also sanction senior Turkish officials involved in the S-400 deal and suspend shipments of critical military gear to Turkey, all of which, when combined, could have a multiplier effect if other Western countries join the sanctions campaign.
In theory, Turkey and Russia are going through the honeymoon period of a new alliance. But this newfound love affair is fragile: Ankara's and Moscow's affair is a tactical alliance rather than a strategic one, with an official break-up looking like a slow-fuse time bomb. China, like Russia, is more of an economic partner for Turkey, but the decades-old dispute over China's treatment of Uighurs, the Turks' ethnic brethren in Western China, has invariably been a source of tensions between Ankara and Beijing.
Most recently, in February, China said it closed down its consulate in Turkey's third biggest city and a major commercial port, Izmir. The decision came only weeks after Turkey said that more than one million Muslim Uighurs faced arbitrary arrest, torture and political brainwashing in Chinese internment camps in the country's northwestern Xinjiang region. China's ambassador to Ankara, Deng Li, diplomatically showed Turkey the most frightening stick. Deng told Reuters:
"If you choose a non-constructive path, it will negatively affect mutual trust and understanding and will be reflected in commercial and economic relations".
With its economy in recession and posting record-high jobless and inflation rates, a further deterioration is Erdoğan's worst nightmare.
Europe is also a place where Turkish diplomats must work as if they are part of a Department of Cold War, not the Foreign Ministry. French President Emmanuel Macron recently announced that France would make April 24 a "national day of commemoration of the Armenian genocide." Erdoğan's spokesman, Ibrahim Kalın, responded:
"We condemn and reject attempts by Mr Macron, who is facing political problems in his own country, to save the day by turning historic events into political material".
Erdoğan's party spokesman, Ömer Çelik, said that "French authorities should face the human rights violations and murders they were involved in from Cameroon to Algeria".
Almost simultaneously, Italy's lower house of parliament, the Chamber of Deputies, also approved a motion officially to recognize as a genocide the mass-killings of Armenians in the Ottoman Empire that began in 1915. Turkey's Foreign Ministry condemned that step as well, calling it "an example of using Armenian claims for domestic political interests".
In Africa, too, things are not moving in the direction Erdoğan might wish them to. It was a shock to the Turkish president to wake up the other day and learn that the genocide suspect whom he embraced as "brother", President Omar al-Bashir of Sudan, had been ousted by a coup d'état. The International Criminal Court issued an arrest warrant for al-Bashir in 2010 on a series of genocide charges.
Turkey's pro-Erdoğan media claim that the military intervention in Sudan that ousted Bashir was "directly against Turkey," and that Saudi Arabia, Egypt and the United Arab Emirates (UAE) were behind the coup -- "the trio's intervention serves American and Israeli interests in the region."
Sudan is not the only fresh African headache for Erdoğan. In Libya, Turkey and Qatar have supported the Tripoli government in the Western part of the country in Libya's civil war. At the other end of the conflict spectrum, Egypt, Saudi Arabia and UAE have supported Khalifa Haftar, a general based in eastern Libya, with whom Russia has also met.
Haftar, targeting radical Islamists, infiltrated into the western Libyan government -- supported by Erdoğan -- and launched an offensive to take Tripoli. Qatar called for an arms embargo on Haftar's forces to be more strictly put in place. According to The Independent:
"One analyst said Mr Haftar and his Arab allies may have chosen to launch the attack after spotting what was described as suspicious plane traffic from Turkey to western Libya, and hoped to take advantage of possible aviation disruption during the planned 6 April switch of operations from Istanbul's old Ataturk airport to a major new airport."
The strongman of Turkey is running fast to become the solitary man of the world.
Burak Bekdil, one of Turkey's leading journalists, was recently fired from the country's most noted newspaper after 29 years, for writing in Gatestone what is taking place in Turkey. He is a Fellow at the Middle East Forum.