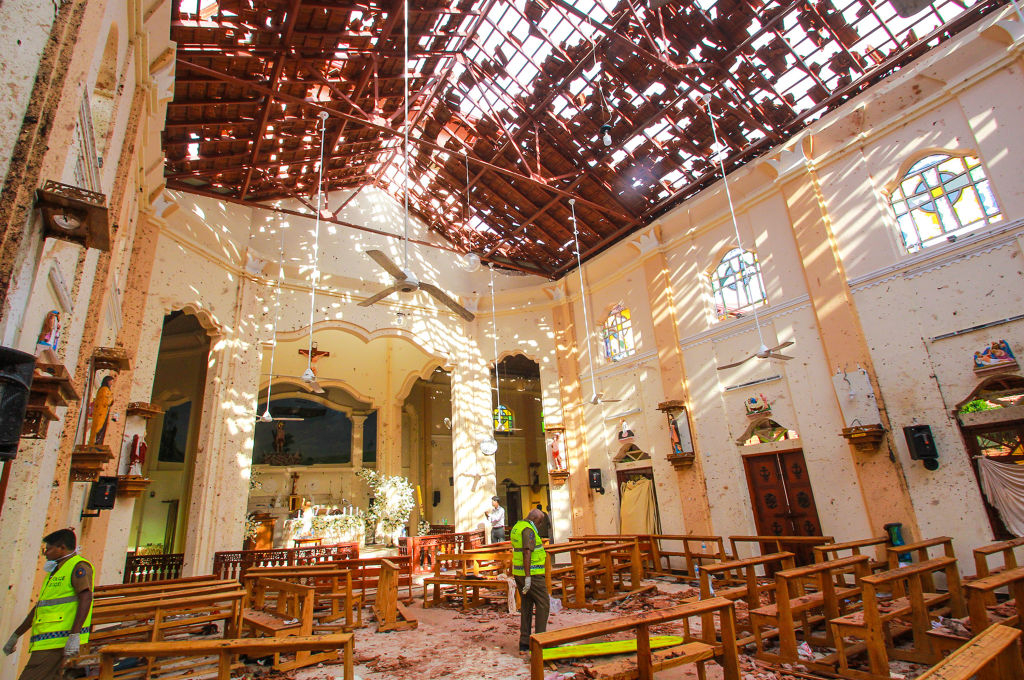 Although the Islamic terrorist bombings that rocked Sri Lanka on Easter Sunday -- killing more than 250 people, most in churches -- have shocked many, spectacular terrorist attacks on Easter are far more common than supposed. Pictured: Officials inspect St. Sebastian's Church in Negombo, one of three churches bombed in Sri Lanka on Easter Sunday, April 21, 2019. (Photo by Stringer/Getty Images)
Although the Islamic terrorist bombings that rocked Sri Lanka on Easter Sunday -- killing more than 250 people, most in churches -- have shocked many, spectacular terrorist attacks on Easter are far more common than supposed.
Jihadi logic is simple: not only do attacks on Christians during their greatest holidays make a symbolic point; but because churches are often packed then -- especially Easter, or Resurrection Sunday -- they also potentially offer the greatest harvest in casualties.
Therefore, on April 9, 2017 -- Palm Sunday, which starts the holy week of Easter -- two Christian churches in Egypt were bombed during mass; at least 50 worshippers were murdered and 130 wounded (graphic images/video of aftermath here). Two days later, another terror attack, targeting a Coptic Christian monastery, was thwarted. On April 12, 2015, Easter Sunday, two explosions targeting two separate churches also took place in Egypt. Although no casualties were reported, large numbers could have resulted.
On Easter Sunday 2016, in Pakistan, an Islamic suicide bombing took place near the children's rides in a public park, where Christians were known to be celebrating and congregating. At least 74 people -- mostly women and children -- were killed and nearly 400 wounded. A similar massacre was in store for Pakistan in 2017, as authorities foiled a "major terrorist attack" targeting Christians on Easter.
Right before Good Friday 2015, jihadis raided a Kenyan university and murdered 147 people. The jihadis tried to distinguish between Muslim and Christian students, in order to kill only the Christians. "This will be a good Easter holiday for us," the jihadis said.
Celebrating Easter also seems to be especially dangerous in Nigeria. A church was bombed on Easter Sunday 2012, killing 50 people. In 2013, during Easter week, Muslim herdsmen launched a series of raids, murdering at least 80 Christians -- mostly children and the elderly. More than 200 Christian homes were destroyed, eight churches burned, and 4,500 Christians displaced.
As for Easter this year, Muslim raiders murdered 11 Christians returning from Good Friday church service in Nigeria; they also kidnapped and murdered a female British aid worker. On Sunday, April 21, ten boys were killed during an Easter procession. Emmanuel Ogebe, a Nigerian human rights lawyer remarked in an email, "The Holy Week killings in Nigeria do not grab headlines like Sri Lanka but still Nigeria's Christians are dying the deaths of a 1000 cuts in as many installments!"
As Islam's presence continues to grow in Europe, Easter-related attacks are also on the rise.
This Easter in Germany, a migrant man, apparently of Somali origin, entered a church in Munich during Mass and threw dangerous objects, variously described as stones or firecrackers, at worshippers while he shouted "Allahu Akbar" ("Allah is greater"). Congregants dropped their Easter meal baskets on the ground and rushed out in a panic. Some were injured and children were left in a "state of shock." Predictably, authorities concluded that the assailant was "mentally ill" and therefore not responsible for his actions.
According to one report, the jihadi terror cell that murdered 32 people in Brussels on March 22, 2016, "was planning to massacre worshippers at Easter church services across Europe, including Britain."
In Scotland, 2016, a Muslim man stabbed another Muslim man to death for wishing Christians a Good Friday and Happy Easter.
Although deadly attacks on Christians have taken place every Easter in recent years, less spectacular attacks and shows of hostility are all too common around that Christian holiday. A brief list of examples follows:
Notably, other Christian holidays, especially Christmas, are also prime times for Islamic terror, and for the same reasons -- to make a "point" and because at that time, churches are especially packed. In Cairo, Egypt, a church was bombed, killing 27 people near Christmas 2016. On New Year's Day 2011 -- which Orthodox Christians usher in at church - another Egyptian church was bombed, killing 23 worshippers. (For dozens more anecdotes of Muslim violence against and slaughter of Christians around Christmas, see here for Christmas 2018, here for Christmas 2017, here for Christmas 2016, here for Christmas 2015, and here for Christmas 2014.)
Commenting on the most recent carnage of Christians -- last Easter Sunday's bombing campaign in Sri Lanka, where more than 250 people were murdered -- the country's archbishop said, "we never expected such a thing to happen and especially on Easter Sunday."
Sadly, as bombed churches and massacred worshippers during Christian holy days have become the new norm, the archbishop and everyone else should expect exactly that.
Raymond Ibrahim, author of the new book, Sword and Scimitar, Fourteen Centuries of War between Islam and the West, is a Distinguished Senior Fellow at the Gatestone Institute and a Judith Rosen Friedman Fellow at the Middle East Forum.