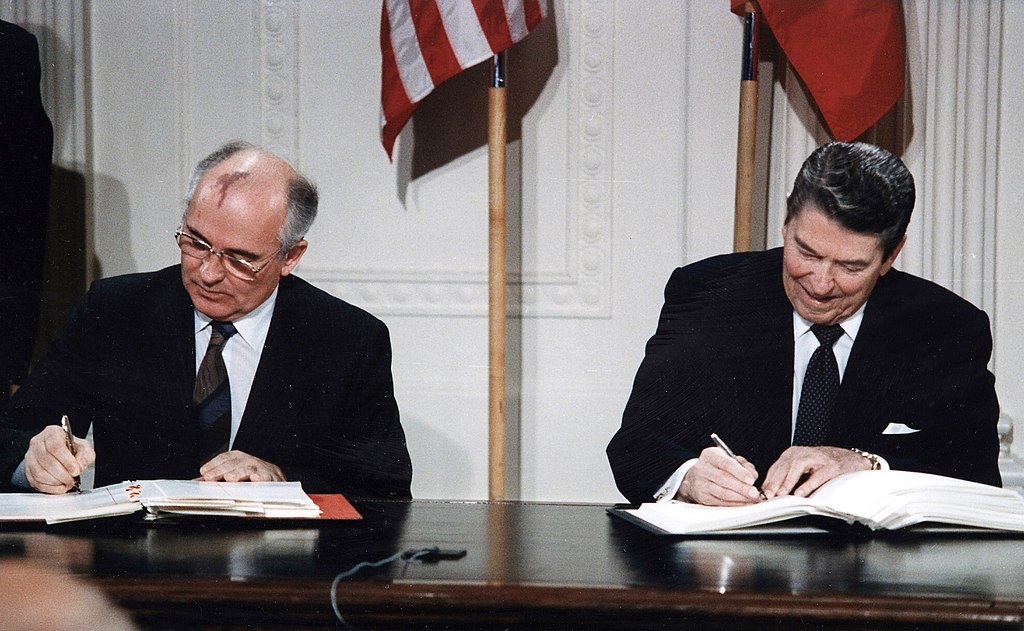 President Ronald Reagan did not oppose arms control; he opposed "bad" and unverified arms control that gave huge advantages to Soviet Union. Pictured: President Ronald Reagan and Mikhail Gorbachev, General Secretary of the Communist Party of the Soviet Union, sign the Intermediate Nuclear Forces (INF) Treaty at the White House on December 8, 1987. (Image source: The White House)
It comes as no surprise that U.S. President Donald Trump's reported plan to forge a new nuclear-arms deal with Russia and China -- when New START expires in 2021 -- is being attacked by American advocates of unilateral disarmament.
Take Daryl G. Kimball, executive director of the Arms Control Association, for example. Echoing Russian complaints, Kimball wrote recently:
"[T]his new grand-deal gambit does not represent a serious attempt to halt and reverse a global arms race. It is more likely that Trump and [National Security Adviser John] Bolton are scheming to walk away from New START by setting conditions they know to be too difficult to achieve."
Kimball added:
"If in the coming weeks, ...Team Trump suggests China must join New START or that Russia must agree to limits on tactical nuclear weapons as a condition for its extension, that should be recognized as a disingenuous poison pill designed to create a pretext for killing New START."
This is simply the reiteration of a false argument that has been used by opponents of American nuclear modernization for decades. Nearly 40 years ago, critics of President Ronald Reagan's "peace through strength" policy used the same template of criticism. This brush-off existed not because Reagan was putting forward unworkable or unrealistic ideas. The real root of the criticism was, and still is, frustration over the fact that their bumper-sticker ideas (such as a "nuclear freeze" or "Global Zero") have never been accepted by top U.S. national-security officials or approved by Congress.
Such frustration has led to strange conspiracy theories. In 1981, for instance, Reagan's critics bitterly complained that his proposal to eliminate all Soviet SS-20 missiles in Europe and Asia in exchange for the U.S. not deploying its Pershing and ground-launched cruise missiles was a clever ploy to evade arms control.
The Boston Review summarized the pro-nuclear-freeze community by describing the Reagan administration's Intermediate Nuclear Forces (INF) Zero-Zero option as "cynically crafted to ensure United States missile deployment" goes forward. The Review argued that "the Soviet Union was certain to reject a plan to remove its 1,100 missiles in return for a promise not to deploy U.S. missiles that had not yet been built."
A well-known official from the State Department's Arms Control and Disarmament Agency, Thomas Graham, echoed the fraudulent claim that Reagan's proposed INF Zero-Zero option was simply a tactic to "make sure that those negotiations did not succeed, and the deployments [of US missiles] would go ahead."
Contrary to Graham's assertions, the concept of, and framework for, eliminating all INF-class missiles and markedly reducing long-range strategic arms by fifty percent -- as was eventually secured under the 1987 INF Treaty and the 1991 START Treaty -- was contained in many National Security Defense Directives (NSDDs) put together early in the Reagan administration.
The now declassified NSDD documents laid out in great detail the way in which the Reagan administration combined a revolutionary push for nuclear reductions -- never before secured between the Soviet Union and the United States -- with a push for full modernization of America's reduced nuclear arsenal and development of its missile defenses.
In his 2015 book, From Marx to Reagan: The History of the Cold War, Sven F. Kraemer -- who served on the National Security Council of five U.S. presidents, including Reagan -- recounts that the idea of steep reductions in nuclear arms was not even widely accepted among hawks in Washington, D.C., let alone among nuclear-freeze advocates.
Yet Reagan had espoused the idea long before he became president. As a private citizen in 1976, Reagan told the Committee on the Present Danger that nuclear reductions were necessary for securing better strategic stability between the two super-powers, and for eliminating the Soviet pursuit of a coercive first-strike disarming capability against the United States.
This seems to be why Reagan was so critical of previous U.S.-U.S.S.R. arms agreements, such as the 1972 SALT I Treaty, which justified sharp increases in Soviet multiple warhead, highly accurate heavy missiles. In other words, Reagan did not oppose arms control; he opposed "bad" and unverified arms control that gave huge advantages to Soviet Union, and opened what he famously described as a "window of vulnerability."
The 1981-2 INF Zero-Zero option and the parallel 50% cut proposed in START I were substitutes for the Soviet idea of a nuclear freeze, which American critics of nuclear modernization had adopted wholesale.
The Soviets were pushing for a nuclear freeze, however, precisely because, by 1980, they had nearly completed their nuclear modernization. Meanwhile, the United States had spent the decade prior to Reagan's election delaying, truncating, slowing and canceling elements of its own nuclear modernization effort. A freeze, then, would have been great for the Soviet Union and very bad for the United States.
The genius of Reagan's "build-down" plan -- reductions coupled with modernization -- was that it clearly identified the key drawback of the nuclear freeze: obsolete American nuclear arms and totally modernized Russian ones would have made for an unbalanced strategic environment.
The "build-down" approach also met the critical political requirement to secure the necessary votes in Congress to move forward the whole program of "peace through strength."
Today, the United States is facing the same political equation. The highest-ranking Democratic member of the Senate Armed Services Committee, Senator Jack Reed of Rhode Island, has said that he will support the full nuclear modernization effort, but only if it is coupled with an arms-control framework that keeps limits on nuclear weapons.
This is what the Trump administration is proposing to do, including -- according to assistant secretary at the State Department's Bureau of International Security and Nonproliferation, Christopher Ford -- developing a strategy to restrict nuclear proliferation in other rogue-type states. To this end, the administration is emphasizing that credible U.S. nuclear deterrence not only allows America's allies to avoid having to build their own nuclear deterrence, but underscores America's willingness to stop proliferation in countries such as North Korea, Iran and Syria.
Today's disarmament enthusiasts, as with Reagan's detractors, are pushing for the United States unilaterally to eliminate 60% of its nuclear-armed submarine fleet, all of its land-based missile squadrons and all of its cruise missiles that enable U.S. bombers to penetrate Russian airspace. These pro-disarmament advocates are simultaneously calling it unfair to reduce or restrict dangerous Russian and Chinese nuclear deployments.
The secret is that the push for a nuclear freeze or "Global Zero" -- in 1981 as in 2019 -- was not then and is not now about strategic stability or eliminating Russian or Chinese nuclear coercion. It is, rather, an effort to curtail U.S. military power.
Such a tethered America cannot be the leader of the Free World, even after having jettisoned the twin fantasies of China's "peaceful rise" or a "reset" with Russia. In a world in which enemies of liberty are on the march, the presence and judicious use of American power is critical.
Dr. Peter Huessy is President of GeoStrategic Analysis, a defense consulting firm he founded in 1981, as well as Director of Strategic Deterrent Studies at the Mitchell Institute for Aerospace Studies. He was also for 20 years, the senior defense consultant at the National Defense University Foundation.