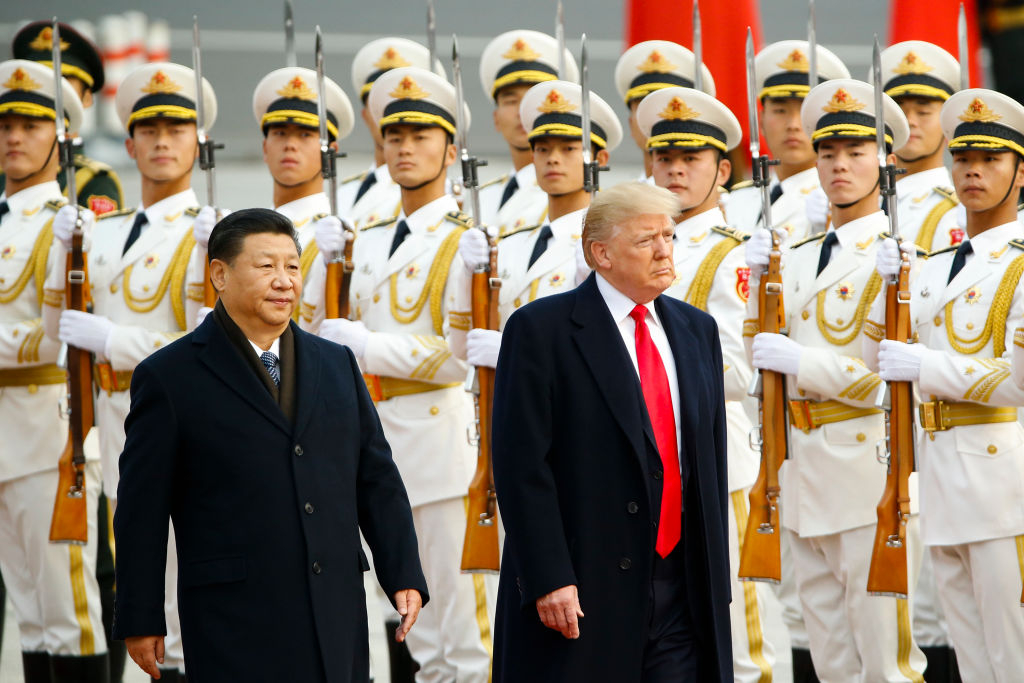 A trade deal with President Donald Trump looks as if it is the only thing that can revive the Chinese economy and thereby save Xi's brand of communism. Will the American president do so? Pictured: President Trump takes part in a welcoming ceremony with President Xi on November 9, 2017 in Beijing, China. (Photo by Thomas Peter-Pool/Getty Images)
Three times — in 1972, 1989, and 1999 — American presidents rescued Chinese communism. Now, Xi Jinping's China, plagued by problems of his own making, desperately needs a lifeline.
A trade deal with President Donald Trump looks as if it is the only thing that can revive the Chinese economy and thereby save Xi's brand of communism. Many, in fact, are urging Trump to drop his Section 301 tariffs and sign such a pact.
Will the American president do so?
At the moment, Xi is besieged, blamed for multiple policy mistakes. First, his relentlessly pursued back-to-Mao policies have helped push the Chinese economy downward, perhaps to the point of contraction, as May's depressing numbers suggest. Perhaps the most indicative statistic is that of imports, which during the month fell 8.5%, a clear sign of softening domestic demand.
Economists say consumption now drives the Chinese economy. Retail sales for the month, according to Beijing, increased a strong 8.6%. That figure is suspiciously high because it is based on this figure: retail sales of cars rising 2.1% year-on-year, according to the Ministry of Commerce. However. the China Association of Automobile Manufacturers reported that car sales suffered their worst monthly drop ever in May, down a stunning 16.4% from the same month a year earlier, the 11th-straight month of decline.
There are other symptoms of distress. In a country where the money supply is far too large for the size of the economy, banks are running low on cash for lending. China's stock market regulators, in a highly unusual maneuver, are now urging brokerages to extend loans to keep companies afloat. Most worrying, there is evidence of persistent capital flight, which seems to be picking up in recent months.
Second, this economic downturn is occurring as relations with the United States are deteriorating across-the-board. Xi is being blamed for pushing Trump to start the "trade war." More important, Xi's generally belligerent policies are thought to be responsible for China "losing America."
Third, Hong Kong, a special administrative region of China, is moving fast beyond Xi Jinping's control. He is known to be behind Beijing's increasingly hardline tactics there, where almost two million people surged into thoroughfares on June 16 to protest against China.
The immediate concern of the demonstrators was a proposed law that would have allowed extraditions from Hong Kong to the rest of the country. Hong Kong Chief Executive Carrie Lam on the previous day said she had shelved the legislation she had so vigorously pushed.
Despite Lam's concession, the crowd on June 16 — more than a quarter of the territory's population — was about double the size of the turnout the previous Sunday. Demands have over the course of two weeks escalated, largely because people no longer trust Beijing to adhere to its promise, documented in a treaty, the Sino-British Joint Declaration of 1984, to permit "a high degree of autonomy" until 2047.
The message from Hong Kong is that China's communists do not keep their word. Americans should not need reminding of this, as the Fox Business anchor Lou Dobbs pointed out last Wednesday on his widely-viewed show.
Yet, unfortunately, Americans do need reminding, especially the 661 companies and trade associations that signed a June 13 letter urging the president to drop tariffs.
There have been decades of trade agreements with Beijing, including the infamous one in 1999, when President Clinton signed off on what was to become the basis of China's entry into the World Trade Organization (WTO).
China has violated its WTO promises and all the other trade deals. Now, President Trump is seeking to remedy Beijing's failure to follow promises — and its continued annual theft of hundreds of billions of dollars of American intellectual property — by inking another pact. In his June 18 tweet, Trump said he looked forward to an "extended meeting" with Xi at the Osaka G20 summit . The G20 meets this week on the 28th and 29th.
With a trade deal, Washington is seeking structural changes in the Chinese economy that are not consistent with Xi's ideology. In his six and half years as the country's ruler, he has increased state domination of the economy. America, on the other hand, wants the opposite: greater opportunities for foreign companies.
Moreover, Washington's determination to end Chinese theft of intellectual property also undermines Xi's signature Made in China 2025 initiative to dominate eleven critical technologies by that year.
In short, there is no chance that Xi will comply with any agreement that is acceptable to the United States.
China now needs America's acceptance for Xi's policies. Three times, American presidents rescued Chinese communism. Nixon did so in 1972, near the end of Mao Zedong's Cultural Revolution, essentially a civil war. George H. W. Bush threw Deng Xiaoping a lifeline after the brutal Tiananmen crackdown in 1989. Finally, there was Clinton's WTO deal.
A trade agreement now will be seen as an end to the "trade war" and as Trump's support for Xi. A pact, therefore, would constitute America's fourth great rescue of Chinese communism.
There are, fortunately, two reasons to think no such pact is possible. First, unlike his predecessors, Trump does not believe the success of China's Communist Party should be a goal of American foreign policy. Washington, for this and other reasons, is no longer implementing a "China First" approach.
Second, Xi has been putting a deal out of reach, evidently deciding he would rather have someone to blame for China's various problems — Trump — than solve them with an agreement with the United States. In recent months, Xi has elevated the structure of the Chinese economy to a "core interest." As such, the most contentious matters discussed with Washington in the "trade" talks have become, at least in Communist Party speak, not subject to discussion. Moreover, Xi had the Ministry of Commerce this month publicize three hardline preconditions to a trade deal, essentially telling Trump that America must capitulate to his demands.
China's State Council Information Office on June 2 released its "China's Position on the China-US Economic and Trade Consultations," a white paper conveying Beijing's official position. "China is open to negotiation," the "key document" stated, "but will also fight to the end, if needed."
Bring it on. Trump must also fight, especially because fighting could bring an end, once and for all, to Chinese communism.
Gordon G. Chang is the author of The Coming Collapse of China and a Gatestone Institute Distinguished Senior Fellow.