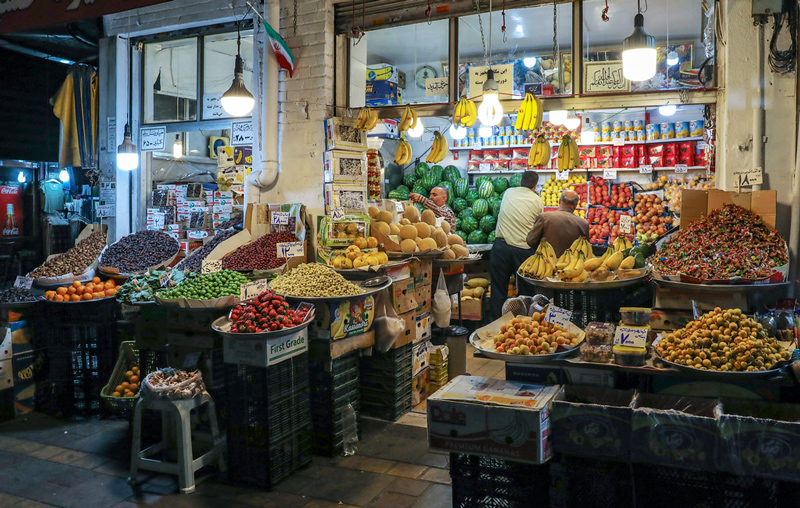 Contrary to claims by Khomeinist lobbyists in the West, Iran is not facing any shortage of food or medications, items not affected by sanctions. Pictured: A fruit store in Tehran. (Image source: Ninara /Flickr)
A few weeks ago, the Islamic Republic's "Supreme Guide" Ayatollah Ali Khamenei described his regime's decades-long conflict with the United States as a real-life re-enactment of the Tom and Jerry cartoons from Hollywood, in which a crafty little mouse provokes the clumsy big cat into all manner of threatening gestures but always ends up emerging safe and sound.
In Khamenei's bizarre depiction, the Islamic Republic is the little mouse (Jerry) and the United States the big cat (Tom). Why should Khamenei make a conflict that has done so much damage to Iran as a nation the subject of so frivolous a depiction is something beyond the scope of this article.
No serious political leader would see a conflict with an adversary as no more than a childish game. But, we never accused the Ayatollah of being a serious leader. Like Jerry, he is only interested in attracting attention by provocation and then dodging punishment, prolonging the life of his regime by a few more minutes, hours or even years. Khamenei does not see the difference between the behavior of a cartoon mouse and a nation of 85 million real human beings. Jerry can be as provocative and playful as he wants because he does not need a job, a school, a hospital, a roof above his head, some food (cheese?) on his table, and a rule-based system to protect his rights and dignity. Like all ideologues, fantasist to a fault, Khamenei has little time for reality.
But what is the reality?
Khamenei says the sanctions imposed by the United States must be regarded as "blessings in disguise" because they preclude the quest for a modus vivendi between Tom and Jerry. "The sanctions have no effects but strengthen our resistance," he boasts. However, his lobbyists in the West, especially in the United States, know they cannot win any sympathy for the Islamic Republic with so vacuous a claim. They have to persuade the Western public, or at least the bleeding-heart do-gooders and the useful idiots, that the sanctions imposed by the "Great Satan" are destroying the lives of ordinary Iranians without having any effect on the Khomeinist leadership.
The truth is that sanctions are affecting the lives of many ordinary Iranians in the context of what has morphed into an economic war.
Contrary to claims by Khomeinist lobbyists in the West, Iran is not facing any shortage of food or medications, items not affected by sanctions. However, factories closing for lack of imported spare parts cause mass unemployment while the plummeting value of the national currency fuels stagflation. Last week the government announced that more than 4,800 projects have been slowed down or frozen for lack of funds. To maintain its current average levels of expenditure, the Islamic Republic government would need to export 1.5 million barrels of crude oil a day. Since last March, however, exports have never risen above 500,000 barrels a day.
Sanctions have also led to some modification of the regime's behavior at home and abroad. According to reliable sources, handouts to such groups as the Houthis in Yemen, Hezbollah in Lebanon and Islamic Jihad and Hamas in Gaza have been cut by an average of 10 percent. This is certainly not enough to force any significant change of behavior by those groups but sends a signal that Tehran's traditional generosity may not be forever.
The export of jihadis to Syria has also dwindled to a trickle. This is partly due to the relative calming of the overall situation in that country and that Iran's presence has been reduced to enclaves in Deir az-Zour and Albukamal. Nevertheless, when it comes to hiring Pakistani and Afghan mercenaries, shortage of money must also be a factor.
The regime's cash-flow problem, partly caused by sanctions, has also led to virtual freezing of the controversial missile project at a range of 2,000 kilometers.
That sanctions are working could also be seen in other domains. This year the Islamic Republic did not organize its annual "End of America" and "End of Israel" jamborees that usually attracted hundreds of professional America-haters, Trump-bashers and Holocaust deniers from all over the world including the US itself. This year, no international Holocaust cartoons competition, held since 2006, was held while a TV serial depicting "the Great Satan's crimes" has been scrapped.
A long-talked-of seminar of African-Americans to discuss the creation of a "black Muslim republic" in the United States was scrapped for lack of money. As far as we know, there was also no sign of Nation of Islam chief Louis Farrakhan, an annual visitor, coming to extract contributions from the Islamic Republic.
Interestingly, it seems that the fading star-spangled banners, painted to be trampled under feet at the entrance of most public offices, are no longer repainted, undermining one of the Khomeinist revolution's most cherished rituals.
In another register, shortage of money forced the mullahs to release over 65,000 prisoners, more than a quarter of those jailed in the Islamic Republic. That meant that Iran lost its position as the world-number-one nation in the number of prisoners relative to population; it is now number three, after China and Turkey.
Contrary to what Pat Buchanan in the US and Jeremy Corbyn in Britain say, sanctions are working not by wrecking the lives of ordinary Iranians, who do suffer nevertheless, but by denying the mullahs the means to indulge in their deadly Tom-and-Jerry shenanigans.
The question is whether, once again, we are going to witness a Groundhog Day rerun. Each time the US imposed sanctions, the mullahs took a bite of humble pie and briefly modified aspects of their behavior as if playing a Tom-and-Jerry script. However, once sanctions were eased, their Jerry lost no time to revert to its old tricks.
The key question here is whether Trump, regarded by opponents to have an attention span no longer than a tweet, will want or be able, as a patient Tom, to sit back and let time do its chastising work on the playful, provocative and perverse Jerry that is the Khomeinist regime.
Amir Taheri was the executive editor-in-chief of the daily Kayhan in Iran from 1972 to 1979. He has worked at or written for innumerable publications, published eleven books, and has been a columnist for Asharq Al-Awsat since 1987.

This article was originally published by Asharq al-Awsat and is reprinted by kind permission of the author.