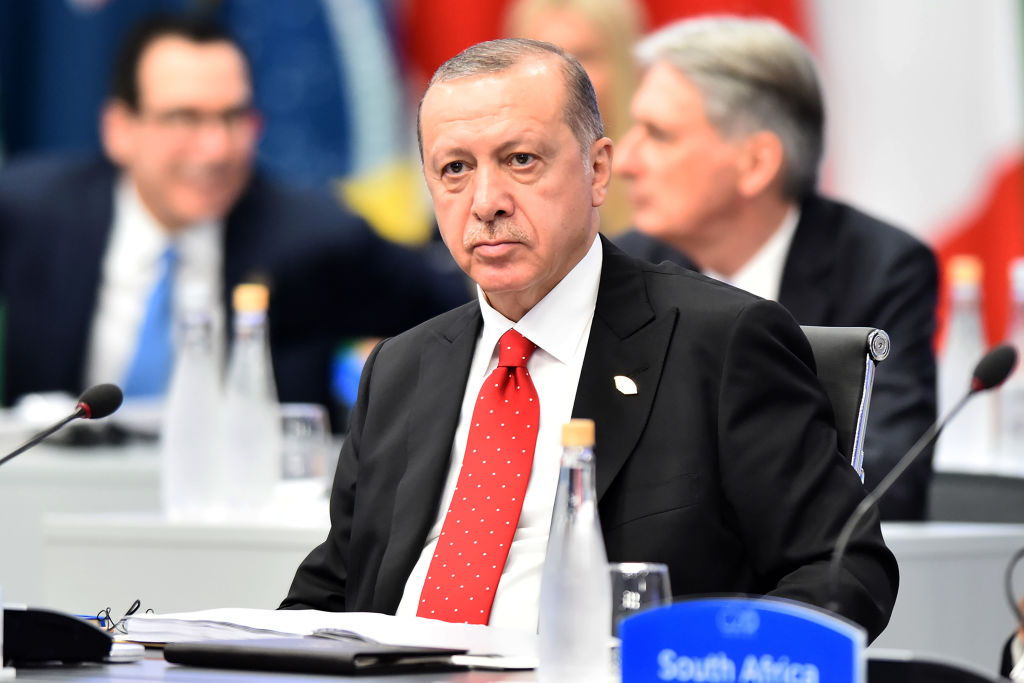 It looks as if the Turkish strategy team loves to bet on the loser. President Recep Tayyip Erdoğan's calculations on a policy of building sectarian Islam throughout the Middle East has cost him a number of Muslim countries, yet he keeps on making the same mistake. (Photo by Amilcar Orfali/Getty Images)
It looks as if Turkish President Recep Tayyip Erdoğan's will and power to fight all of the world's infidels – Muslims with different rituals, secular Muslims, Christians and Jews – will never cease.
Earlier, during the first signs of the Arab Spring, Erdoğan took to the idea of bringing together Muslims of the Middle East and uniting them under a Turkish empire that was being reborn – with him as the new caliph.
His violent anti-Jewish and anti-Zionist rhetoric worked well to earn him Arab popularity. But the message he got was wrong.
Erdoğan was the rock star in Beirut or Cairo not because poor Arabs were desperately waiting for the return of Turks to lead them -- Turkey has been experiencing serious friction with Iraq, Syria, Jordan, Lebanon, Egypt and the United Arab Emirates –- but simply because all of them are programmed to cozy up to any anti-Zionist man, animal or plant.
If you look at the map, you will see in Iraq a Turkish cold war with Iran and Iranian elements; in Syria, a losing war of friendly jihadists -- who work for the non-violent annihilation of Judaism -- against bad jihadists; and in Saudi Arabia and the United Arab Emirates, worse than cold wars. There is also Lebanon, which may have appeared just too non-Sunni; Jordan, which was never reliable; and Egypt, the most populous Arab state and an explicitly hostile state actor against Turkey. Add to that picture a rising alliance of all those Arab states with Western states and corporate actors in exploring hydrocarbons in the Eastern Mediterranean, and it becomes hard to find anyone who wishes to play on the Turkish side. The potential of Turkish drilling activity off Cyprus in retaliation to the opposition's bloc is merely Turkish propaganda for the Turks.
Now there is another "small Turkish problem" in another Muslim, Maghreb country. Having lost the possibility of proceeding through diplomacy with all the neighboring countries in the eastern Mediterranean, Turkey apparently decided to take sides in a post-Gadhafi Libya, torn by civil wars. Ideologically, Erdoğan's Turkey might be expected to go for the hearts and minds related to Hamas and the Muslim Brotherhood. It did.
Before Ghadhafi was toppled and executed, Erdoğan was against any Western army playing a role in Libya "What the hell is NATO doing in Libya?" he said. "... This is out of the question." Then he accused the French of lacking a conscience in their Libyan operations. Erdoğan apparently thought he could build a Libya that was pro-Hamas, pro-Sunni and pro-Turkey, but French plans diverged.
It looks as if the Turkish strategy team loves to bet on the loser. Erdoğan's calculations on a policy of building sectarian Islam throughout the Middle East has cost him a number of Muslim countries, yet he keeps on making the same mistake.
On June 29, Eastern Libyan forces loyal to commander Khalifa Haftar said they would ban any commercial flights from Libya to Turkey and ban Turkish ships from docking in the country. Turkey, on the other hand, has been supporting Libya's internationally recognized government in Tripoli, which recently dealt a blow to eastern (Haftar's) forces trying to seize the capital in a three-month campaign. The Libyans, it seems, simply do not want the Turks in their battle, while Turkey insists on taking a role.
Haftar and his backers say they are trying to free the capital from militias, which they blame for destabilizing Libya since the fall of General Muammar Gadhafi in a NATO-backed uprising in 2011. Haftar's critics accuse him of trying to seize power through force and deepening a conflict between factions based in the east and west of the sprawling North African country. A spokesman for the LNA, Haftar's self-styled liberation army, Ahmed al-Mesmari, said the country had "come under illegitimate Turkish aggression" in recent weeks. "Turkey has become directly involved in the battle (for Tripoli), with its soldiers, planes, sea ships and all the supplies that now reach Misrata, Tripoli and Zuwara directly," al-Mesmari said.
On July 1, six Turkish citizens were detained and released in Libya by forces loyal to renegade military commander Haftar. Haftar's forces have accused Turkey of providing air cover for the military of the rival government in Tripoli. Ankara says its involvement in Libya is aimed at promoting "regional peace and stability".
The fight for Tripoli has killed more than 750 people – not a stunning number when compared to 9/11, but not small enough to be ignored like a bomb blowing up in Paris, Istanbul or Berlin.
A decade ago, Erdoğan promised that "Israel would soon be internationally isolated." Just look at the political map of the eastern Mediterranean, however, and it will not be too difficult to find the only country that is clearly isolated.
In "Lords of the Horizon - A History of the Ottoman Empire," Jason Goodwin notes that he writes "about a people who do not exist. The word 'Ottoman' does not describe a place. Nobody nowadays speaks their language. Only a few professors can begin to understand their poetry... [Yet] For six hundred years the Ottoman empire swelled and declined".
Burak Bekdil, one of Turkey's leading journalists, was recently fired from the country's most noted newspaper after 29 years, for writing in Gatestone what is taking place in Turkey. He is a Fellow at the Middle East Forum.