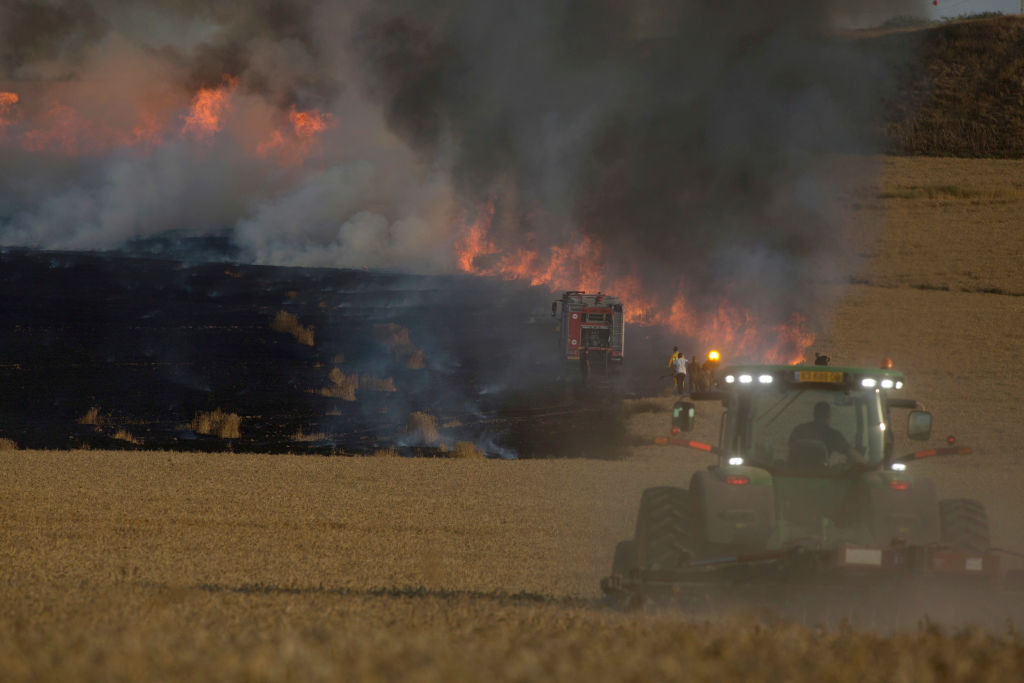 In the Hamas lexicon, launching arson kites at Israeli farms and villages near the border with the Gaza Strip is defined as "peaceful resistance." Pictured: Firefighters attempt to extinguish a burning wheat field in Nahal Oz, Israel, next to the border with Gaza after it was torched by an incendiary kite launched by Palestinians from the Gaza Strip, on May 15, 2018. (Image source: Lior Mizrahi/Getty Images)
Has Hamas, the Palestinian terror group that rules the Gaza Strip, finally accepted the two-state solution and abandoned its objective to destroy Israel?
The headlines in some Arab media outlets on July 20 created the impression that Hamas has changed its policy and is no longer seeking the annihilation of Israel. More remarkably, the headlines made it seem as if Hamas were presenting a new plan for peace with Israel.
Quoting statements by Hamas leader Ismail Haniyeh, several Arab media organizations ran headlines implying that the terror group now favors the two-state solution. "Hamas does not oppose the establishment of a [Palestinian] state on the 1967 borders," the headlines shouted.
Haniyeh reportedly made his statements during a video conference interview with Turkish journalists in Istanbul. The interview was organized by a group called the Palestinian Forum for Communication and Media, which describes itself as an "independent media organization aiming to enhance coordination between Arab and international media organizations to support the Palestinian cause."
Although the initial impression created by Haniyeh's statements suggest a dramatic shift in Hamas's policy – from seeking the destruction of Israel to accepting the two-state solution – it quickly becomes clear from reading the rest of his remarks that there is no change in the terror group's strategy or ideology.
Haniyeh carefully clarified that accepting a Palestinian state on the pre-1967 "borders" does not mean that Hamas would recognize Israel's right to exist. "Hamas is not opposed to the establishment of a state on the 1967 borders, but insists on not recognizing the Israeli occupation of the rest of the Palestinian territories," the Hamas leader is quoted as telling the Turkish journalists.
Haniyeh, to his credit, was more honest that the editors who chose the misleading headlines suggesting that Hamas has accepted the two-state solution.
Listen closely to what Haniyeh was really saying: "If we are offered a Palestinian state next to Israel, we will not say no. While we will take whatever Israel gives us, we will never recognize its right to exist. We will use the state as a launching pad to liberate all Palestine, from the Mediterranean Sea to the Jordan River."
Haniyeh's remarks are nothing but a smokescreen, intended, it seems, to deceive the world into thinking that his terror group has softened its position towards Israel and Jews.
Yet, the Hamas leader was quite clear about the terror group's stance. He even went as far as assuring the Turkish journalists that his movement will never abandon the "armed struggle" against Israel. "We often resort to peaceful and popular resistance [against Israel]," Haniyeh said. "This does not mean, however, that we have given up our armed resistance against Israel."
For Haniyeh, the weekly demonstrations along the Gaza-Israel border, which are being held in the context of the Hamas-sponsored "Great March of Return," as "peaceful" and "popular" acts of "resistance." The protests, which began in March 2018, are anything but "peaceful" and "popular."
In the Hamas lexicon, launching rocks and arson kites at Israeli farms and villages near the border with the Gaza Strip is defined as "peaceful resistance."
Although the organizers of the protests have been publicly calling on participants to preserve the "peacefulness" of their weekly demonstrations, Palestinians have repeatedly attempted to infiltrate into Israel by knocking down the security fence along the border or hurling firebombs and explosive devices at Israeli soldiers. They are probably doing that because they do not listen to what their leaders tell them, or because they have lost faith in their leaders and believe that violence is the only way to extract concessions from Israel.
Last Friday, the protests were held under the banner of "The Friday of burning the Zionist flag." The demonstrators not only burned Israeli flags; they also clashed with Israeli soldiers. Reports from the Gaza Strip said that more than 70 Palestinians were injured during the clashes.
In addition, since the beginning of the protests in March 2018, more than 260 Palestinians have been killed, and thousands injured. The number of Palestinians taking part in the Friday protests finally appears to be declining: many Gazans have apparently reached the conclusion that their leaders are using them to advance their own interests. Since the marches started, Palestinians have seen no improvement in their living conditions.
If you follow Hamas's logic, it is only a matter of time before the organization declares that firing rockets again and kidnapping Israeli villagers are also "peaceful" and "popular" means of "resistance." The mainstream media in the West will doubtless continue dutifully to rewrite its definitions.
Hamas's true intentions were expressed by one of its senior leaders, Fathi Hammad. During a rally near the Gaza-Israel border, he recently said: "There are Jews everywhere. We must attack every Jew on planet Earth! We must slaughter and kill them, with Allah's help. We will lacerate and tear them to pieces." He also urged Palestinians to purchase "five-shekel knives" and "cut the necks of Jews."
Haniyeh's statements coincided with a visit to Iran by a senior Hamas delegation. Headed by the Palestinian arch-terrorist Saleh Arouri, the delegation will spend a few days in Tehran for talks with Iranian leaders on ways of strengthening relations between the two sides.
In November 2018, the US Department of State offered a five million dollar reward for information about Arouri, who serves as deputy head of Hamas's "political bureau."
Saleh Arouri's covert operational activities, including the handling of Hamas terrorist squads, are mainly carried out in Lebanon and Turkey," according to the Meir Amit Intelligence and Terrorism Information Center. "In Lebanon, where he lives today, he operates under the sponsorship of Hezbollah with no interference from the Lebanese government, while in Turkey the authorities ignore his activities and those of Hamas."
Arouri is one of the founders of Hamas's armed wing, Izaddin al-Qassam Brigades, and is responsible for several bloody terrorist attacks against Israeli civilians and soldiers, including the 2014 kidnapping and murder of three Israeli teenagers in the West Bank.
Notably, Arouri is not travelling to Tehran to discuss with Iranian leaders ways to improve the living conditions of Palestinians in the Hamas-ruled Gaza Strip. He is wholly preoccupied with how to acquire more weapons and money for killing Jews. It is no coincidence that Hamas chose a commander of its armed wing to head the delegation to Iran. He is going to Tehran to request weapons and funding for terror activities, his special expertise.
The Iranian leaders, for their part, are not about to offer Arouri and his friends cash to construct hospitals and schools in the Gaza Strip. Iran will ensure that its money is earmarked for building more terror tunnels along the Gaza-Israel border and manufacturing rockets that will be used to attack Israel.
Iran's leaders never tire of reminding everyone of their desire to annihilate Israel. The most recent threat came from a senior Iranian lawmaker, Mojtaba Zolnour, chairman of the Iranian parliament's National Security and Foreign Policy Commission. "If the US attacks us, only half an hour will remain of Israel's lifespan," he said.
In another threat earlier this year, the second-in-command of the elite Islamic Revolutionary Guard Corps said that Iran will obliterate Israel if it starts a war, and the Israelis will not even be able to bury their dead. "Our strategy is [to wipe] Israel [off] the world's political geography and Israel seems to be approaching this reality by its mischiefs," Brigadier General Hossein Salami told reporters in Tehran. If Israel "does anything that leads to a new war, certainly it will be [the kind of war] that will result in their elimination, and the occupied territories will be retaken. Israelis won't even have a cemetery in Palestine to bury their corpses."
In welcoming the Hamas delegation, the leaders of Iran seem to know something that is hidden by misleading headlines: that Hamas remains committed to its goal of destroying Israel.
The Iranian leaders know that Arouri, with his proven record of terrorism and his hands dripping with Jewish blood, is someone Tehran can do business with. Hamas is desperate for cash and weapons. It needs these resources not because it is ready to accept the two-state solution, but in order to prepare for the next war with Israel.
It seems that Arouri is seeking to affirm to his Tehran cash-cow that Hamas is still very much on the same page as they are: eliminating Israel and replacing it with an Iranian-backed terror state.
If the Hamas arch-terrorist succeeds in his mission to secure more funding from Iran, Hamas, Islamic Jihad and other terror groups in the Gaza Strip will most likely ratchet up their terror activities against Israel. The most effective way to stop Hamas from carrying out its plan to "slaughter" every Jew is by increasing international sanctions and other means of pressure on Iran -- before it is too late.
Bassam Tawil is an Arab Muslim based in the Middle East.