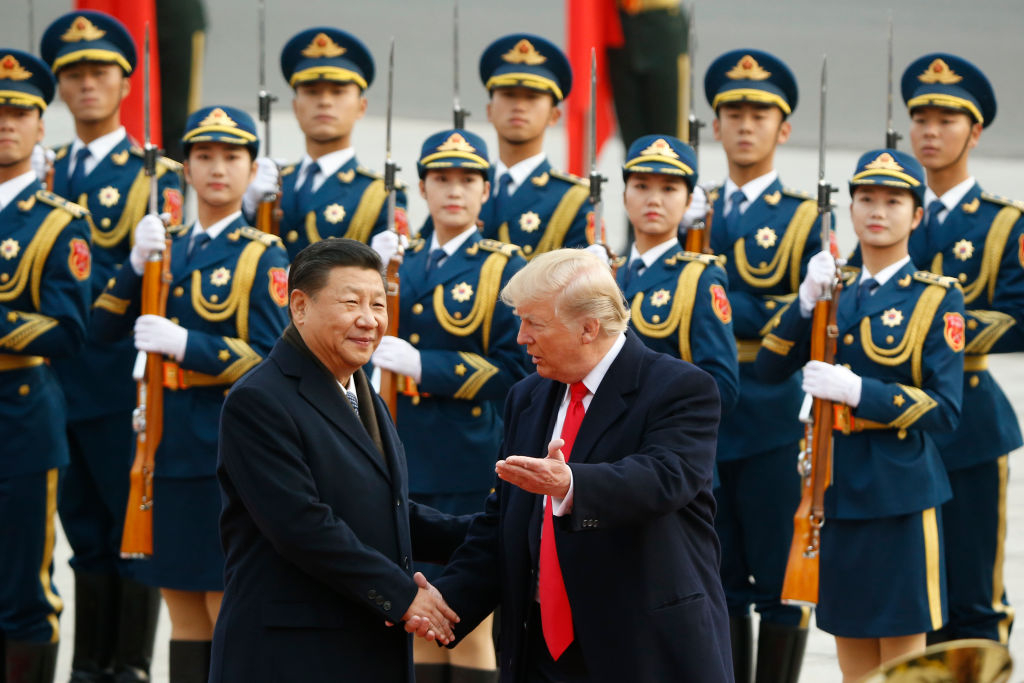 President Donald Trump after his meeting last month with Chinese ruler Xi Jinping, told the press that he was prepared to grant exemptions from its Entity List to Huawei Technologies, the world's largest networking-equipment manufacturer and second-largest smartphone maker. The Chines company, an across-the-board bad actor, undermines vital U.S. national security interests. Pictured: President Trump and Xi Jinping during Trump's visit to Beijing on November 9, 2017. (Photo by Thomas Peter-Pool/Getty Images)
American and Chinese trade negotiators, meeting Tuesday and Wednesday in Shanghai, are cooking up an interim deal that is deeply injurious to U.S. national security.
There is growing pessimism that Washington and Beijing can reach a comprehensive agreement, given the fundamental differences over, among other things, industrial policy, intellectual property protection, and restrictions on foreign investment.
The Wall Street Journal reports, however, that a "small agreement" is in the works. The Commerce Department, according to the paper, would grant exemptions from its Entity List to Huawei Technologies. This would allow American companies to license tech and sell products such as chips to the embattled telecom-equipment manufacturer, and China would buy more American agricultural products.
There is just one problem: this is the worst possible time in what is called the "cold tech war" to give relief to Huawei. Huawei is vulnerable to American measures for only a short period, so this is the time for the Trump administration to exert leverage.
The Wall Street Journal report is consistent with recent developments. President Trump, for instance, told the press after his meeting with Chinese ruler Xi Jinping at last month's Osaka G-20 that he was prepared to grant reprieves to Huawei. Since then, Commerce Secretary Wilbur Ross has talked about the conditions under which the reprieves will be doled out.
Moreover, Chinese state media on Sunday reported that the U.S. has shipped to China several million tons of soybeans, a claim not matched by U.S. customs data. Beijing, Chinese outlets report, has been also inquiring about buying U.S. cotton, pork, sorghum, and other items.
What could be better? Both halves of the proposed arrangement involve the export of U.S. products.
Nonetheless, this would be a fundamentally bad deal for America because it would help Huawei, the world's largest networking-equipment manufacturer and second-largest smartphone maker. The company, an across-the-board bad actor, undermines vital U.S. national security interests.
How so? Think of two words: stealing and spying.
Since just about the moment it was formed in 1987, Huawei has been implicated in stealing technology, from Cisco Systems and others. The theft was so pervasive that Huawei drove out foreign competition, killing off, most notably, Canada's Nortel Networks.
Then there is spying. China's spy agencies have used the company's servers, incorporated in networks around the world, to surreptitiously take data. Beijing, for instance, from 2012 to 2017, nightly downloaded information from the headquarters of the African Union.
Spying will become even more damaging when Beijing powers its artificial intelligence systems with data filched from around the planet through backdoors embedded in Huawei equipment. China's National Intelligence Law, enacted in 2017, actually requires Chinese parties like Huawei to spy if requested by a relevant Chinese authority.
Furthermore, when it comes to harm, we haven't seen anything yet. Beijing will undoubtedly use Huawei to control the networks operating the devices of tomorrow, remotely manipulating everything hooked up to the Internet of Things -- in other words, just about everything.
So far, the U.S. has had little success in persuading other countries not to buy low-cost (subsidized) Huawei equipment for their 5G networks (the fifth generation of wireless communication). The Philippines, a treaty partner of the United States, has decided to buy 5G Huawei gear, and Italy, another ally, is almost certainly going to make the same decision soon.
The Trump administration, by crippling Huawei, can make up for the failure to convince other countries to shun its equipment.
Can Huawei get by without America? Huawei has said it has developed an operating system to replace Microsoft's Windows, and although the Chinese company in March said it would prefer to stay with the U.S.-based giant, it might be able to sell laptops without the world's dominant operating system.
Huawei, however, cannot market its phones without Google's Android operating system, at least outside China.
The Shenzhen-based company boasted in March that it had developed a replacement for Android. That new operating system could, if necessary, be used for devices sold in China, where the Google Play Store is not available.
Outside China, Huawei's phones would be commercially unmarketable because they would not be able to connect to the Google Play Store. No company -- not even Microsoft, despite great effort -- has developed a commercially viable substitute to Google's Android because app developers have not created many apps for other non-Apple platforms.
On networking gear, the interruption of the supply of U.S. semiconductors would be serious. Huawei, in anticipation of friction with the U.S., stocked up on at least three months' worth of chips, according to Bloomberg. Nonetheless, the company would, in the event the Trump administration cut it off, run out of chips before it could develop its own or even find replacements.
China currently makes 16.3% of its requirement for chips, according to Brandon Weichert, publisher of the Weichert Report. Some estimates are much higher, but everyone agrees that eventually the percentage will increase, due in large part to Xi Jinping's Made in China 2025 initiative. As Claude Barfield of the American Enterprise Institute points out, Beijing is already "hell-bent" on developing its own semiconductor industry.
Weichert, in comments to Gatestone, said it would take China no more than two years to develop a "reliable indigenous semiconductor capacity."
In the meantime, Huawei could go out and buy Japanese and South Korean replacement chips, but they would not, for various reasons, be as suitable as American ones. Moreover, the Trump administration could lean on Tokyo and Seoul to not supply Huawei.
So, if the Trump administration is going to move against Huawei as a national security threat, it has to do so now. Beijing is now stalling, hoping to buy time for Huawei.
There is also something fundamentally wrong with the interim deal reported by the Wall Street Journal. That arrangement boosts America's sale of primary products, a badge of a basic economy, at the cost of ceding high-tech leadership. As Weichert added, "Beijing wants nothing more than for America's national trade profile to resemble that of a developing Third World economy, like Argentina's or Brazil's."
Gordon G. Chang is the author of The Coming Collapse of China and a Gatestone Institute Distinguished Senior Fellow.