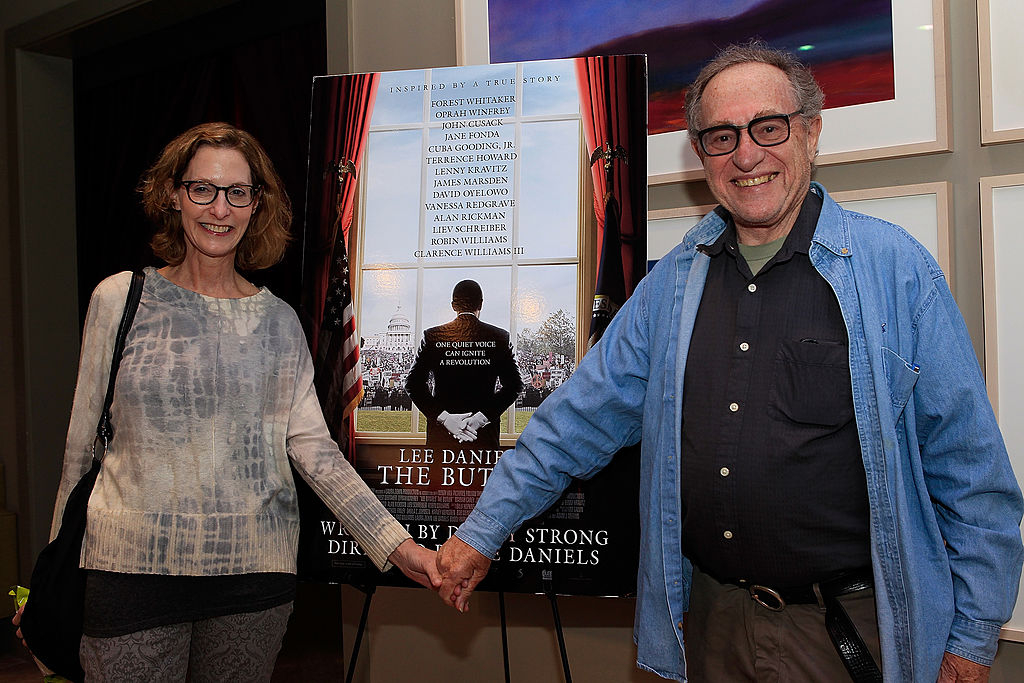 Alan Dershowitz and his wife, Carolyn Cohen, on August 14, 2013. Dershowitz has been happily married for over 30 years, with three children. (Photo by Gail Oskin/Getty Images)
Our criminal justice system is built on the notion that the burden is on the prosecution to prove a case beyond a reasonable doubt before one's liberty, our most valuable asset, can be taken away. And for good reason. We don't want innocent people in jail.
We are willing to live with some guilty folks going free so that we don't have the horror of an innocent person behind bars. Our system, with all of its flaws (including the concept that prosecutors who charge people with baseless claims cannot be charged), has clung to this bedrock principle of presumed innocence.
The system still affords defendants due process of law.
But what about a private individual falsely accusing someone of a heinous crime?
Today it seems that anyone can accuse another without any real fear of repercussions.
And this is most certainly true when a person makes an allegation in civil litigation.
Such allegations are protected by the "litigation privilege" and are not subject to defamation suits.
When someone says something accusatory in public, he can be sued. But a person who makes up an allegation in a court document can't be. And if such an accuser is found to have lied, they likely will never be prosecuted.
This is where famed Harvard law professor Alan Dershowitz finds himself: accused of a heinous crime without any real recourse or due process protection. As the accusations pop up on screens across the globe, they are assumed to be true even though Dershowitz has not been charged or convicted.
Just this week, The New Yorker published a lengthy article on Dershowitz, which not only recirculates the uncorroborated allegations against him, but also attempts to paint a very negative picture of his character.
Before addressing the claims in the article, let me disclose that I was a student of Dershowitz more than 20 years ago, and now, we are friends and occasionally work together, as I too am a criminal defense attorney.
I believe him when he says that he is innocent.
In fact, former FBI Director Louis Freeh studied the allegations and concluded that "the totality of the evidence refutes the allegations against Professor Dershowitz."
In 50 years of teaching law students, not one student has ever levelled any sort of sexual misconduct complaint against him. Not one.
And The New Yorker certainly looked for such an allegation.
Still, there are those out there who won't give Dershowitz the benefit of the doubt. This is wrong.
The intent of The New Yorker seems to be to convince folks that Dershowitz is guilty even though there is not enough evidence to charge him, let alone convict.
Let's look at some of the claims in I article:
1. Premise: Dershowitz represents men who have been accused of sex crimes.
It appears that the argument is that because he has represented these men in the past (like Mike Tyson, Jeffrey Epstein, and O.J. Simpson) he, too, must be guilty of sex crimes.
Demonizing a defense attorney for the clients he represents is an age-old attack, but unexpected from the respected New Yorker.
Also missing from the piece is that Dershowitz has represented many high-profile women including Patricia Hearst, Mia Farrow, and Leona Helmsley. Noteworthy, the cover-art for the story on Dershowitz shows his male clients like Tyson, Epstein, O.J., Claus von Bulow, and even a non-client, President Trump.
But where are his famous female clients?
Reading the article, you would think that Dershowitz has a practice focused on sex crimes when in truth, those cases make up a small percentage of Dershowitz's long roster of clients and cases. For instance, fifty percent of his criminal practice is devoted to pro-bono legal defense.
He also does a significant amount of First Amendment work, writes books and articles, and devotes a great deal of time on behalf of Israel.
While his high-profile defense work will garner the most media attention, it's not fair to say, as The New Yorker implies: 1) Dershowitz works almost exclusively for wealthy men; 2) therefore he believes in what those clients do; and 3) he must also be guilty. All three of those premises are unwarranted and false.
2. Premise: Dershowitz wrote an op-ed in the 90s about statutory rape.
The citation to this old piece has generated the most buzz, with people saying things like: "See! He is in favor of child rape, just like Epstein. He is guilty."
But that's not what his op-ed column says.
In his 1997 article, he raised the question about whether the 18-year-old line for the age of consent is too high.
For example, more states in the U.S. have 16 as the age of consent than 18. And countries around the world have different age of consent laws (Germany is 14; Colombia 14; China 14; South Korea 20).
Dershowitz has a long history of asking provocative questions and challenging established norms.
Should a 19-year-old boy go to jail for having sex with his 17-year-old girlfriend? In some states, that teenager could serve a lengthy prison sentence, especially at the time the article was written, when there were not as many Romeo and Juliet exceptions.
Even if you disagree (like I do) with Dershowitz on the age of consent, it is not fair to claim that his argument suggests he acted like Jeffrey Epstein.
Dershowitz has written on lots of controversial topics, including in favor of non-lethal torture in the "ticking time bomb scenario." Does that mean that he himself has tortured someone? Obviously not.
3. Premise: Dershowitz has publicly attacked the accuser.
The New Yorker implies that because he has been so vocal in his attacks against his accuser and others in the Epstein case, his own legal position must be weak.
But to make this argument is to simply not know Dershowitz.
The New Yorker suggests that we should assume Dershowitz is guilty because of his vocal and public defense, instead of viewing his statements through the prism of innocence. The evidence is clear, for example, that one of his accusers never discussed Dershowitz or raised his name while discussing Epstein with her friends for a long period.
And, importantly, the same accuser also wrote an unpublished memoir of what occurred and didn't mention Dershowitz in the list of men with whom she had sex.
Her allegation against Dershowitz only surfaces much later, after new lawyers join the case.
A second Dershowitz accuser falsely claimed that she had sex tapes of half a dozen men, including Bill Clinton and Donald Trump.
There is other evidence that undermines the accusers' claims.
I imagine that different people would react differently to being falsely accused of a horrific crime. Dershowitz was never going to go quietly into the night if he was falsely accused. That's not him.
And imagine if he had. People would be saying, "If Dersh was innocent, he would be screaming it from the mountaintops."
Clearly, it's a no-win situation. Say something, and you should be quiet. Stay quiet, and you should have said something.
If Dershowitz is innocent, you can understand why he is beside himself over the allegations.
In fact, he has done the unthinkable and asked — in an op-ed with the Wall Street Journal — for the FBI to investigate him.
No criminal lawyer would recommend his client take such a path as there is nothing more intrusive and petrifying than a federal criminal investigation.
Dershowitz also wrote a preemptive strike against the New Yorker piece when he heard it was coming out. At the end he pleads with his readers:
"if you read The New Yorker article, please compare it to this letter and see what they included and excluded. Please also ask yourselves how you and your family would feel if you were falsely accused with no evidence of horrible crimes of which you were entirely innocent."
There are other strange points in The New Yorker article, including a discussion of Dershowitz's first marriage and divorce.
They do not have any bearing on the allegations in the Epstein case.
What is relevant, however, is that Dershowitz has been happily married for over 30 years, with three children, and his wife believes him.
Perhaps the focus on Dershowitz is not based on facts but on business. He's one of the most noted attorneys in the nation, a celebrity, and politically controversial.
Writing about Dershowitz and sexual allegations with a minor is sure to generate clicks. In fact, one reporter who has written extensively about Dersh, commented on Twitter that engaging in the back and forth with Dershowitz gets her more followers.
So what can be done to deter false allegations in the internet era? For starters, if a false accusation is made and proven, the accuser should be prosecuted and punished. There needs to be real consequences for falsely accusing someone of a crime. It is a common refrain that the cover-up is worse than the crime. It has a ring of truth to it because jurors and judges are generally more offended by the lie and obstructive behavior than they are by the crime itself. These sorts of lies should be even more troubling when it concerns the creation of a non-existent crime.
A hundred years ago, before Twitter, click bait, and #MeToo, Mark Twain is reported to have said that a lie can travel halfway around the world before the truth can get its boots on. I wonder what he would say now.
David Oscar Markus is criminal defense attorney at Markus/Moss in Miami. He is a magna cum laude graduate of Harvard Law School. He tries criminal cases and argues criminal appeals throughout the country. Follow him on Twitter @domarkus.

This article was originally published by Newsmax and is reprinted here by the kind permission of the author.