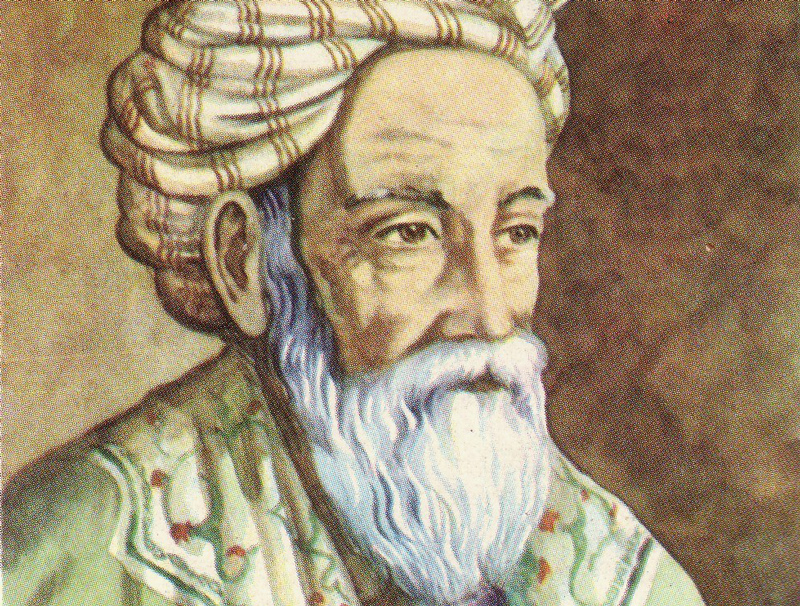 Whatever you may think of Iran, you are likely to acknowledge it as one of the oldest homelands of poetry. Any list of top poets from all over the world is likely to include at least one or two Persian names -- say Omar Khayyam or Molavi (Rumi). Pictured: Omar Khayyam. (Image source: Wikimedia Commons)
Whatever you may think of Iran, you are likely to acknowledge it as one of the oldest homelands of poetry. Any list of top poets from all over the world is likely to include at least one or two Persian names -- say Omar Khayyam or Molavi (Rumi). Goethe believed that poetry has reached its peak of beauty with Hafez of Shiraz.
I know of only two countries, Iran and Russia, where poetry still finds a mass audience and poets could attain celebrity status.
Ask any Iranian who the persons they most admire are and you are likely to hear a list of poets -- from Ferdowsi and Saadi centuries ago to Iraj Mirza and Forugh Farrokhzad more recently. For the average Iranian, the poet is not only a creator of beauty but also the guardian of the nation's conscience. Iran is one of few countries in the world where the list of celebrities at any given time includes a number of poets and where poetry recitals draw crowds that compete with those of pop-music concerts.
Because of that deference to, not to say reverence for, poetry, Iranian poets often managed to escape the worst effects of repression during centuries of despotic rule. No autocrat, no potentate, dared send a poet to prison, let alone have him killed.
Yet, that time-honored tradition has been broken by Iran's current "Islamic" regime created by the late Ayatollah Ruhollah Khomeini in 1979. A minor poet himself, Khomeini seems to have had a grudge against poets. One of the first acts of his regime was to have the young poet Saeed Soltanpour, abducted from his wedding ceremony and executed on a spurious charge of "Communist militancy." Later, the poet Rahman Hatefi-Monfared, alias Heydar Mehregan, also a noted journalist, was put to death under torture in one of Khomeini's prisons.
Under President Hashemi Rafsanjani, a plan to kill a busload of Iranian poets on their way to a festival in Armenia failed at the last minute. Nevertheless, Rafsanjani succeeded in eliminating more than a dozen writers and poets. The worst spate of killings happened under President Muhammad Khatami, when more than 80 intellectuals, including the poets Mohammad Mokhtari and Mohammad-Ja'far Pouyandeh, were murdered by the Islamic regime's security agents.
Poets who escaped prison or death were subjected to psychological pressure, including a ban on the publication of their work. The poetess Simin Behbahani was frequently called in by Islamic Security for "an informal talk", a trick to exert psychological pressure. Mehdi Akhavan, one of the towering figures of Persian poetry in the past 100 years, suffered similar intimidation. The case of Muhammad Qahraman, a classical poet, was even worse as, it seems, he was victim to a personal grudge from "Supreme Guide" Ali Khamenei.
In his late 70s, Qahraman had his civil service pension stopped after he circulated a sonnet (ghazal) lampooning the mullahs.
According to an account that may be apocryphal, Khamenei developed the grudge in the 1970s when Qahraman criticized one of his poems during a private gathering in their hometown, Mash'had. Since then, Khamenei has refused to read his poems to anyone or to have them published. Instead, he organizes annual poetry competitions and presides over poetry reading sessions several times a year. However, he has ordered that poets should write about revolution, martyrdom, wiping Zionism off the map, and destroying the American "Great Satan". It is not hard to see what kind of poets may be attracted to his circle on such terms.
Since the mullahs seized power, many poets had to choose exile, among them such popular poets as Nader Naderpour, Esmail Khoi, Yadallah Royai, Reza Baraheni, Hadi Khorsandi, Mehrangiz Rasa-pour (alias M. Pagan), and Muhammad Jalal, alias M. Sahar. Even Hushang Ebtehaj, an ex-Marxist poet who still supports the regime, prefers to live in exile in Germany.
Hashem Shaabani, an Arab-Iranian poet and teacher, was hanged on the eve of President Hassan Rouhani's visit to Ahvaz in 2014. Also under Rouhani, the poetess Fateme Ehktesari, possibly the most interesting Iranian surrealist, was sentenced to 11 years in prison along with his companion Mehdi Mussavi, also a poet and publisher. Ekhtesari was later released and managed to go into exile in Norway.
What is known as modern Persian poetry has a history dating back to almost 11 centuries ago when a handful of Khorassani poets revived writing in their native language. In all those centuries, we have few examples of poets being imprisoned. The most notorious case was that of Masoud Saad Salman who was born in 1042 AD in Lahore, now part of the newly created state of Pakistan. For a while, Masoud achieved star status under the Ghaznavid dynasty before falling victim to intrigues and sent to prison in the Fortress Nay for almost 20 years. The odes (qasida) he wrote in that prison have become integral parts of the Iranian literary treasure.
The poet Manuchehr Yektai once quipped that today all Iranian poets, including those who like himself are in exile, live in Fortress Nay.
What is surprising is that Persian poetry is yet to receive the accolade it deserves on a global scale, for example by granting of a Nobel Prize for Literature. In the 1980 and 1990s, Naderpour and Behbahani were nominated but died before they could be more closely considered as laureates.
This year, a number of Iranian intellectuals and literary critics are nominating Esmail Kho'i, a poet now in his 70s and living in exile in Great Britain. Khoi's work is outstanding both for the beauty and richness of his language and the original and its exciting imagery. Because much of his recent work has a distinctly political, not to say polemical, tone some may argue that he is more of a political leader than a poet. However, one might have said the same thing about Fabre D'Eglantine, Vladimir Mayakovski or, in a different register, Gabriele D'Annunzio.
Celebrating Khoi's great poetical achievement would be a fit tribute to what three generations of Persian poets have achieved during almost a century of exceptional creativity. Nobel judges should not miss the opportunity to share the joy that modern Persian poetry has given lovers of poetry all over the world.
Amir Taheri was the executive editor-in-chief of the daily Kayhan in Iran from 1972 to 1979. He has worked at or written for innumerable publications, published eleven books, and has been a columnist for Asharq Al-Awsat since 1987. He is the Chairman of Gatestone Europe.

This article was originally published by Asharq al-Awsat and is reprinted by kind permission of the author.