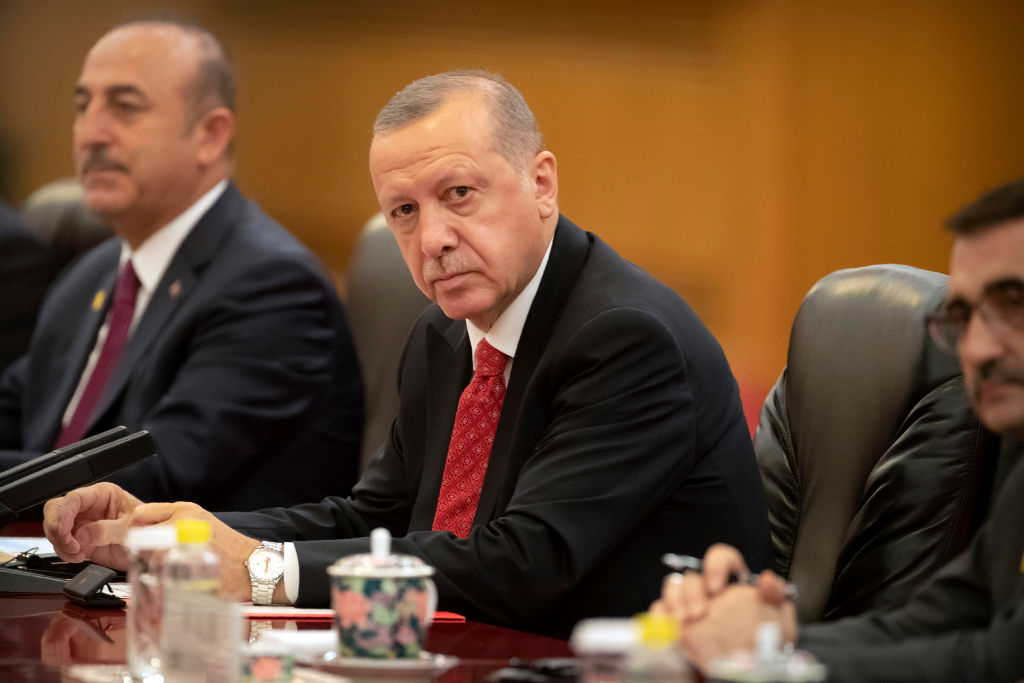 Turkish President Recep Tayyip Erdoğan has taken to ridiculing even further whatever little remains of his country's democratic culture. (Photo by Mark Schiefelbein - Pool/Getty Images)
No one in the saner parts of the world has ever claimed that Turkey's Islamist President, Recep Tayyip Erdoğan, is a liberal democrat who never in the slightest rigged election results. But he was, at least, known to respect the ballot box. No longer. Erdoğan has taken to ridiculing even further whatever little remains of Turkey's democratic culture.
Claiming vote-rigging, he pressured Turkey's supreme election board for a recount of ballots cast on March 31 in Istanbul, Turkey biggest city, which boasts more than 10 million registered voters. His Justice and Development Party (AKP) had lost municipal elections in Istanbul by a small margin of 13,000 votes. This was the first time Erdoğan's party had lost elections in Istanbul since 1994. The man who is notorious for saying "who wins Istanbul, wins Turkey" immediately ordered a rerun.
His cries of irregularities and fraud brought shy smiles to the faces of most foreign observers and Turks. "Sometimes you get the best detectives from the ranks of best thieves," joked a European diplomat who asked not to be named, in a private conversation with Gatestone on April 4. Although the Supreme Election Board did not find any vote-rigging in favor of the opposition, it ruled for a rerun on June 23. Grudgingly, voters changed their travel plans, and cancelled and remade their flight and hotel bookings to be present at the ballot box on June 23. Erdoğan promised party fans a clear election victory in Istanbul -- but lost, this time, by a margin of more than 800,000 votes, compared to only 13,000 in the original race.
The Islamist strongman had bitterly to admit defeat: 800,000 votes were just too many to hijack. He simply said there would not be other elections for four and a half years, when Turkey will hold presidential and parliamentary elections.
In the original March 31 local elections, along with Istanbul, Ankara and Izmir, Turkey's three biggest cities, his AKP party also lost other large provinces -- including Antalya, Mersin, Adana, Hatay and Bolu -- that typically had voted for it in previous polls.
Erdoğan, apparently, did not care much if he adhered to the rules as long as he won power. In 2016, Turkey's Interior Ministry appointed trustees to replace the elected mayors of 28 municipalities across the country, predominantly in Turkey's largely Kurdish eastern and southeastern provinces, on the grounds that the mayors allegedly had provided support to outlawed terrorist organizations. The target was the pro-Kurdish People's Democratic Party (HDP) which Erdoğan has declared a terrorist entity.
In his election campaign last October, Erdoğan did not mind threatening Kurdish voters: "Elections are nearing. If those involved with terror come out of the ballot box, we shall appoint trustees with no delay," he said in a speech. By then, 94 of 102 municipalities in Kurdish-majority cities and towns were administered by Ankara-appointed trustees, as Ankara moved to depose, arrest, and jail mayors in the aftermath of the 2014 city council vote. A Kurdish MP, Meral Danış Baştas, replied to Erdoğan in Kurdish: "Your wrath stems from the fear in you."
Elections have become an unpleasant political tug-of-war between the central government in Ankara and the Kurdish east: Kurds elect their leaders, who are then replaced by trustees from Ankara. Kurds once again elect their leaders, the government in Ankara once again appoints trustees to replace them -- a malignant vicious circle.
Erdoğan did not surprise anyone when, on August 19, his government replaced Kurdish mayors with state officials in three cities and detained more than 400 people for suspected militant links. The mayors of three major southeastern cities -- Diyarbakir, Mardin and Van -- are accused of various crimes, including membership in an alleged terrorist organization and spreading terrorist propaganda, according to the Interior Ministry. "This is a new and clear political coup. It is a clear and hostile stance against the political will of the Kurdish people," the HDP executive board said in a written statement. The three mayors had been elected with between 53% to 63% of the vote in their cities in March.
Erdoğan would do well to ask himself tough questions: If the Kurdish mayors actually had links to terrorism, why did the election board vet them favorably in the run-up to the vote? Does the fact that they have not been found guilty of any terror-related crimes after their election forcefully remind us that this is simply hijacking the votes of millions of Kurds? By using an administrative decision as a pretext to oust elected mayors, Erdoğan is effectively nullifying millions of Kurdish votes. Moreover, if the ousted mayors actually had proven links to terrorist organizations, why were they allowed to run in an election in the first place?
This drama will probably continue: Kurds will elect their leaders, Erdoğan will sack them. Kurds again will elect their leaders, Erdoğan will sack them too. Kurds will vote for other leaders and Erdoğan will sack them too.
Erdoğan should sit down, think and find out: why do his country's 20 million or so Kurds insist on invariably electing "terrorists" as mayors to their cities and towns, and defying his calls to do otherwise?
Burak Bekdil, one of Turkey's leading journalists, was recently fired from the country's most noted newspaper after 29 years, for writing in Gatestone what is taking place in Turkey. He is a Fellow at the Middle East Forum.