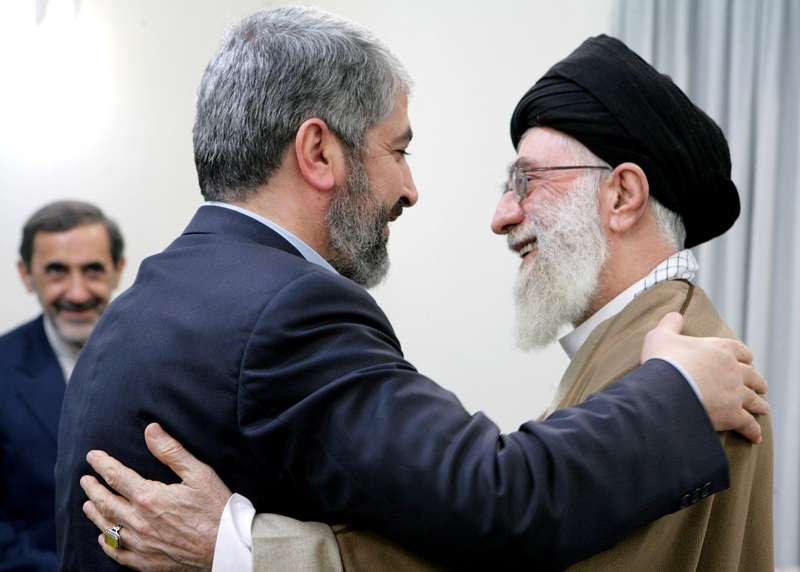 Iran has enlisted Khaled Masha'al, the former head of the "political bureau" of the Palestinian Hamas movement, to warn Arabs about the consequences of their demands for reform and democracy. Pictured: Masha'al with Iran's "Supreme Leader" Ayatollah Ali Khamenei. (Image source: khamenei.ir)
In the context of its effort to thwart the current anti-corruption protests in Lebanon and Iraq, Iran has enlisted Khaled Masha'al, the former head of the "political bureau" of the Palestinian Hamas movement, to warn Arabs about the consequences of their demands for reform and democracy.
Iran considers the anti-corruption protests a major threat to its interests in the region. That is most likely why it has decided to unleash Hamas and its other proxies -- Hezbollah in Lebanon and Hashd al-Shaabi in Iraq -- against the demonstrators on the streets of Beirut and Baghdad. What Iran evidently wants is to see Arabs protesting against the US and Israel -- and against nothing else.
As far as Iran's leaders are concerned, Arabs demanding reform and democracy are damaging Tehran's effort to dominate Arab countries and prepare for war against Israel. Iran seems to believe that thanks to Tehran's technological advances, destroying Israel has become possible. "The sinister regime [Israel] must be wiped off the map, and this is no longer a dream but an achievable goal," said Major General Hossein Salami, commander of Iran's Islamic Revolutionary Guard Corps.
Speaking at the "Jerusalem Pioneers Conference" in Turkey earlier this week, Masha'al expressed concern that the anti-corruption protests, which are also directed against Iran, could turn out to be harmful for the Palestinians.
His major concern, he said, is that the Arabs' preoccupation with their domestic problems and conflicts would divert their attention from the Palestinian issue and push it to the bottom of their list of priorities. "We hope that this is a temporary preoccupation," Masha'al said. "We hope that Palestine will return to the top of the [Arabs'] agenda."
The former Hamas leader also warned Arabs and Muslims to be aware of Israel's "influence over internal policies in your countries."
The voice is that of Masha'al -- but it seems clear that he is speaking on behalf of his patrons in Tehran, who appear to be extremely worried about the mass protests sweeping Lebanon and Iraq -- the two countries where Iran has large political and military presence.
In the past few weeks, Hezbollah thugs have attacked peaceful demonstrators in Lebanon with knives and clubs. The thugs also forced a Lebanese youth, Luay Shibli, publicly to apologize for "insulting" Hezbollah Chief Hassan Nasrallah. Under threats from Hezbollah, Shibli posted a video on social media in which he said, "We are not as valuable as the shoes of Hassan Nasrallah."
Earlier, Nasrallah had come out against the anti-corruption protests in Lebanon by warning that the demonstrations will plunge the country into chaos. He also claimed that the protests were being "funded by foreign parties."
What Nasrallah forgot to mention is that his Hezbollah terror group, like Masha'al's Hamas, receives financial and military aid from Iran.
In Iraq, Iran's proxy, the Hashd al-Shaabi militias, are reported to be playing a major role in quashing the anti-corruption protests. The militias, accused of serving as Iran's instrument to dominate Iraq, reportedly stationed snipers on Baghdad's rooftops to shoot those participating in the protests against corruption.
Back to Masha'al. This man represents a movement that has been controlling, with an iron fist, two million Palestinians in the Gaza Strip since 2007. Hamas has been no slouch with regard to suppressing its opponents and blocking demands for reform and democracy.
In recent weeks, Hamas security forces arrested several Palestinians for allegedly planning a new wave of protests against corruption and economic hardship in the Gaza Strip. Hamas, in other words, is doing exactly what Hezbollah and Hashd al-Shaabi have been doing against peaceful protesters in Lebanon and Iraq.
Hamas's allies in Islamic Jihad, the second-largest terror group in the Gaza Strip, are also funded by Iran, and they, too, are opposed to any anti-corruption protests. The excuse Hamas and Islamic Jihad have given for their opposition to demands for reform and democracy is that Palestinians should be devoting their efforts to fighting Israel. That objective seems precisely the reason Hamas continues to send Palestinians to protest near the border with Israel, while Islamic Jihad terrorists continue firing rockets at Israel. Acting on instructions of their masters in Tehran, Hamas and Islamic Jihad clearly want Palestinian anger to be directed solely toward Israel.
Masha'al's statement against the anti-corruption protests in Lebanon and Iraq demonstrates that Hamas cares nothing for the well-being of Arabs and is prepared to do its utmost to defend Iran's interests not only in the Palestinian arena, but also in the entire region.
In the view of some Palestinians, Iran's ongoing and obsessive meddling in Palestinian affairs -- particularly its financial and military aid to Hamas and Islamic Jihad -- has been catastrophic for the Palestinian cause.
"Khaled Masha'al says that the crises in the region have a negative impact on the Palestinian cause," said Palestinian political analyst Hassan Alnewaihi.
"Which crises are you talking about, Mr. Masha'al? Is the [Iranian] occupation of Iraq a crisis or a catastrophe that has befallen the [Arab nation] and destroyed the Palestinian cause? Which crises are you talking about when Iran is occupying four Arab capitals, destroying the capabilities of Arabs and taking them many years backwards? Is the uprising of Arabs against their oppressors a crisis? Are revolutionaries against [Iranian] occupation a crisis that harms the Palestinian cause?"
Alnehaiwi added that the "popular revolutions against the [Iranian] occupiers and [Arab] executioners are a luminous point and milestone that will serve the interest of the Palestinian issue." Noting that Hamas did the right thing when it sided with the Syrian people in their uprising against the regime of President Bashar Assad, the political analyst said:
"Hamas may regret its support for Iran. Hamas will lose a great deal if it continues to side with Iran and stands against the people who have revolted against [Iranian] occupation and the executioners."
Such criticism, however, is unlikely to deter Hamas from pursuing its agenda of promoting Iran's interests in the region. The Arabs who are risking their lives to demand good governance and an end to corruption are now being targeted by Iran and its puppets in the Gaza Strip, Lebanon and Iraq.
It now remains to be seen whether the Arabs who have finally woken up to realize that Iran -- and not Israel -- is the real threat to their well-being will be able to keep up the momentum and continue their uprising against corruption and Iranian dominance over their countries.
By continuing to align itself with Iran, Hamas is leading its people straight toward even greater suffering. The only way for the Palestinians in the Gaza Strip to alleviate their misery is by revolting against their "leaders" in Hamas. Instead of firing rockets at Israel and demonstrating at the Gaza-Israel border, Palestinians ought to learn from their brothers in Lebanon and Iraq who their real enemies are: Iranian-backed dictators and fake Palestinian leaders, who only know how to lead their people towards further suffering.
Khaled Abu Toameh, an award-winning journalist based in Jerusalem, is a Shillman Journalism Fellow at Gatestone Institute.