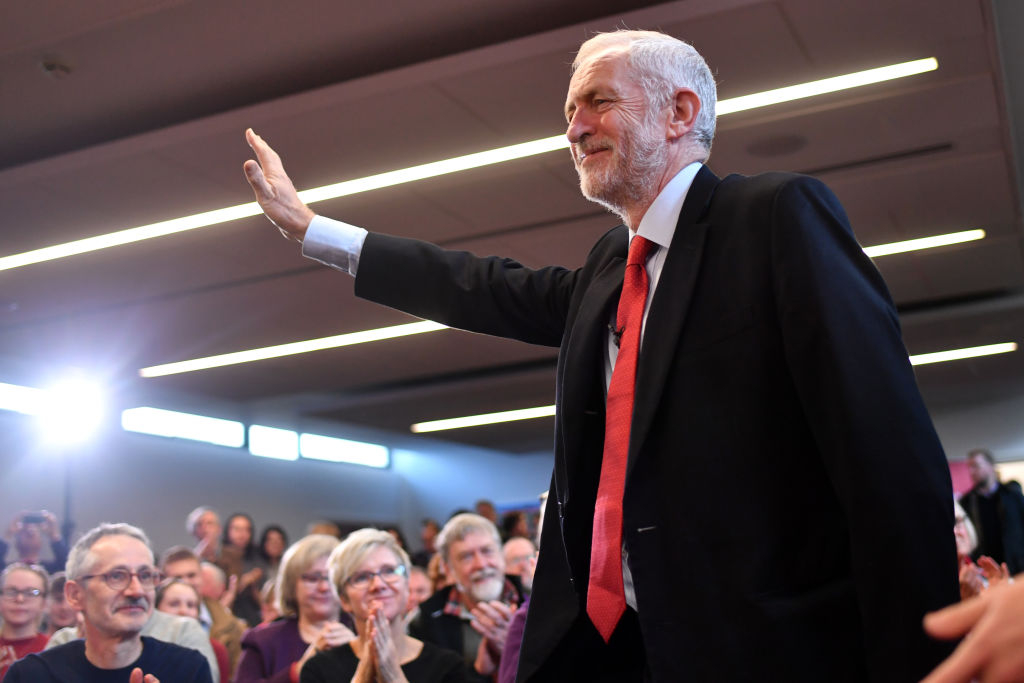 Mr Corbyn makes no secret of where his true sympathies lie. (Photo by Anthony Devlin/Getty Images)
With the British general election now well underway, Britain's allies need to give serious consideration about how they would deal with Jeremy Corbyn, the Labour party's hard left candidate, in the event of him becoming prime minister.
The prospect of Mr Corbyn entering Downing Street is of particular concern for the US given the current level of close cooperation that currently exists between Washington and London, especially regarding national security issues.
As one highly influential American security source told me earlier this week, "A Corbyn government would not just be a disaster for Britain. It would be a disaster for the US and other Western allies who work closely with London on a whole range of global security issues."
One of the pillars of the so-called "special relationship" between London and Washington, for example, are the close ties they share on military and intelligence cooperation. Britain's nuclear deterrent relies heavily on American technology to enable the Royal Navy's fleet of specially-adapted submarines to fire Trident missiles armed with nuclear warheads.
It is a similar picture on the intelligence-sharing front, where the close level of cooperation between the American and British intelligence services forms the bedrock of the elite Five Eyes intelligence network, with Canada, Australia and New Zealand being the other members of an alliance that was originally established during the Second World War.
Consequently, serious questions are now being asked in Washington and other key Western capitals about the likely implications of a Corbyn victory in next month's general election and whether, with the Labour leader resident in Downing Street, they will be able to maintain the same level of military and intelligence-sharing cooperation.
By far the most likely casualty of a Corbyn government would be the Five Eyes intelligence-sharing network, where there is a strong likelihood that other member states of the alliance will be deeply reluctant to share highly sensitive material with a British prime minister who has spent his entire political career openly associating with regimes and groups that are utterly hostile to the West and its allies.
From supporting the IRA at the height of its campaign to kill and maim British troops in Northern Ireland and Britain to, more recently, associating with Islamist terror groups sucj as Hamas and Hezbollah, Mr Corbyn makes no secret of where his true sympathies lie.
It is a similar picture with regard to the Labour leader's global vision. At the heart of his hard Left approach to foreign policy lies a deep hatred for the US and its role in safeguarding the interests of the Western democracies. Thus Mr Corbyn's instinct is to be more sympathetic to the views of Russia, Iran, North Korea and the Assad regime in Syria than Britain's long-standing allies in Washington and Europe.
Mr Corbyn's high regard for the ayatollahs even resulted in his undertaking the controversial role of being a contributor for Press TV, the Iranian-run propaganda channel, where he was paid the equivalent of around $30,000 until the channel was banned by British regulators for its part in filming the detention and torture of an Iranian journalist. MoreoverMr Corbyn has never apologised for his association with the broadcaster, and claiming his appearances over three years allowed him to raise "a number of important human rights issues".
Another example of Mr Corbyn's pro-Iranian bias can be seen in his frequent public association with members of Hezbollah. In a speech made to the British-based Stop the War Coalition, he called members of Hezbollah and Hamas "friends". Consequently there can be little doubt that, in the disastrous event that he becomes Britain's next prime minister, he would insist that Britain pursue a far more sympathetic approach to Tehran.
Another area of concern for Britain's allies would be Mr Corbyn's close association with other Islamist groups such as the Muslim Brotherhood and Hamas. Mr Corbyn has appeared at a number of rallies with Hamas leaders, and his pro-Islamist sympathies were revealed again earlier this week when, speaking on the campaign trail, he criticised the Trump administration's recent special forces operation that resulted in the death of ISIS leader Abu Bakr al-Baghdadi, claiming that the US should have made more of an effort to take him alive.
The possibility, therefore, that Mr Corbyn could be Britain's next prime minister needs to be given serious consideration by the US and other allies. The presence of a hard-Left leader in Downing Street could have serious implications for the future well-being of the Western alliance.
Con Coughlin is the Telegraph's Defence and Foreign Affairs Editor and a Distinguished Senior Fellow at Gatestone Institute.