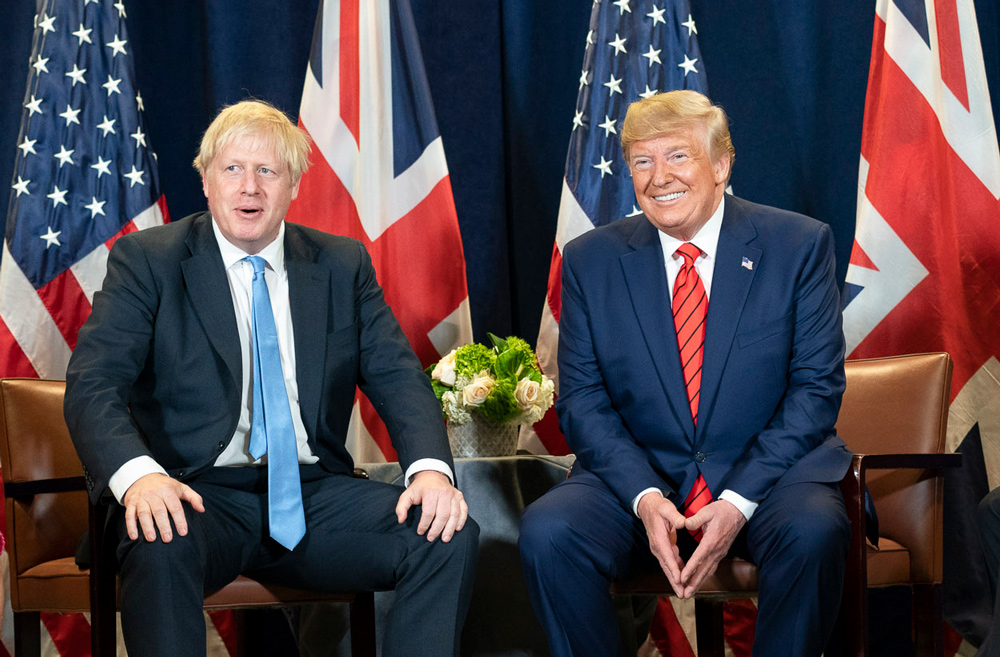 UK Prime Minister Boris Johnson's return to Downing Street means that Washington now has a firm ally in London, someone who is committed to breathing new life into the vital and long-standing partnership between Britain and America. Pictured: Johnson meets with US President Donald Trump on September 24, 2019, at United Nations Headquarters in New York. (Image source: The White House)
Boris Johnson has only been back in Downing Street a few days following his stunning victory in Britain's general election, but there are already early signs that his premiership will preside over a dramatic revival in transatlantic relations not seen since the heyday of Ronald Reagan and Margaret Thatcher.
First and foremost, the British prime minister has made it abundantly clear that his first priority will be to break the Brexit deadlock that has effectively paralysed British politics, and the country's ability to make its voice heard on the international stage, at the earliest possible opportunity, thus opening the way for a trade deal with Washington.
As a start, Mr Johnson has committed his new government to fulfil its election pledge to complete Britain's withdrawal from the European Union by the end of January. Furthermore, he will enshrine in law his promise that the complicated trade negotiations that are due to take place next year to finalise Britain's future trading relationship with the EU bloc will be completed by the end of 2020.
Critics of Mr Johnson's ambitious programme to free Britain from the EU's shackles and negotiate a new network of global trade deals have argued that completing the process of establishing a new trading framework with the EU will take much longer than a year, especially in view of the EU's notoriously slow approach to completing such transactions. The critics point out, for example, that the Canada-EU trade deal took seven years to negotiate and was 22 years in the making.
By enshrining Britain's ultimate departure date in law, Mr Johnson has effectively silenced those critics, as well as sending a clear declaration of intent to Brussels that Britain aims to complete the withdrawal process by the end of next year, with or without a deal.
The fact, moreover, that Mr Johnson now enjoys a comfortable majority of 80 seats in the newly-constituted House of Commons means that he will no longer be subjected to procedural legislative obstructions from die-hard Remainers, as was very much in evidence during the death throes of the last parliament.
Thus Mr Johnson's reinvigorated Conservative Party finds itself in a position to shape Britain's destiny for the foreseeable future, with rebuilding relations between Washington and London seen as being one of Mr Johnson's first priorities.
During the tenure of Theresa May, Mr Johnson's hapless predecessor as prime minister, relations between Downing Street and the White House became strained, to say the least. As one senior former member of Donald Trump's foreign policy team recently told me, "By the end of Mrs May's premiership relations with the US had fallen to an all-time low".
The first indication of a revival in relations between Washington and London came when Mr Trump was one of the first world leaders to congratulate Mr Johnson on his historic win -- he secured the largest Conservative majority since Mrs Thatcher's third election victory in 1987 -- and immediately promised to strike a "massive" new trade deal with the UK post-Brexit. The US president said a future US-UK trade agreement has "the potential to be far bigger and more lucrative" than any deal that could have been made with the EU.
Indeed, with Mr Johnson assured of being Britain's prime minister for the next five years, and Mr Trump well-placed to secure re-election in next year's presidential election contest, there is every prospect that the two leaders could herald a new golden era of transatlantic relations not seen since the alliance of Mrs Thatcher and US President Ronald Reagan in the 1980s.
There will, of course, be numerous political obstacles that will have to be overcome regarding issues where the two men have opposing views, such as the controversial nuclear deal with Iran. While Mr Trump is determined to pressure Tehran with punitive economic sanctions, Mr Johnson still remains committed to working with other European powers, such as France and Germany, to save the nuclear deal.
Yet, compared with the calamitous impact a victory for Labour Party leader Jeremy Corbyn, whose politics is defined by his visceral anti-Americanism, would have had on transatlantic relations, Mr Johnson's return to Downing Street will have been greeted with enormous relief in the White House, as it means Washington now has a firm ally in London, someone who is committed to breathing new life into the vital and long-standing partnership between Britain and America.
Con Coughlin is the Telegraph's Defence and Foreign Affairs Editor and a Distinguished Senior Fellow at Gatestone Institute.