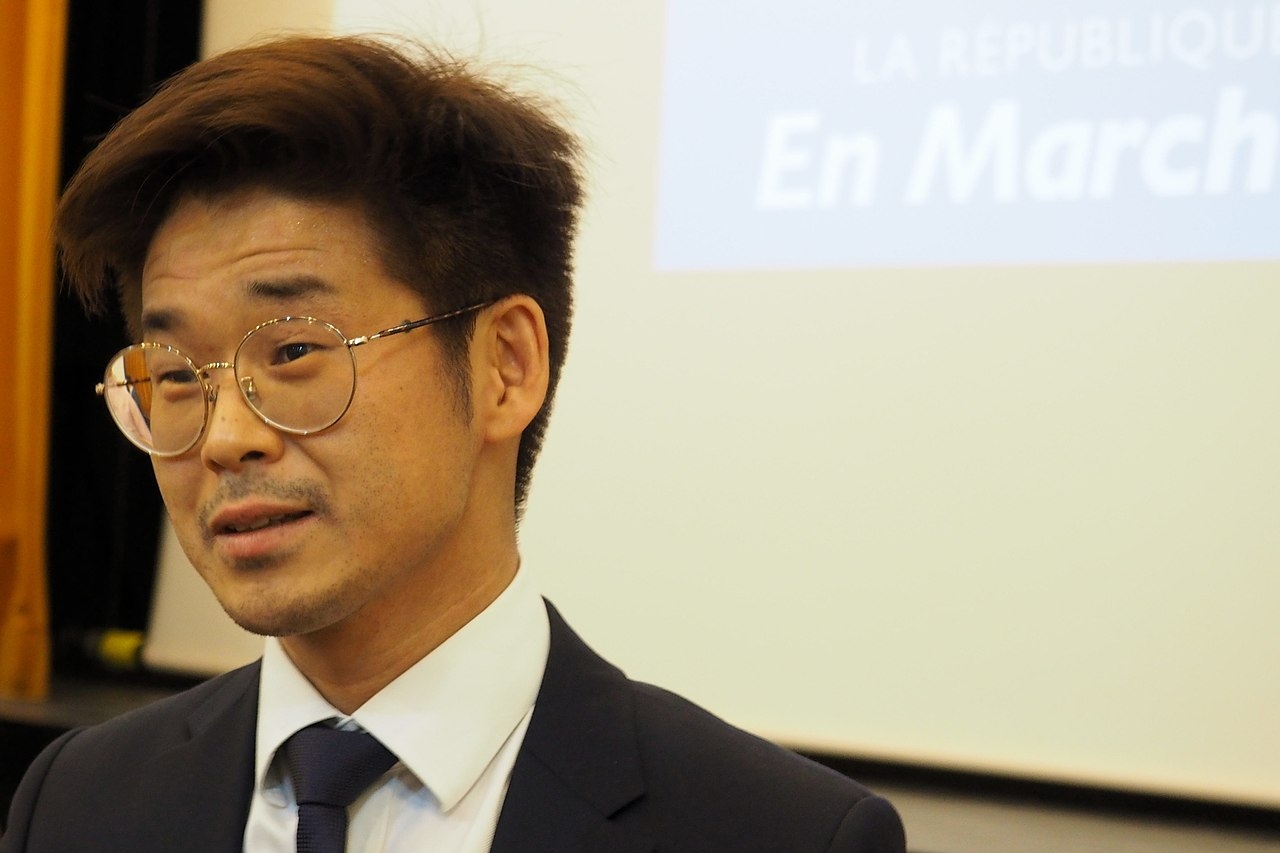 Joachim Marie Son-Forget. (Image source: Rama/Wikimedia Commons)
Joachim Marie Son-Forget, a French politician born in South Korea, since 2017 has been a member of the French National Assembly (lower house of the French Parliament) representing French residents overseas. Formerly active in the Socialist Party and later La République En Marche!, he resigned in late 2018 to start his own political party, Valeur Absolue.
Grégoire Canlorbe: How do you react to the EU's attitude: hostile to Trump but friendly towards the mullahs of Iran?
Joachim Son-Forget: I do not think that the EU is particularly hostile to Trump, except that it denounces the trade war that has been declared. I fully understand the US President's decision to increase tariffs on goods such as European wines or Airbus aircraft. Trump is defending America's economic interests, and from his point of view, he is right to do so. As I am concerned with French and European interests, I am obliged to approve the tariff sanctions with which the EU has promised to respond. But Trump is a great President; I regret that he cannot find in [French President Emmanuel] Macron an interlocutor who answers him from a position him of strength -- as a leader who skillfully and ferociously defends his own economic and geopolitical interests, like Kim Jong-un, who has been so skillful despite his age and his education in Switzerland.
I agree with President Trump on some of his ideas, such as his Reaganesque libertarianism. Its success contrasts sharply with the economic record of his French counterpart. Despite economic and structural reforms that go in the right direction. Macron is struggling to get rid of the socialism so present in the elite French form, where the state is there, all the time, even when it should back off and let the private sector take over. I also agree with Trump's concern about thwarting the hegemonic ambitions of the mullahs of Iran. This is the same Iran that launched a fatwa on the excellent Salman Rushdie. History will not be kind to Macron if he does not show a greater firmness against Iran, as well as against the terrorist threat and the Islamist ideology that reign on his own soil. In the end, what shocks the elites of Paris or Brussels about President Trump is that he actually embodies real governance, which is totally inadequate in their mode of operation.
Canlorbe: What mode of operation do you mean?
Son-Forget: Neither the EU nor France is a technocracy: they are rather what I would be tempted to call administrocracies. They are in the hands of people who -- failing to make strong decisions and have a mastery of problems -- comment on the news all day long. Therefore, there is a gap between the political class and the entrepreneurs, who are extremely free and direct in their speech, and extremely skillful and surprising in their way of doing things -- such as Donald Trump.
There is also discomfort with his nationalistic concept of the role of the state, his conviction that governments are at the service of national interests, and not some supranational authority. The "European construction" is based on the underlying prejudice that European identity should take precedence over national affiliations, which is an anthropological error. The people who live in Europe are -- and feel -- English, Italian, Polish or French, before being European. It is necessary to respect stacking identities starting from the smallest set, the family, the tribe, towards larger sets. Everyone does not have the desire to identify with large sets. That is, the sacred union of the populists: they are in brutal opposition on many points to defend their sovereign interests.
Canlorbe: Trump is facing the three great totalitarian perils in the contemporary world: The mullahs' Iran, Xi's China and North Korea. How do you see North Korea moving its pawns in the game?
Son-Forget: The defense of Western humanism against totalitarianism is a major issue. By humanism, I mean the attachment to values such as equality under the law and the desire to allow the optimal development of everyone, regardless of their social or ethnic origin. Not the pseudo-humanistic excesses such as extreme feminism, or granting rights to animals. Or the political ecology of the left, who, out of panic, want to precipitate the public into a regressive state of nature.
The hegemonic aspirations of North Korea are helped by the geopolitical withdrawal of Japan, which seems incessantly to be repenting for what it does not want to apologize for: the crimes committed on the various peoples -- including Koreans -- whom Japan subjugated during its imperial expansion in the first part of the twentieth century. North Korea also counts on the support of China, which challenges America's position as the world's leading power. The Koreans, whether in the North or South, also have good genes: they are resilient, diligent and have curiosity.
A second advantage of North Korea is technology. Clandestinely, North Korea is at the forefront of computing, which allows it to siphon significant funds through the blockchain [bitcoin]. As concerns nuclear capability, the talks between Washington and Pyongyang are now in a rut. Unlike his South Korean counterpart, Moon Jae-in, who works to smooth relations between the two Koreas -- first on mutual trust, then on progressive denuclearization. He therefore hosted a delegation to North Korea. Kim Jong-un has no interest in denuclearization. His program is total and irreversible, not to mention unverifiable. The North Korean regime is continuing on its merry way, as one can see by the missile fired in December 2019. He has promised that its effect will be "very important," and will change the "strategic status" of North Korea... Why would his regime comply with adopting a position of weakness?
This article is an abridged version of Son-Forget's conversation with the political journalist Grégoire Canlorbe in Paris, December 2019.