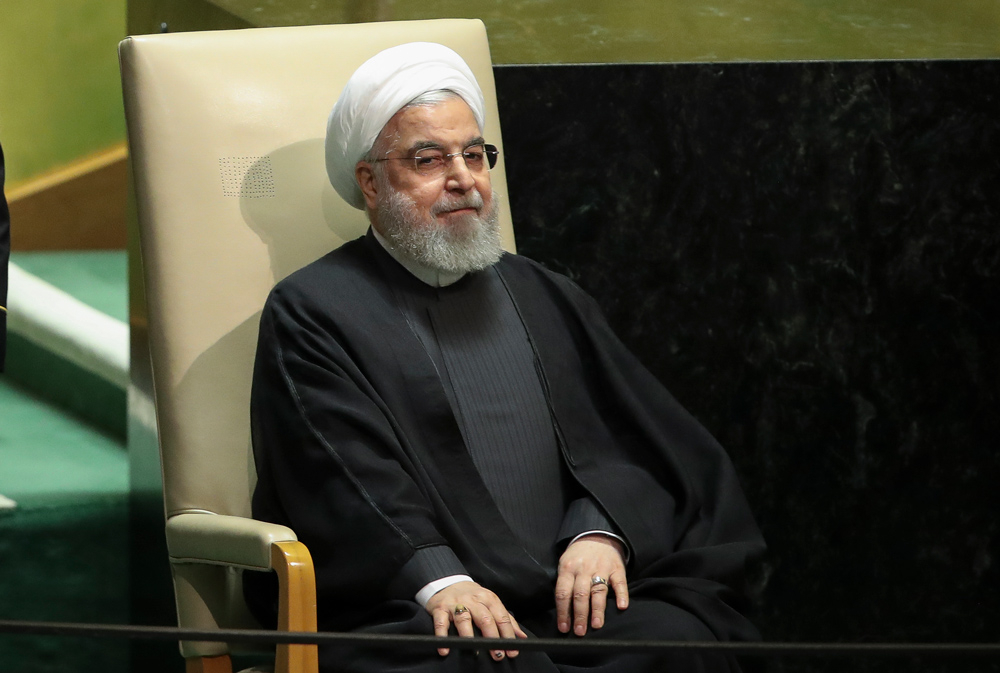 Having already exposed President Hassan Rouhani (pictured) and his Cabinet as nothing but puppets, last Tuesday, Iran's "Supreme Guide" Ali Khamenei decided to reassert his position as puppet-master by annulling the decision of the Majlis on the new national budget. (Photo by Drew Angerer/Getty Images)
One of the arguments advanced by Democrat critics of US President Donald Trump's "maximum pressure" policy towards Iran is that, far from persuading Tehran to change its behavior, it has helped marginalize the so-called "moderate faction" and propelled the "radicals" into an even more aggressive posture.
At first glance, the criticism may appear justified. In last month's parliamentary election, the "moderate" faction, always the Cinderella of the system, was reduced to the status of a mouse in the Khomeinist kitchen.
Having already exposed President Hassan Rouhani and his Cabinet as nothing but puppets, last Tuesday, "Supreme Guide" Ali Khamenei decided to reassert his position as puppet-master by annulling the decision of the Majlis on the new national budget. After weeks of debate, the outgoing Majlis had rejected the budget with a clear majority. The "Supreme Guide", however, needed the budget to release funds for the various military and security organizations on which the regime is built not to mention stipends for Bashar al-Assad, Hassan Nasrallah, the Houthis, Hamas, Islamic Jihad, Iraqi militias and kindred groups across the globe.
In a brief "state edict", a kind of fatwa, he declared the national budget approved, thus making it clear that the President, the Council of Ministers and the Islamic Majlis all depended on his whim.
In other words, Trump's policy has forced the Islamic Republic to assume its true identity as a typical "Third World" regime based on the military-security apparatus with a pseudo-theocratic façade.
That, I think, is an important and positive development. The only question is whether the end of the moderate-hardline game will lead to change of behavior in Tehran.
The answer could be a tentative yes. In fact, the end of the moderate-hardline pas-de-deux may itself be regarded as part of the behavior change in question. There are signs that, always anxious not to lose face, the regime has started to modify its behavior in a number of areas.
For the first time in decades, Tehran has downgraded annual "End of America" and "End of Israel" international conferences that attracted professional anti-Americans and Holocaust- deniers from all over the world. The usual Hate-America crowd, from Louis Farrakhan to "Che" Guevara's daughter and son-in-law and passing by British Corbynites waited in vain for invitations to travel to the Islamic Republic for a rite of verbal abuse against the "Great Satan". This year, there was no Holocaust-denying cartoon exhibitions while Oliver Stone and kindred characters waited in vain for invitation to the Fajr ("Dawn") film festival in Tehran, where America-bashing has been a favorite sport.
More importantly, badly hit by cash-flow problems, the regime has been forced to cut down payments to regional clients in Iraq, Lebanon, Syria, Yemen, Afghanistan and Gaza. This has led to a reduction in Lebanese Hezbollah's military presence in Syria while the Houthis in Yemen have also gone into slow motion mode. Almost all offices in 30 Iranian towns and cities recruiting "volunteers" to fight in Syria, ostensibly to protect Shiite shrines, have been closed or downgraded into a symbolic presence.
The Islamic Republic has also stopped raising new fighting units of Afghan and Pakistan mercenaries. Boastful claims that Tehran would help Venezuela's Nicolás Maduro reassert authority with vast amounts of cash have not materialized. At the same time Tehran has taken no new hostages and even released three, including an American.
In his meeting in Zurich with Brian Hook, Trump's point-man on Iran, Iranian Foreign Minister Muhammad Javad Zarif relayed the message that Tehran was prepared for further releases.
Concerned that they might have to put up with Trump for a second term, Khamenei's associates have back-pedaled on boasts that Tehran could wait for a Democrat, preferably Joe Biden, in the White House in 2021.
A more dramatic sign of behavior change by Tehran came in the wake of General Qassem Soleimani's killing in an American drone attack. Khamenei described Soleimani as "the apple of my eye" and many expected the general to succeed Rouhani as President of the Islamic Republic next year. Not a single one of the remaining 12 top Islamic generals come close to filling Soleimani's boots. And, yet, Tehran has been forced to ignore calls for escalating the situation through serious revenge attacks.
More importantly, perhaps, the idea of appeasing Trump is publicly evoked in Tehran, albeit in the usual negative rhetorical style.
The daily Kayhan, believed to reflect Khamenei's views, claimed last Tuesday that, in a letter transmitted through the Swiss ambassador, Tehran had "indicated agreement" to return to a de facto recognition of "The Zionist regime", disarming of the Lebanese branch of Hezbollah and end of support for Hamas. Kayhan does not say who signed the letter, when, and to whom the Swiss ambassador, representing American interests in Iran, transmitted it.
Iran was one of the first two Muslim-majority nations to recognize Israel on its foundation as a state. Turkey went for full, de jure, recognition, while Iran chose the lower grade de facto option.
Turkey's move took the form of a declaration by the Foreign Ministry in Ankara while Iran passed an act of parliament, giving its decision greater legal solemnity. Since that act has never been repealed by any legal instance in the Islamic Republic, Tehran could return to recognition of Israel with a simple declaration.
No longer enjoying access to massive amounts of easy money from oil exports, the Khomeinist leadership is growing daily more desperate to loosen the lasso thrown by the Trump administration. Always anxious not to lose face, it has modified aspects of its behavior, confirming the view that the Khomeinist train, which according to Mahmoud Ahmadinejad had no reverse gear, would stop only if it hits something hard.
As whining and sniveling replaces braggadocio in Tehran it seems that the wayward train has already hit something hard. To be sure, two successive popular uprisings have also helped shake the regime that seems unable to reconnect with the broader Iranian society.
Amir Taheri was the executive editor-in-chief of the daily Kayhan in Iran from 1972 to 1979. He has worked at or written for innumerable publications, published eleven books, and has been a columnist for Asharq Al-Awsat since 1987. He is the Chairman of Gatestone Europe.

This article was originally published by Asharq al-Awsat and is reprinted by kind permission of the author.