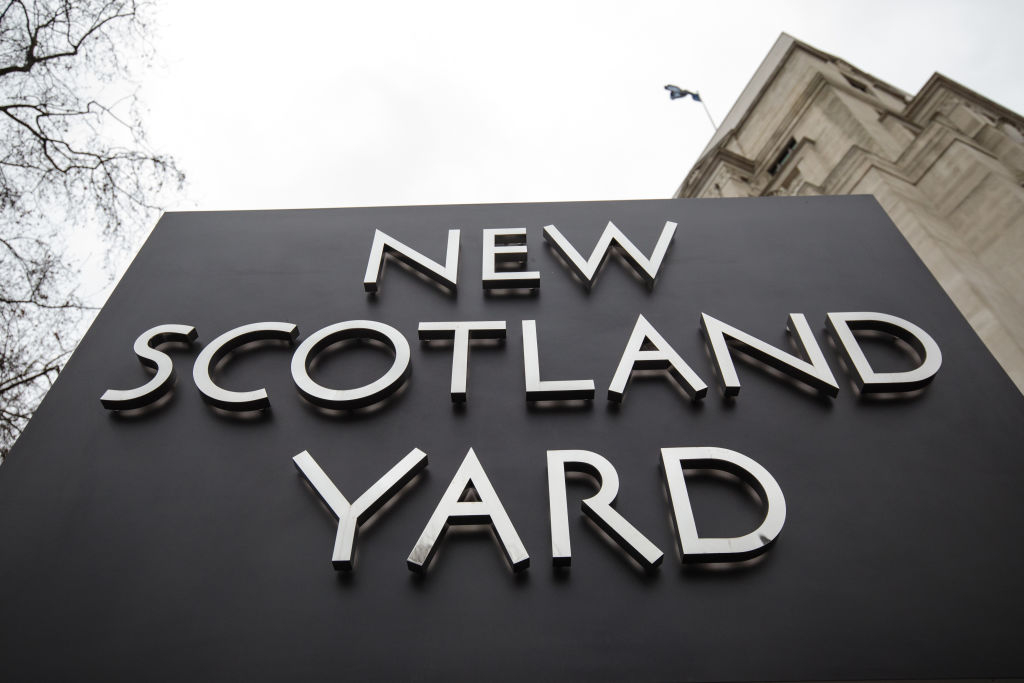 (Photo by Jack Taylor/Getty Images)
The Metropolitan Police (the Met, London's police force) recently asked the public to report, "hate crime related to the Covid-19 pandemic".
"Are you a victim or witness of hate crime related to the COVID-19 pandemic? We do not tolerate hatred or abuse directed at communities because of their race, religion, disability, sexual orientation or gender identity. If you experience hate crime, please tell us & we will act" the Met tweeted on March 28.
"Someone using offensive language towards you or harassing you because of who you are or who they think you are is also a crime," a constable told followers of the force's Twitter account.
"Another example is someone posting abusive or offensive messages about you online. You might want to shrug it off if it happens to you, but if you tell us then we can investigate and stop it from getting worse, for you or someone else. Even if you're not sure if it's a crime or not, you should report it so we can investigate."
The call to report hate crimes comes at a time when London is experiencing a crime wave, while also having to deal with the Coronavirus:
The police recorded 146 homicides in London in 2019, up from 135 in 2018, making it the most lethal year in a decade. The majority of the killings were stabbings, which have nearly doubled between 2014 and 2019. Killings linked to gang-violence have more than doubled, from 17 in 2014 to 42 in 2019.
According to the Mayor of London's Office for Policing and Crime (MOPAC), there were 221,003 instances of violence against people in London in 2019, up 4.5 % from 2018. Of those, 77,081 resulted in injury. Serious youth violence went up 9.7% in 2019 to 8,481 incidents. There were 46,086 drug offenses, representing an increase of 26.3%, and 15,438 knife crime offenses, up by 5.2%.
There were 19,956 sexual offenses in 2019, down 2.6 % from 2018, including 7,859 rapes. In 2019, there were also 39,716 robberies, up 19.1 %, 80,465 burglaries, down by 0.1 % and 251,981 thefts, an increase of 13.6 %.
In July 2019, the BBC reported that the proportion of crimes solved by police in England and Wales had fallen to the lowest level recorded since data began to be compiled in 2015. At that time, 15.5% were charged. In 2019 (measured March-to-March), 7.8% of offenses saw someone charged, down from 9.1% in 2018. For some individual crimes, the proportion of crimes solved was even lower: 3.8% for sexual offenses, 5.4% for criminal damage and arson, and 6% for theft.
Metropolitan Police Commissioner Cressida Dick admitted in June:
"Overall police detection rates nationally are low, woefully low I would say in some instances, and the courts are emptying, not filling. It's not good, and I'm not proud of it".
On the bright side, however, Dick said that the force was now "infinitely more accountable and trustworthy, less secretive, less, frankly, arrogant, more humble, more responsive and of course very much, but not enough, more diverse."
Asking the public for more complaints -- specifically on hate crime -- especially regarding incidents that are not even obviously criminal, seems a bizarre priority, to say the least.
In 2014, the UK introduced the Hate Crime Operational Guidelines, which state that any non-crime incident that is perceived, by the victim or any other person, to be motivated by a hostility or prejudice based on a person's race, religion, sexual orientation, disability or transgender identity must be recorded, even if there is no evidence of the hate element:
"For recording purposes, the perception of the victim, or any other person... is the defining factor in determining whether an incident is a hate incident... The victim does not have to justify or provide evidence of their belief, and police officers or staff should not directly challenge this perception. Evidence of the hostility is not required for an incident or crime to be recorded as a hate crime or hate incident".
Since the introduction of the Hate Crime Operational Guidelines, police in the UK have recorded nearly 120,000 "non-crime hate incidents", according to the Telegraph. The non-crime incidents are logged in a system and can even show up in a so-called DBS check, when employers ask for a copy of a prospective employee's criminal record.
The Hate Crime Operational Guidelines came under scrutiny in February when a former police officer, Harry Miller, won his legal battle against Humberside Police, who investigated non-criminal tweets he made, which they alleged were "transphobic". The police showed up at his place of work and told him that his tweets were not a crime, but that what he had done was nevertheless being recorded as a hate incident. In police reports, Miller was described as a "suspect".
"The role of British police today goes beyond bringing offenders to justice when they commit crimes," the College of Policing (the authority behind the guidelines) argued in defence of the guidelines, adding that "police now take an active role in the resolution of conflict within and between communities."
The High Court ruled that the police's actions had a "chilling effect" on the free speech rights of Harry Miller and constituted "a disproportionate interference with... [Miller's] right to freedom of expression". The judge compared the actions of the police to the Gestapo and East Germany's Stasi. He ruled that the tweets were lawful and said there was not "the slightest risk" Harry Miller would commit a criminal offence by continuing to tweet. At the same time, however, the High Court found that the Hate Crime Operational Guidelines were lawful -- so they are still in use.
John Richardson is a researcher based in the United States.