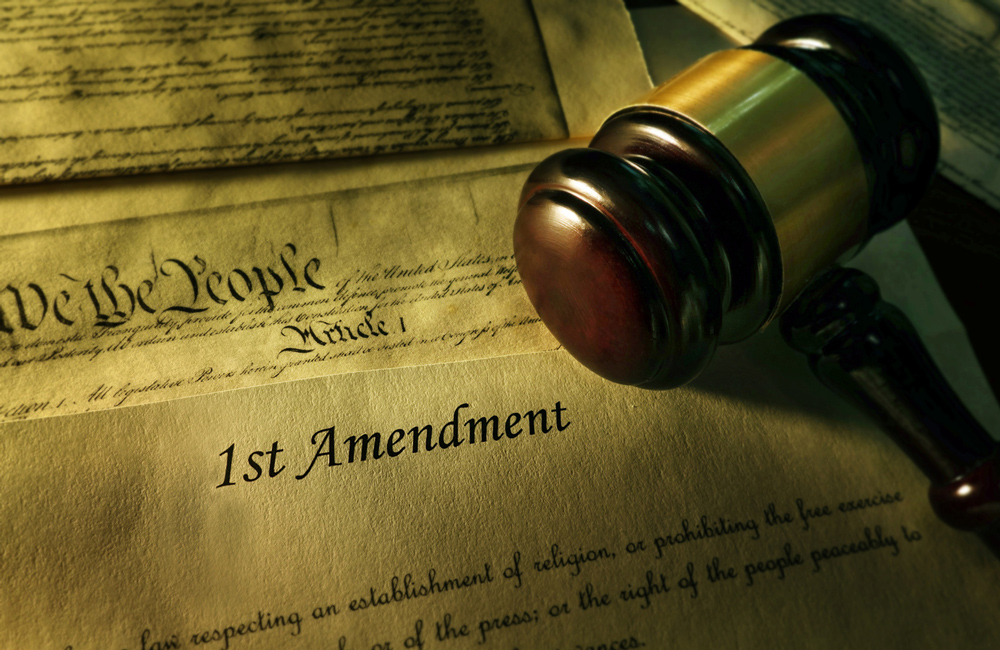 This spring, Americans have been enrolled in a "flatten the curve" regime, but when the government's justification for home confinement shifted to some vague prescription for safety, the constitutional supports for unreasonable confinement dissolved. (Image source: iStock)
Shutting down America has caused many to ask who suspended the Bill of Rights. The re-opening of this country would do well to include close attention to righting wrongs that may -- deliberately or inadvertently -- have been inflicted on the US Constitution.
At the end of Chief Justice William Rehnquist's life, one of his great concerns was the government's use of crisis power at the expense of civil liberties, a concern he shared with law students during his last summer constitutional survey course in Cambridge, England.
"The Chief'", as he was respectfully known, revealed how deeply troubled he was with historical episodes that justified denial of constitutional rights. He pressed the students -- some of them future judges, government attorneys, state attorneys general -- to suggest alternatives that might better preserve civil liberties. Once freedoms were surrendered, Rehnquist warned, they would be even easier to take away when a future crisis or greater good came calling.
This spring, Americans have been enrolled in a "flatten the curve" regime, but when the government's justification for home confinement shifted to some vague prescription for safety, the constitutional supports for unreasonable confinement dissolved.
The government's promise to "make us safe" started to take on god-like proportions, based merely on the circumstance that government has the power to enforce irrational edicts. Worse, within that promise, there was no recognition of the increasing collateral damage on the other side of the equation: businesses, families, fortunes, and the generally ill who still needed doctors. There is also the looming burden of debt to be shouldered by future generations.
Now that America is pushing back on the coronavirus, there is healthy attention to the excess of some government orders. Complaints of constitutional violations cover almost the entire range of First to Fourteenth Amendment overreaches.
It is the disregard for due process -- the essential insurance policy against constitutional breaches -- that should alarm Americans. Due process is an important shield against tyranny -- especially of the local kind.
Due process is the general promise to citizens that government may not take life, liberty or property without proper notice and hearings. This protection implies, as courts have instructed, that laws are clear, that the hearing process is transparent, and that government is accountable.
The very orders that citizens across this land were protesting have been delivered wrapped in lack of transparency: forbidding only some assemblies; preferring big box stores; shutting down churches and gun stores but not liquor or cannabis stores; motor-boating prohibited but sailing is not; vacation rentals banned but not lodges; among many more disparities.
Stay-at-home orders and state quarantine blockades also were directed at wide swaths of territory and whole states rather than targeted "hot zone" areas.
When edicts are written in a careless, overbroad, or vague fashion, local authorities may be given, or assume, too much power. Some places, such as Florida, had border checkpoint instructions that provided for a two-week quarantine for "any person who had spent time in an area of substantial community spread." Such an instruction does not inform law enforcement -- or returnees or travelers into Florida -- who may be deprived of liberty.
Americans are right to protest when executive orders pick winners and losers while "not thinking of the Bill of Rights." Many of these orders make petty criminals of understandably confused violators.
While we have all learned much about the expansive Tenth Amendment's state police powers to oversee health and safety matters during a crisis, there are still limits. Emergency orders must have a legitimate connection to a justifiable government goal, they must not be arbitrary, and must not target any group in discriminatory way.
Courts are already affirming complaints of government overreach in cases that concerned the First Amendment's freedom of religion and assembly. The federal government and Texas Attorney General issued proclamations, amid a flurry of gun store restrictions, defending Second Amendment right to purchase a firearm.
Business owners in Pennsylvania are already appealing to the U.S. Supreme about "arbitrary and capricious" definitions that categorize "life sustaining businesses", while excluding others.
The lawyers at the American Freedom Law Center have filed a lawsuit against the governor of Michigan's irrational Executive Order 2020-42. Our "liberties are not conferred or granted by government to then be rescinded at the will and whims of government officials." Even more fundamental is that "These God-given liberties are possessed by the people, and they are guaranteed against government interference by the United States Constitution."
It is vital that "We the people" keep on overseeing this process to ensure that the attempted power grabs -- for instance by those who would use this crisis to "restructure things to fit our vision" -- continue to be judged as intolerable acts.
Karen Lugo, a constitutional law attorney, is a former member of the California Advisory Committee to U.S. Civil Rights Commission.