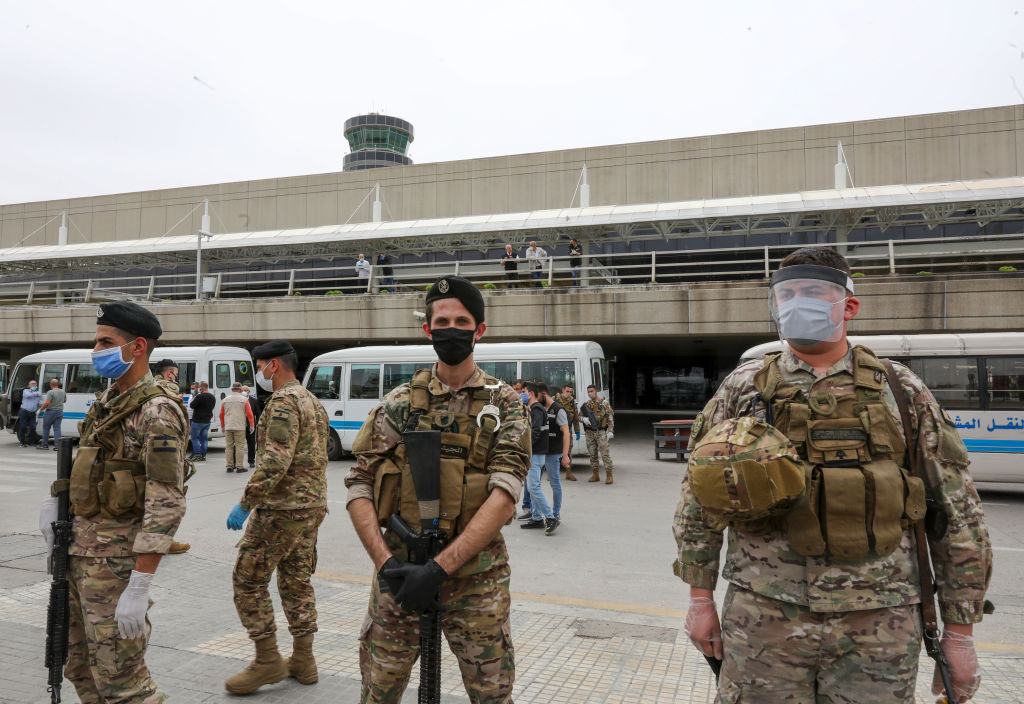 A Lebanese government directive issued on May 1 bars, until further notice, the return of "foreign maids" and Palestinian refugees, even if their families have lived in Lebanon for generations. Pictured: Soldiers stand guard at Rafik Hariri International Airport in Beirut on April 5, 2020, ahead of the arrival of flights repatriating Lebanese nationals who live in Saudi Arabia. (Photo by Anwar Amro/AFP via Getty Images)
Is Lebanon using the coronavirus pandemic to carry out ethnic cleansing of Palestinians?
A directive issued on May 1 by the Lebanese General Security, an agency responsible for immigration in Lebanon, bars, until further notice, the return of "foreign maids" and Palestinian refugees, even if their families have lived in Lebanon for generations. In the eyes of the Lebanese, there is apparently no difference between a "foreign maid" and a Palestinian Arab.
A Palestinian born and raised in an Arab country, in other words, is still considered by that Arab country to be a foreigner.
The May 1 directive, signed by Brigadier General Walid Oun, director of general security at the Rafik Hariri International Airport in Beirut, says, "accompanying maids and people of Palestinian descent" may not board Lebanese expatriate evacuation flights. These are Palestinians from Lebanon who left the country to search for work and are now seeking to return home.
The latest Lebanese measure, denounced by Palestinians and human rights organizations as "racist and inhumane," was exposed when Tarek Abu Taha, a Palestinian with Lebanese travel documents stranded in the United Arab Emirates, said that, in accordance with the directive, he was barred from a Beirut-bound flight. In a Facebook post on May 3, the 31-year-old Abu Taha wrote:
"I would like to inform everyone of what happened with me. My name is Tarek Rafic Abu Taha. I was born in Lebanon, and so was my father. My grandfather came to Lebanon when he and 14 years old and married a Lebanese woman. I studied engineering and was never involved in politics or with any party. I traveled to Dubai to search for work and got stuck there because of the coronavirus. I submitted a request to return to Lebanon (my country) and my name appeared on the flight [to Beirut]. After passing through security and passport control, I boarded the plane with the hope of seeing my wife and children, who were waiting for me. Two Lebanese security officers came to the plane and took my passport (the Lebanese travel document issued for Palestinians). One of the officers asked me about the document. I told him I'm a Palestinian-Lebanese. He asked if my father and mother were Palestinians and I said yes. He instructed me to stand on the side and took my passport. When I asked the security officer if there was any problem, he replied: This [document] is for zu'ran (thugs)."
Abu Taha said he felt "insulted" by the Lebanese security officer's derogatory remark. "I didn't do anything wrong to anyone," he added.
Abu Taha was eventually barred from taking the flight and was forced to leave the airport. "I don't understand why Palestinians are called zu'ran (thugs)," he remarked.
"The Lebanese security personnel should have been considerate of my situation because I live in Lebanon. There should be no room for racism. I don't understand their racism. My three-year-old son is still waiting for me. What should I tell him? I have been humiliated because I was being judged on the basis of my nationality."
A Lebanese security official confirmed the existence of the directive and said that Palestinians had been barred from returning ever since the Beirut airport stopped operating commercial flights. " Until now, all people being repatriated are Lebanese," the official explained. "It's not allowed for non-Lebanese to return at the moment. We will issue further circulars if anything changes."
Several Palestinian and Arab human rights organizations strongly condemned the discriminatory, racist measure taken by the Lebanese security authorities, while many Arabs and Palestinians took to social media to remind everyone that the only apartheid in the Middle East exists in an Arab country.
The Lebanese-Palestinian Dialogue Committee said that the Lebanese directive targeting Palestinians "violates basic Arab and international laws and conventions dealing with Palestinian refugees and their cause."
The Lebanon-based Palestinian Association for Human Rights said it has received appeals from several Palestinians also stranded in Arab countries because of the coronavirus crisis. The organization confirmed that the Palestinians were unable to return to their homes in Lebanon because of the Lebanese ban.
The Euro-Mediterranean Human Rights Monitor said that the Lebanese directive "includes flagrant racial discrimination against Palestinian refugees holding Lebanese travel documents." The organization said that Palestinians who applied to return to Lebanon faced "racist practices and degrading treatment by Lebanese security personnel." It called on the Lebanese government to respect international conventions and treaties ensuring the right of refugees to move to and from their country without any obstacles and ensure that the coronavirus pandemic crisis is not used to legitimize racism."
The latest Lebanese measure did not surprise those who are familiar with this Arab country's long-standing discriminatory and apartheid policies towards Palestinians. According to the United Nations Relief and Works Agency for Palestine Refugees (UNRWA), "Palestinians in Lebanon cannot work in as many as 39 professions and cannot own property [real estate]."
The Palestinian Prisoner Solidarity Network, Samidoun, however, revealed that Palestinian refugees are actually "barred from 72 regulated professions, including medicine, public transit, farming and fishery."
Last year, tens of thousands of Palestinian refugees protested the new Lebanese work restrictions imposed on them. The demonstrations erupted after Lebanese Minister of Labor Camille Abu Sleiman declared a war on "illegal foreign labor" and gave business owners one month to obtain work permits for any non-Lebanese working illegally in the country.
In recent years, reports have surfaced in the Arab media about a large number of Palestinians who have begun leaving Lebanon because of the policies of discrimination and the economic restrictions imposed on them by the Lebanese authorities.
Even worse, a Lebanese newspaper last month published a cartoon likening Palestinians to the coronavirus. The cartoon, published on the anniversary of the Lebanese Civil War, was aimed at highlighting the Palestinians' role in the war that erupted in 1975 and resulted in an estimated 120,000 fatalities. Palestinians responded by pointing out that the cartoon was yet another example of Lebanon's racist mindset towards Palestinians.
Ironically, on the same day that the Lebanese authorities issued their directive, Israel and the Palestinian Authority (PA) reached an understanding to re-organize the entry of some 40,000 workers into Israel. PA Minister of Labor Nasri Abu Jeish said that the new understanding would be implemented on May 3. On that day, the first 14,000 Palestinian workers entered Israel and, due to the outbreak of the coronavirus epidemic, will stay inside the country for a period of at least a month.
While the Lebanese authorities are preventing Palestinians from returning to their homes in Lebanon, Israel is opening its doors to tens of thousands of Palestinian workers -- a move that will ease economic hardship for the Palestinians, especially during the coronavirus crisis. While Lebanon is comparing Palestinians to a dangerous virus, Israel is doing its utmost to assist the Palestinians in curbing the spread of the disease.
It now remains to be seen whether "pro-Palestinian" groups and individuals in the West will denounce Lebanon for its continued racism and discrimination against Palestinians.
If Tarek Abu Taha, the Palestinian from Lebanon, had lived in Israel and had been banned by the Israeli authorities from returning to his home, the "pro-Palestinian" groups and pundits would have been falling over themselves to condemn Israel. As far as the international community is concerned, however, Palestinians can be labelled as "thugs" with impunity and be blatantly discriminated against -- as long as it is an Arab state that is committing the abuse.
Khaled Abu Toameh, an award-winning journalist based in Jerusalem, is a Shillman Journalism Fellow at Gatestone Institute.