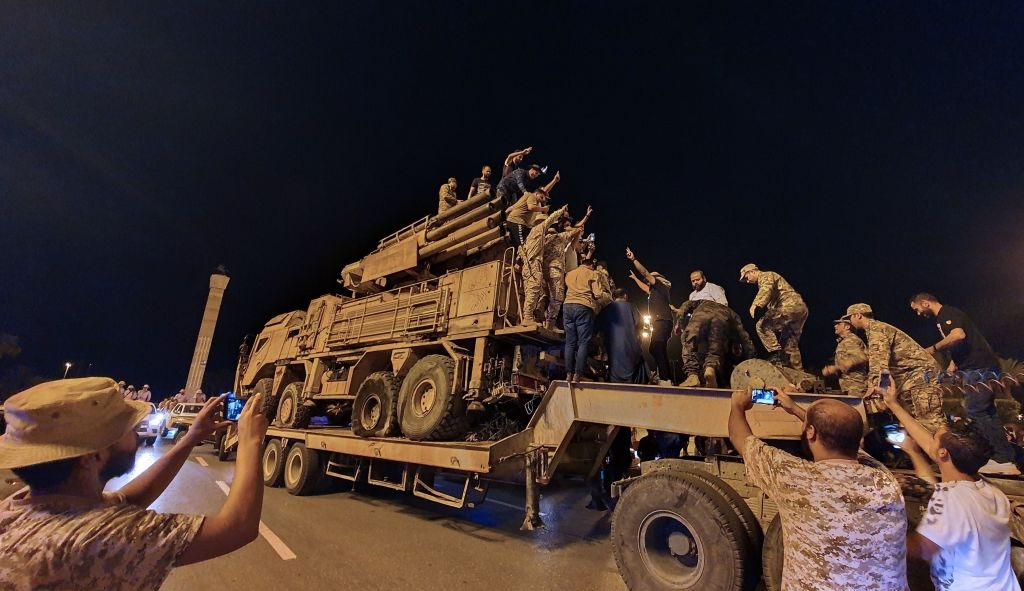 As hostilities between the two sides in the Libyan civil war escalated recently in favor of Erdoğan's man in Tripoli, Turkey's proxy involvement has become less covert. Pictured: Forces loyal to Libya's Government of National Accord parade a Russian-made Pantsir air defense system in Tripoli on May 20, 2020, after it was knocked out by armed Turkish drones and captured at al-Watiya airbase. (Photo by Mahmud Turkia/AFP via Getty Images)
Ironically, even during the Ottoman era (from early 16th century to 1912) Libya was divided into two parts: one linked to Tripoli in the west and the other linked to Benghazi in the east. Even then, the country largely resembled today's division between an internationally-recognized government in Tripoli and its adversaries in the east.
More than a century after the last Ottoman soldiers left Libya following an Italian invasion in 1911, Turkey's neo-Ottoman leader, Recep Tayyip Erdoğan, who has apparently long harbored dreams of reviving the Ottoman Empire, at least revived the Libyan war theater with Turkish soldiers fighting a proxy war in the desert.
The Libyan war may still turn into direct clashes between Turkey and its nemesis in Libya, General Khalifa Haftar, a 76-year-old warlord who has the support of Egypt, Russia and the United Arab Emirates (UAE) against the Government of National Accord (GNA) in Tripoli. Libya's warring groups and their proxy sponsors looked like a slow-fuse time-bomb even at the turn of last year.
On December 10, Erdoğan said he could deploy troops in Libya to support GNA's head, Fayez al-Sarraj. Turkey's subsequent talks with al-Sarraj produced two strategic agreements: a memorandum of understanding on providing the GNA with arms, military training and personnel; and a maritime agreement delineating exclusive economic zones in the Mediterranean waters, a deal that was immediately condemned by Egypt, Greece and the European Union. On December 22, as he inaugurated Turkey's first Type 214 Class submarine, the TCG Piri Reis, Erdoğan sent a message to Libya: "We will evaluate every opportunity in land, sea and air. If needed, we will increase military support in Libya". In response, Haftar's forces pledged to "sink every Turkish ship approaching the Libyan coast".
As hostilities between the two sides in Libya escalated recently in favor of Erdoğan's man in Tripoli, Turkey's proxy involvement, too, has become less covert.
In what looked like their most significant advance over the past year, the GNA on May 18 took control of the al-Watiya air base from Haftar's forces in southwest of Tripoli, after Turkish drones reportedly knocked out the Russian-made Pantsir-S1 short-range air defense systems deployed at the base. The GNA said it continued to target several Haftar positions, pushing his forces to Tarhouna, the last Haftar stronghold near Tripoli.
Military observers agree that armed and unarmed Turkish drones and air defenses appear to have played a key role in GNA advances in recent weeks. Turkey's Defense Minister Hulusi Akar said on May 20: "The balance in Libya changed significantly as a result of Turkish training and advice".
Ankara also signaled that its role in the Libyan war may evolve from proxy to actual warring party. Turkish Foreign Ministry Spokesman Hami Aksoy said: "In the event Turkish interests in Libya are targeted, this will have very grave consequences." That was Turkey's response to reports that Haftar's forces had received eight Russian warplanes that would be used to target Turkish-based positions with an air campaign. "In the next few hours, you will witness the largest aerial campaign in Libya's history," Haftar's air force chief Saqr al-Joroushi said on May 21. He added that all Turkish targets are "legitimate targets" for his warplanes.
Although not officially confirmed by Moscow, Haftar's Libyan National Army (LNA) claimed it received six Russian-made MiG-29 fighters and two Su-24 attack aircraft at the Al Jufra airbase in central Libya. The aircraft reportedly departed from Russia's Hmeimim Airbase in Syria and were escorted at least part of the way to Libya by two Russian Su-35 jet fighters. Also, the Russian Navy on May 23 said that three ships from its Black Sea Fleet had begun crossing the Bosporus and Dardanelles straits to join their naval group in the Mediterranean.
Russia's part in the Libyan proxy war has been to support Haftar's forces through mercenaries from the Wagner Group, a private army with links to the Kremlin. Russian warplanes flying over Libyan skies will be quite a radical change from the "Wagner effect"
Further escalation may turn Libya into a second proxy for Turkey's war theater, after Syria. There, Turkish and Russian interests remain deeply conflicting. Turkey wants to overthrow President Assad and to replace his regime with Sunni jihadists; Russia wants Assad in power and is fighting Sunni jihadists.
In February, Turkey lost 50 soldiers in an airstrike by the Syrian Air Force supported by Russian forces. The overall result of a scenario in which Russian-built warplanes fight Turkish drones will be anyone's guess. All the same, a military confrontation between Turkey and Russia in Libya would be too risky a venture even for a Turkish ruler who does not want to miss a single opportunity to revive his country's once-glorious imperial past -- especially at a time when Russian President Vladimir Putin apparently wishes to seal his country's imperial dream of having a permanent presence in the Mediterranean -- in Syria and Libya.
Russia's presence may work as a brake and push Erdoğan to rethink the wisdom of his imperial dreams about Libya. Also, the likelihood of a deepening post-Covid-19 economic crisis in Turkey, with fundamentally weakened fiscal balances, could work as a deterrent. On the other hand, Erdoğan knows that every political adventure outside Turkish borders increases his popularity, especially at a time when economic hardships could prune his approval at home.
According to the independent pollster Metropoll, Erdoğan's approval rating rose from 41.1% in February (no coronavirus cases yet detected in Turkey) to 55.8% in March (when the pandemic there started to spread). Özer Sencar, president of Metropoll, explains a general tendency to trust Erdoğan's crisis management: "The people tend to unite behind strong leaders in times of national crisis like war, terror, security threats, disasters or pandemic".
Libya is fast becoming another challenge for a man who loves military challenges -- but tends to lose most of them.
The Libyan proxy war and its aftermath mean different geo-strategic gains and losses for different players. For Moscow, it is imperative not to repeat the mistake of 2011, when Russia left the shaping of Libya's near future to a NATO air campaign. Putin also appears keen to have his second permanent military presence in the Mediterranean after Syria.
For Turkey, the Libya campaign is part of a sectarian (pro-Sunni) war. Erdoğan wants a loyal, Turkey-friendly regime in Libya, one that could be useful for restoring to power in Egypt the Muslim Brotherhood, another Islamist Erdoğan ally, like Hamas. In addition, Erdoğan's Libya campaign targets domestic consumption, another overseas military venture that would appeal to the average Turk's militaristic, neo-Ottoman nostalgia.
For the EU (via Italy) a future stable, pro-Western regime in Libya would help Brussels and Rome more easily manage future flows of migrants from North Africa -- who might permanently transform the continent.
Burak Bekdil, one of Turkey's leading journalists, was recently fired from the country's most noted newspaper after 29 years, for writing in Gatestone what is taking place in Turkey. He is a Fellow at the Middle East Forum.