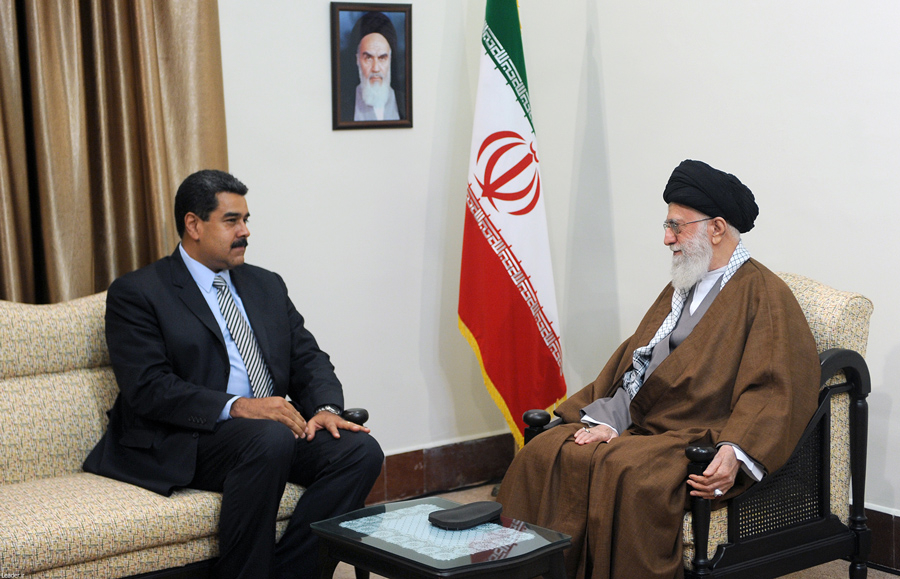 The recent upsurge in Iranian activity in Venezuela certainly needs to be taken seriously by the Trump administration if Tehran is to be prevented from strengthening its terrorist activities on America's southern flank. Pictured: Venezuelan President Nicolas Maduro visits Iran's Supreme Leader, Ayatollah Ali Khamenei, in Iran on October 22, 2016. (Image source: Office of the Supreme Leader of Iran)
The arrival in Venezuela this week of the last of five Iranian tankers carrying gasoline to the oil-starved socialist state is not just about Iran seeking to help a fellow nation stricken by the effects of U.S. sanctions.
It is all about strengthening Tehran's long-standing terrorist infrastructure in Latin America so that it can be used to expand Iran's terror operations throughout the globe.
Of particular concern is the possibility that Tehran may be tempted to use groups such as Hezbollah, the Iran-backed Lebanese terror group that has been operating in Venezuela for many years, to conduct missions against the U.S. and its allies at Iran's behest.
There are deepening concerns in U.S military and security circles, for example, that Iran may be planning to use such groups to carry out revenge attacks in retaliation for the assassination of the head of Iran's Islamic Revolutionary Guard Corps' Quds Force, Qassem Soleimani, who was killed in January by an American drone strike authorised by U.S. President Donald Trump.
According to Admiral Craig Faller, commander of the U.S. Southern Command, Iran's current objective by shipping oil to support the regime of Venezuela's socialist dictator, Nicolas Maduro, is to "gain positional advantage in our neighborhood in a way that would counter U.S. interests." Speaking in a video briefing with Florida International University shortly after the first Iranian tanker docked in Venezuela last week, Adm. Fuller commented:
"We have seen an uptick in Iranian state-sponsored activity and liaison with Venezuela that has included (the) Quds Force, and it has included other elements of support to the illegitimate Maduro regime cronies."
Iran's oil shipments to Venezuela have certainly helped to give the country's regime a boost at a time when decades of corruption and economic mismanagement have brought the country to its knees. Mr Maduro celebrated the arrival of the first Iranian tanker by posting a tweet that read: "Thanks Iran - only the brotherhood of free peoples will save us."
To underline the importance of the shipments for Venezuela's ailing economy, which Tehran has compared with the Berlin airlift conducted by the Allies during the Cold War, Caracas ordered Venezuelan fighter jets to escort the Iranian convoy on the last leg of its journey, to protect it against any possible military intervention on the part of the U.S..
In all, the five Iranian ships are estimated to have delivered 1.5 million barrels of Iranian fuel, with the deliveries, according to U.S. reports, being paid for with Venezuelan gold.
For Mr Maduro, though, the tankers' arrival represents a hollow victory. An OPEC state, Venezuela sits on the world's biggest oil reserves and was once a major oil producer. Nowadays the national oil refineries have become so dilapidated that they are no longer able to produce gasoline for domestic consumption. This has left Caracas in the humiliating position of having to import oil from other rogue states such as Iran.
Indeed, the trading relationship between Caracas and Tehran was best summed up by Elliott Abrams, the U.S. special representative to Venezuela, who remarked, "You have two pariah states finding that they are able to exchange things they need for things they have."
The issue that does concern Washington, though, is the effect Iran's trade ties with Venezuela will have on its terrorist operations in Latin America.
Iran's trading relationship dates back to the era of Hugo Chavez, Mr Maduro's predecessor. It was during this period that Hezbollah began constructing its terrorist infrastructure in Venezuela, where the Shiite terrorist group has been accused of being involved in drug trafficking, money laundering and illicit smuggling.
In addition, Hezbollah maintains a presence in the infamous Tri-Border Area, a semi-lawless region where Argentina, Paraguay and Brazil converge. It is from here that Iran is understood to have planned its most terrorist attack in Latin America, the 1994 bombing of a Jewish centre in Buenos Aires that killed 85 people.
Now there are fears Iran may be planning to use Venezuela as a base from which to launch similar attacks. This concern has been heightened in Washington by reports that Mahan Air, the Iranian airline with close links to Iran's Revolutionary Guard and which is subject to U.S. Treasury sanctions, is making weekly flights to Caracas.
The recent upsurge in Iranian activity in Venezuela certainly needs to be taken seriously by the Trump administration if Tehran is to be prevented from strengthening its terrorist activities on America's southern flank. To date Mr Trump, having last year threatened to launch military action in support of Juan Guaido, the country's charismatic opposition leader, now appears to have backed away from any further entanglement with Caracas, a move that might explain Washington's disinclination to act over Iran's recent oil shipments.
But that could change if, as now seems likely, the White House comes to realise that Iran's real intention is to expand its terrorist network in Latin America rather than simply offering economic help to another rogue regime.
Con Coughlin is the Telegraph's Defence and Foreign Affairs Editor and a Distinguished Senior Fellow at Gatestone Institute.