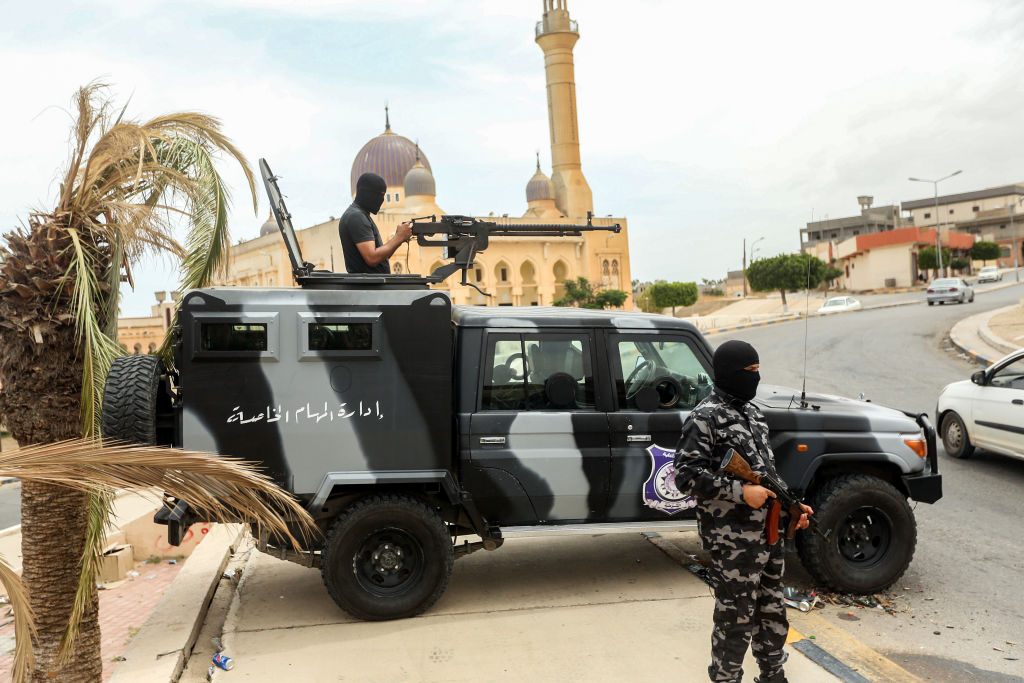 Libya is currently the largest theater of proxy wars in the Greater Middle East. More foreign powers are involved in the Libyan proxy war than in Syria. Pictured: Militiamen affiliated with the Government of National Accord at a makeshift checkpoint in the town of Tarhuna, Libya, about 65 kilometers southeast of Tripoli, on June 11, 2020. (Photo by Mahmud Turkia/AFP via Getty Images)
With coronavirus lockdown gradually whittled down, last week we started working on a series of conferences on the greater Middle East region for one of the local universities. As we suggested topics we came to Libya where a forgotten war has been going on for almost a decade.
The response from committee members was almost unanimous: Who cares about Libya?
Evil tongues might suggest that, coming from French and British academics, this "who cares" sounds like an attempt to hide a shameful family secret.
After all, the tragic mess we witness in Libya today is, in good part, a result of policies pursued by French President Nicholas Sarkozy and British Premier David Cameron, who took on the job of toppling Col. Muammar Gaddafi without knowing what they would need to do next.
Cameron's friends tell me that he and Sarkozy were both pushed into the Libyan adventure by then US President Barack Obama, who wished to test his "leadership from behind" theory which, in turn, flattered the European midgets.
One argument in favor of "who cares about Libya" is that there are many forgotten wars in the world, the longest being in Congo-Kinshasa which, in a sense, started in 1960 and, with brief lulls, continues to this day. Another argument is that, with economic recession ahead, Libya's oil resources may be more like a Cinderella than a seductive princess.
However, what is going on in Libya should be of interest to the so-called international community for at least three reasons.
The first is that Libya is currently the largest theater of proxy wars in the Greater Middle East. More foreign powers are involved in the Libyan proxy war than in Syria.
At last count, apart from Britain and France that have remained involved in a homeopathic dose, Italy is also engaged in some shenanigans, albeit mostly in diplomatic form. Then we have Turkey, with Qatar acting as "deep pockets", and the international network of Muslim Brotherhood providing the personnel supporting the Government of National Accord (GNA) in Tripoli.
Led by Fayez al-Sarraj, a technocrat, the GNA also enjoys formal backing from the European Union and the United Nations' bureaucracies.
Recently, Turkey has supplied the GNA forces with home-made drones, known as Bayraqdar (Flagbearer) copied from an outdated American model. Ankara has also recruited an estimated 6,000 Syrian former rebels, most with Muslim Brotherhood background, to fight for the GNA.
Turkish President Recep Tayyip Erdogan tries to justify all that by pointing to more than $30 billion in Turkish investments in Libya under Gaddafi, when almost a million Turks worked there. Though Gaddafi had granted Libyan citizenship to many Turks, most immigrants returned home after his fall.
Now, facing mass unemployment at home, Erdogan hopes to see some of those who still have Libyan citizenship, return there.
In 2019, Turkey signed a series of accords with the Tripoli-based GNA, under which Ankara was granted a swath of claims over the Mediterranean. That would enable Turkey to challenge the construction of oil and gas pipelines to ship new offshore resources shared by Israel, Greece, Cyprus and Lebanon. Despite attempts at gaining a foothold, Iran has been reduced to a bit player in the Libyan drama on the side of Turkey and Qatar.
At the other end of the spectrum, we have Russia, Egypt and several other African states siding with the Libyan National Army of Khalifa Haftar, based in Benghazi and loosely in control of the eastern half of what is the world's 18th largest country.
According to Moscow sources, Russian President Vladimir Putin hopes to gain a pause-and-resupply base for his navy on Libya's 1,770-kilometer-long Mediterranean coast to complement the aero-naval base he has obtained in Tartus, Syria. Reluctant to get involved with boots-on-the ground, Putin has been generous with military supplies, including Pantsir air defense systems. More importantly, perhaps, he has given the green light to four Russian private security firms to send military trainers, advisers, technicians and even combat troops to Libya.
Haftar, who goes around with the grade of a Marshall, is also discretely backed by China, which supplies his forces with Wing Loong drones, needed to provide air cover for ground forces.
The second reason why this mini-world war is worthy of attention is that Libya, with the longest shoreline on the Mediterranean, is also neighbor on land to six countries, all of which could be destabilized or worse. It is no surprise that, thanks to Egyptian efforts, the Libyan dossier is slated to come up in the African Union as a threat to security across the continent.
The third reason for not forgetting Libya is that it is the key transit route for millions of migrants seeking to enter Europe. At a time that coronavirus and its concomitant economic meltdown has focused public attention on the control of borders and halting immigration, the prospect of millions pouring out of deepest Africa into Libya on the way to Europe is bound to invite some reflection.
It seems that both camps are now aiming at prolonging the status quo, under which neither the GNA nor the Libyan National Army (LNA) are capable of delivering the knockout blow and imposing their control over that vast but thinly populated land. A series of seesaw battles, in some of which Haftar's forces scored tactical gains, has shown that without military intervention by a bigger player, neither side is able to kick the other out of the game.
And that brings us to the fourth reason why Libya must not be forgotten. With both GNA and LNA locked in a fratricidal struggle, terrorist groups, starting with ISIS and African offshoots of Al-Qaeda, have already secured footholds in Libya. To these may be added a dozen ethnocentric groups seeking to carve their own fiefdoms and ready to join either side according to their own advantage. The prospect of Libya being Syrianized must be taken seriously.
Sadly, along with others, Erdogan, obsessed with his neo-Ottoman strategy, is playing with fire in Libya.
Amir Taheri was the executive editor-in-chief of the daily Kayhan in Iran from 1972 to 1979. He has worked at or written for innumerable publications, published eleven books, and has been a columnist for Asharq Al-Awsat since 1987. He is the Chairman of Gatestone Europe.

This article was originally published by Asharq al-Awsat and is reprinted by kind permission of the author.