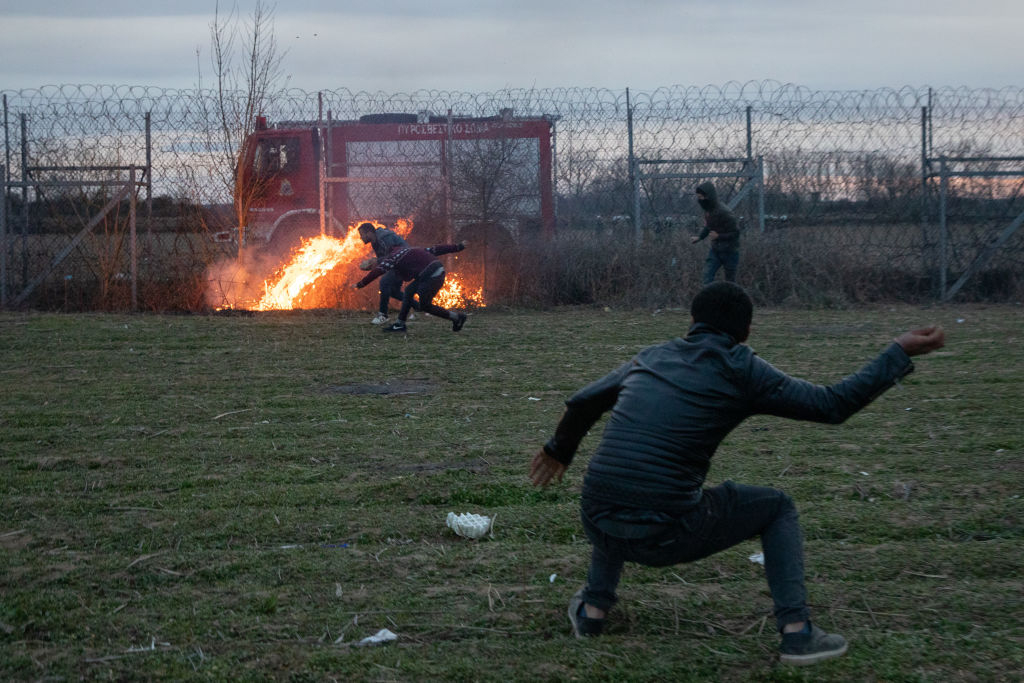 Turkish President Recep Tayyip Erdoğan's threats to send hundreds of thousands of migrants over the border and into the EU will no longer work, because Greece's security forces are now better equipped and better prepared to confront a new wave of migrants by land or sea. Pictured: Migrants in Turkey throw rocks at a Greek firetruck after they set a fire at the border fence near Pazarkulke Border crossing, on March 6, 2020. (Photo by Chris McGrath/Getty Images)
Greece has finally done the right thing and deprived Turkish President Recep Tayyip Erdoğan of his perpetual threats to blackmail the European Union.
On February 27, Erdoğan's government was on the threshold of executing its threat to flood Europe with millions of (mostly Syrian) migrants and opening its northwestern borders with Greece and Bulgaria. Hundreds of thousands of migrants began flocking to the border. In a few days, by the beginning of March, they would be in EU territory, to be followed by hundreds of thousands of others. Things, however, did not go as planned by Ankara.
By the next day, Greece was not only operating 52 Navy ships to guard its islands close to Turkey; it had also mobilized additional troops on land. Its security forces were able to block 10,000 migrants from entering Greece by way of the Turkish land border. Some migrants were stuck in the no-man's land between the two countries and eventually had to return to the Turkish side. Greek officials reported only 76 illegal entries, whom they detained and prosecuted. In his social media account, Turkey's Deputy Foreign Minister Yavuz Selim Kıran compared the alleged treatment of migrants seeking to cross illegally into Greece with conditions at Nazi death camps at Auschwitz. The Central Board of Jewish Communities in Greece immediately condemned and denounced the statement.
All the same, on March 6, Turkish Interior Minister Süleyman Soylu claimed that a total of 142,175 migrants had successfully crossed the border into Greece. In reality, the border had been meticulously protected by Greek security; only a handful of migrants had illegally managed to get though. In a private conversation, a UNHCR official mocked the minister: "Two questions to Minister Soylu: How did he count the number of entries into Greece? And how did those 142,175 people vanish; they are not in Greece?"
The Greek government, rallying EU support, has since deployed riot police and military patrols to the land border as well as naval and coast guard vessels to conduct around-the-clock patrols off the Greek coast near Turkey. The Greek government also scrambled to seal the land border, tripling the size of an existing 12-kilometer fence, including the addition of pylons with thermal and surveillance cameras.
Tassos Hadjivassiliou, a conservative member of Greek parliament, said:
"Once this fence goes up, Turkey will be severely compromised in its ability to push through migrants. And if that happens, then Ankara will have lost its most powerful tool of leverage against Europe... and its chances, therefore, of clinching a new deal with Brussels, plus added financial support will fade."
Eventually, at the end of March, Turkish authorities had to withdraw the remaining migrants that were amassed at the border. In May, nevertheless, Turkish Foreign Minister Mevlüt Çavusoğlu said that Turkey's "open-gate" policy would continue, and suggested that migrants and refugees would shortly return to the frontier as the two countries emerge from coronavirus lockdowns. In early June, there were reports that illegal immigrants were seen arriving by buses to the Turkish city of Edirne and the border town of Ipsala. Also in June, a video released by Greece's coast guard, showed Turkish coast guard vessels escorting dinghies carrying refugees and migrants arriving in Greek territorial waters.
The new blackmail will not work for a number of reasons. First, because many migrants in Turkey have learned from experience that the Turkish-Greek border can no longer easily be crossed. And second, because the Greek security forces are now better equipped and better prepared to confront a new wave of migrants. And third, because it will be a much easier task to block a few thousand than the hundreds of thousands in March.
As Margaritis Schinas, European Commission's vice president, said: "Events on the Greek-Turkish border in the Evros region showed that Ankara does not have the power to exploit refugees to get its way politically."
Burak Bekdil, one of Turkey's leading journalists, was recently fired from the country's most noted newspaper after 29 years, for writing in Gatestone what is taking place in Turkey. He is a Fellow at the Middle East Forum.