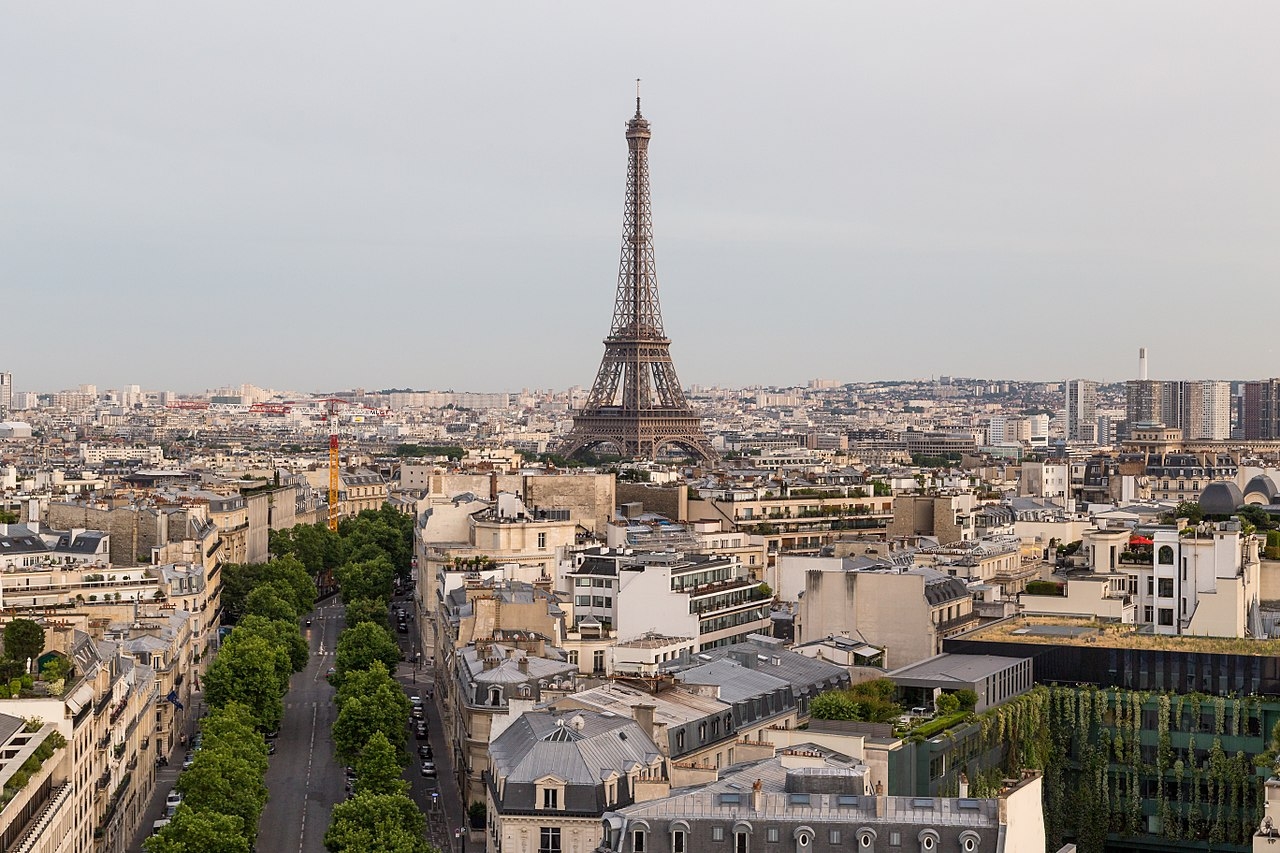 Paris is dotted with old buildings, museums, offices, barracks, schools and exhibition sites associated with events that would anger the politically correct. (Image source: Wikimedia Commons/Pixabay)
With bookshops closed during Covid-19 lockdown I was obliged to re-read books I had read before. Among them was Lamartine's "Graziella", the journal of his six-month stay in Naples. A love story, the novel also talks of the repression of Italian freedom fighters who try to end French occupation under Marechal Murat, one of Napoleon's generals, as their king.
A stone's throw from our place is the Boulevard Murat, named after the man who crucified Italian patriots.
With media agenda dominated by Black Lives Matter (BLM), I wondered if we could launch an Italian Lives Matter (ILM), seeking a politically corrected version of Paris in which there would be no Boulevard Murat.
Then I remembered that 1,800 years before Murat, Roman ancestors of Italians had massacred, raped and pillaged Murat's Gallic ancestors.
Thus we would have a draw in a game of historic victimhood. A Gallic Lives Matter (GLM) would not do.
Nevertheless the idea of a politically corrected Paris wouldn't fade away.
Of the 5,400 streets in greater Paris 287 are named after persons or events with colonial, imperial, or ideological bearings that clash with political correctness, the fashionable ideology of champagne and caviar leftists.
I can hardly be described as a leftist, certainly not of the champagne-and-caviar type, being teetotaler and allergic to fish eggs.
Yet, Paris is full of street names that tickle me.
So many streets named after Napoleon's generals, not to mention Les Invalides, the grandiose sepulcher for French imperial dreams, remind me of Bonaparte's betrayal of Iran in the Treaty of Tilsit that gave Russia a free hand to invade Persia.
The names of battles that Bonaparte won adorn many streets: Abukir, Iena, Eylau, Lubeck and so on, glorifying the man who invaded Africa, restored slavery in Haiti and set Europe on fire from the Atlantic to the Urals.
The graveyard Per Lachaise is full of his generals. They also have some of Paris's nicest thoroughfares, among them Exelmans, Ney, Daumesnil, Gouvion-Saint-Cyr, Gilly, Crouchy, and, of course, Marechal d'Avout Duke of Auerstaedt who massacred the Balts and took part in burning Moscow, killing thousands of Russians.
Then there are colonial officers who fought for the empire in all continents: Generals Chaligny, Faidehrbe, Gallieni, and Lyautey who also has a statue.
General Bugeaud, who conquered Algeria and later destroyed the African kingdom of Dahomey, is honored alongside adventurers such as Brazza and Monteil who did not share the BLM view of the world.
Bonaparte's companions in conquest of Egypt have their streets and squares, among them 17 generals plus colonial scholars Champollion, Geoffrey de Saint-Hillaire and Gatson Maspero who helped bring treasures from the land of the pharaohs.
Egypt is also remembered in the Damiette street after the battle won by Saint Louis in his crusade of 1249 AD, and more intriguingly by Suez Impasse. Brite Street, the Phoenician version of Beirut, honors Frankish crusaders who seized in 1100 AD.
Then there is this Swiss chap Voltaire who said disobliging things about Islam and Muslims while on the payroll of Russia's Empress Catherine. He has a boulevard as has his Encyclopedia colleague Diderot who wasn't kind to black people.
Pierre Lotti who wrote of "Red Skins" scalping people while dancing has his own street.
Borrego Street recalls the battle in which General Detrie seized Mexico, enabling the French to install Austrian prince Maximillian as Emperor.
Lemoyne de Bienville was Governor of Louisiana in 1717, a key point for the spread of black slaves in northern part of America.
Jean Ribault who had led an invasion of Brazil seized parts of Florida and what is now South Carolina in 1562 and 1564.
Colonial "discoverers" have their streets, among them Christopher Columbus, Magellan, Cavalier de la Salle, Cartier, Bougainville, and La Perouse.
Some streets are named after scoundrels. For example Robespierre who, having lost his soul, became chief head-chopper in French Revolution before losing his own head, has a street and metro station.
Alexis Carrel, a pioneer of eugenics who wanted to purge out "the lower races" has his own street.
There is Lenin, a darling of the left but no choirboy, the architect of genocide against Kazakhs and Uzbeks. In a cable to Mikhail Frunze, his commander in Central Asia, he said: "Shoot the men, seize the animals, drive women and children across the border!"
His sidekick Stalin also has a street plus a metro station: Stalingrad.
BLM advocates won't be surprised that Marx and his sidekick Engels also have their streets. But they may be surprised to hear what they thought of "Imperialists".
When the US annexed California from Mexico, Marx welcomed the event thus: "Such an important event that California has been wrenched away from lazy Mexicans who didn't know what to do with it."
Engels added: "In the interest of Development Mexico itself should be put under US tutelage."
Engels hailed the capture of Algeria by France as "An important and fortunate fact for the progress of civilization."
Colonialism was, in the words of Mort Rosenblum, a "Mission to Civilize".
We also have Mahatma Gandhi with a large avenue, although he regarded people darker than himself as subhuman.
Paris is dotted with old buildings, museums, offices, barracks, schools and exhibition sites associated with events that would anger the politically correct. We find some of these in Quai Branly, Boulevard Haussmann, the Vincennes woods, and the Luxembourg Garden.
Four American presidents have their streets in Paris.
George Washington, who rose against British colonial rule, gets a narrow street. But the "racist" Woodrow Wilson has a nice big avenue as has Franklin Roosevelt, a relative of the "fascist" Theodore Roosevelt. Franklin also has a metro station. John Kennedy has a big avenue, too, although he is no darling of BLM because he tried to destroy the Cuban Revolution and, worse still perhaps, preferred Marylin Monroe to Dorothy Dandridge.
Abraham Lincoln has a side street and a cinema.
Black Americans are under-represented. Martin Luther King has a park in a down-market neighborhood. But he wasn't BLM enough. He emphasized equal citizenship, not skin color.
There is an Emily Dickinson Square but none named after Maya Angelou.
Ida Lupino has a plaque, but there is none for a black actress, for example Hattie McDaniel. (No that wouldn't do, as BLM has banned "Gone with the Wind"!)
Ah! Rewriting history!
Caught in the Davy Jones locker room, a civilization may dream of the "Morel Invention" in Adolfo Buoy Casares' novel, a device to reel back the past like a film and edit it as you please.
Amir Taheri was the executive editor-in-chief of the daily Kayhan in Iran from 1972 to 1979. He has worked at or written for innumerable publications, published eleven books, and has been a columnist for Asharq Al-Awsat since 1987. He is the Chairman of Gatestone Europe.

This article was originally published by Asharq al-Awsat and is reprinted by kind permission of the author.