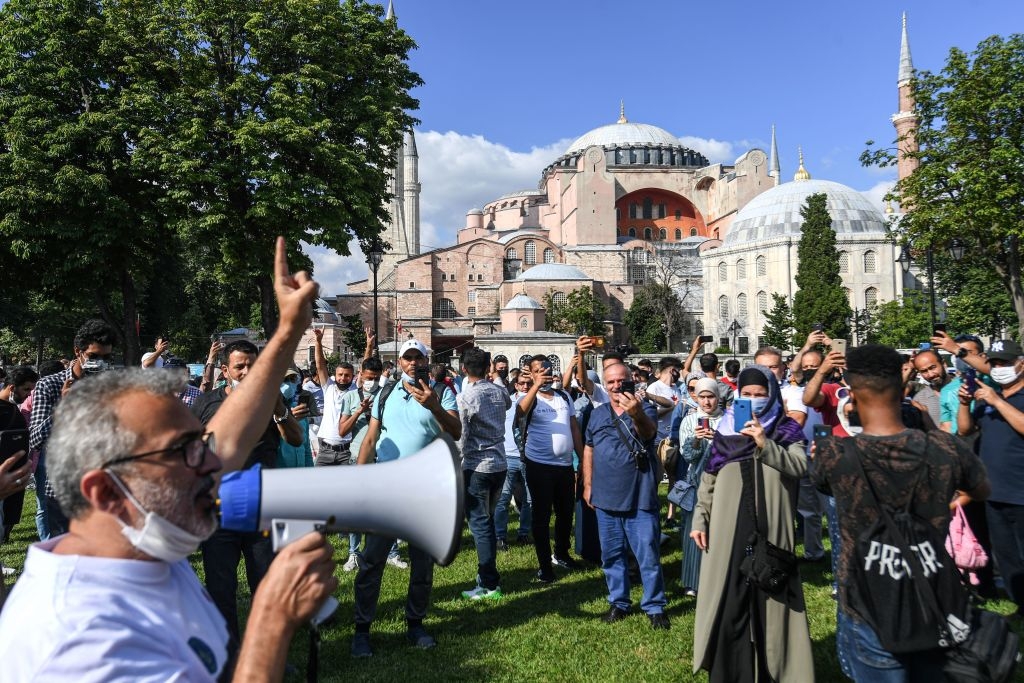 According to his fans, Turkey's Islamist president, Recep Tayyip Erdoğan, conquered Istanbul for the second time when he signed a decree to convert the Hagia Sophia cathedral in Istanbul, built in 537, into a mosque. Pictured: Islamists celebrate Erdogan's decree outside Hagia Sophia in Istanbul, on July 11, 2020. (Photo by Ozan Kose/AFP via Getty Images)
According to his fans and political allies, Turkey's Islamist president, Recep Tayyip Erdoğan, conquered Istanbul for the second time when he signed a decree to convert the monumental Hagia Sophia cathedral in Istanbul, built in 537, into a mosque. With that logic, he became the first statesman who conquered a city that already belongs to his country.
"First, you should fill Sultanahmet (Blue Mosque, Istanbul) ... This is a plot, this is sheer provocation," Erdoğan told a crowd as recently as in March 2019 when party fans demanded the conversion of Hagia Sophia into a mosque. He was right. Most of Istanbul's nearly 3,000 mosques (one mosque per 5,000 population) do not attract crowds. Sixteen months later, Erdoğan changed his mind.
In this theater-like play, he said the supreme court would decide on the fate of Hagia Sophia. Under a constitutional amendment in 2010, Erdoğan won the authority to appoint all members of that court, the Council of State. Erdoğan said he would respect the court's verdict in "whichever direction it comes."
And, unsurprisingly, the verdict came in the direction Erdoğan wanted: On July 9, the Council of State decided to void a cabinet decision, signed in 1934 by Mustafa Kemal Atatürk, the founder of modern Turkey, designating Hagia Sophia as a museum, in a show of respect for Christianity. Only an hour after the verdict was announced, Erdoğan signed a decree for the conversion into a mosque of the monument on UNESCO's World Heritage List.
537: Byzantine Emperor Justinian I builds Hagia Sophia as a cathedral in then Constantinople.
1453: Ottoman Sultan Mehmet II (Mehmet the Conqueror) converts Hagia Sophia into a mosque after taking Constantinople from the Byzantines.
1453-1934: Hagia Sophia remains a mosque.
June 7, 1931: The cabinet of the infant Turkish Republic signs a decree for the restoration of priceless mosaic frescoes at Hagia Sophia. The decree gave the job to Thomas Whittemore, an American Byzantine specialist.
Aug. 25, 1934: Turkish Education Minister Abidin Özmen writes a letter to Prime Minister İsmet İnönü to inform him that he had received a verbal order from Atatürk for the conversion of Hagia Sophia into a museum.
Nov. 24, 1934: The Turkish cabinet signs a decree that "un-mosques" Hagia Sophia.
1980: Turkish Prime Minister Süleyman Demirel allows Muslim prayers at an annex of Hagia Sophia.
1981: The military junta bans Muslim prayers at Hagia Sophia.
1991: Prime Minister Süleyman Demirel re-opens the annex to Muslim prayers.
2005-2020: The Council of State rejects three applications for the conversion of Hagia Sophia into a mosque.
July 9, 2020: The Council of State rules in favor of the fourth application to make Hagia Sophia a mosque.
July 24, 2020: Hagia Sophia will open as a mosque, with a Greek name and Orthodox frescoes on its walls.
Erdoğan comes from the ranks of political Islam, which made its debut in Turkey in the late 1960s – and was not then on the global radar. In the 1970s, Islamists of all flavors, including Erdoğan's mentor, Turkey's first Islamist prime minister, Necmettin Erbakan, made the "Hagia Sophia Mosque" a symbol of the completion of Istanbul's conquest. The iconic church also became a symbol in the Islamists' fight against Atatürk's secularism.
Why now? Erdoğan possibly thought the move could reverse the ongoing erosion of his popularity due, among others, to a looming economic crisis. All the same, it appears to be wrongly timed, as presidential and parliamentary elections are three years from now and Turks are notorious for not having a good memory. Praying at the Hagia Sophia Mosque will not turn a hungry man into a happy man.
The conversion of Hagia Sophia into a mosque has once again underlined the insane racism of the majority in Turkey against the sanity of a dwindling minority.
One Muslim theologian, Cemil Kılıç, argued against the decision: "This is against the Quranic commandments," he said. "Prophet Mohammed never converted a Jewish or Christian house of prayer into a mosque."
His voice came against an abundance of racist comments on social media:
"Jewish and Christian bastards will now understand who we are."
"Erdoğan is correcting what Jewish, Shabbetaist (Jews who converted to Islam), atheist crowds have done in the past century."
"You Jews, are you having fun?"
"Day of mourning for Crusaders and Jewish converts."
"Cry, you Greeks! And wait for your turn, you Jews!"
"Sad day for Zionists."
"A Shabbetaist Jew from Thessaloniki [Ataturk, born in Thessaloniki] closed it [to Muslim prayers] and man from Black Sea (Erdogan) opened it."
"You Jewish dogs, it will come to Al-Aqsa Mosque [in Jerusalem] too."
This much of national sentiment reflects sheer ignorance, a hatred for "the religious other," a self-isolationist thinking and a century-long desire to challenge all things non-Turkish, with an emphasis on "the Jew." An Islamist leader decides to convert a monumental cathedral into a mosque, and his fans, are spilling out hatred against Jews. This is Turkey's new normal.
Burak Bekdil, one of Turkey's leading journalists, was recently fired from the country's most noted newspaper after 29 years, for writing in Gatestone what is taking place in Turkey. He is a Fellow at the Middle East Forum.