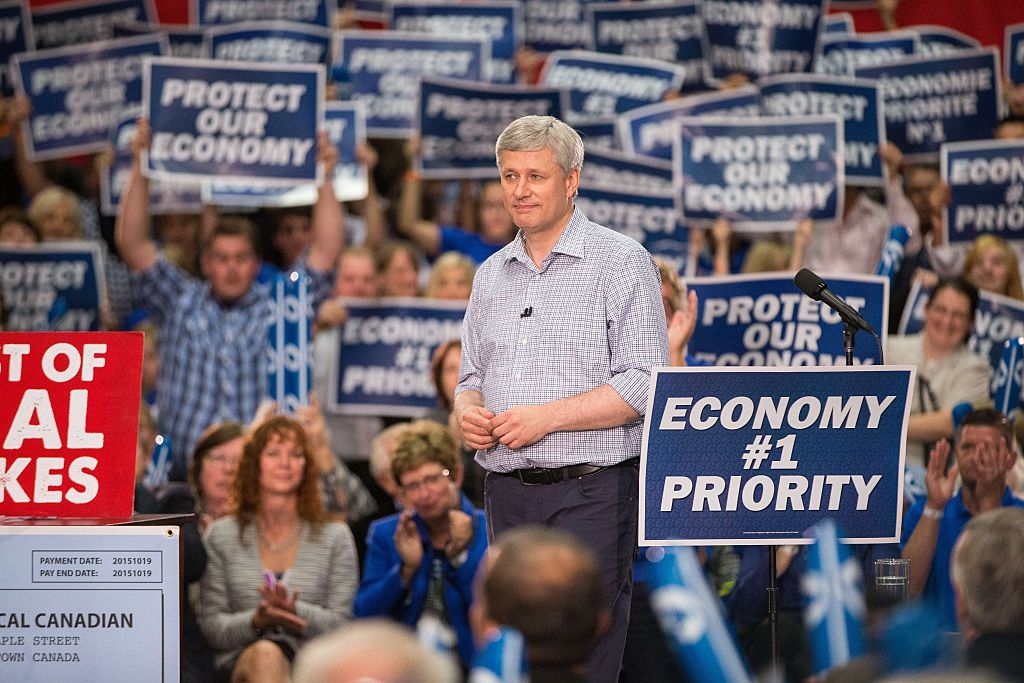 Under Canada's former Prime Minister Stephen Harper, extremists were not welcome in the Conservative Party of Canada (CPC), which he co-founded. Today, frontrunners in the CPC leadership race, Peter MacKay and Erin O'Toole, have each welcomed prominent extremist activists into their campaigns. Pictured: Harper appears at a campaign rally in London, Ontario on October 13, 2015. (Photo by Geoff Robins/AFP via Getty Images)
Former Prime Minister Stephen Harper and current Conservative leadership candidate Peter MacKay co-founded the modern Conservative Party of Canada (CPC) based on the promotion of "freedom, democracy, human rights, and the rule of law." Canada's right-wing, however, has recently been consorting with Islamists patently opposed to these fundamental ideals.
Across the Western world, extremist Muslims have long partnered with the Left, perhaps out of a shared partiality for identity politics; or, at the very least, because progressive movements can easily be exploited to advance radical causes. Now, however, even the Conservative establishment is courting Islamist activists and politicians. At the federal level, frontrunners in the CPC leadership race, Peter MacKay and Erin O'Toole, have each welcomed prominent extremist activists into their campaigns.
In January of this year, O'Toole appointed Walied Soliman as his campaign chair. Throughout his professional career, Soliman has supported applying the Sharia banking system in Canada. In an interview with the Globe and Mail, Soliman dismissed concerns that a Sharia-compliant economy would violate Canada's secular system. "This is simply about market demand and interest," he said. He may, of course, support more than that.
One LGBT group has criticized O'Toole for welcoming an advocate of Sharia into his campaign. Why, they asked, is Soliman "unable to publicly reject sharia law despite repeated attempts for clarification. Does he believe in sharia application to #LGBTQ people?"
O'Toole replied, "I will always oppose any threat to those principles [of "freedom, democracy, and the rule of law"], here and at home, including Sharia law. Any suggestion otherwise is preposterous, tinfoil hat thinking. The fact I even have to say this is profoundly sad."
In fact, it seems he does to "have to say this." Just last year, Soliman received an award from the Muslim Association of Canada (MAC), a prominent Islamist organization that previously funnelled over $300,000 to IRFAN-Canada, which was later designated as a terrorist organization in Canada because of its links to the Palestinian terror group Hamas. Soliman's son, moreover, attends a school directly affiliated with MAC.
At times, Soliman's leanings are even more overt. According to a recent report by the New Delhi Times, he was alleged to have said: "you know, I was beginning to say I am a Muslim Brotherhood guy." The transcript of that conversation is currently sealed from public access, with more than $245,000 having been spent by the Progressive Conservative Party of Ontario to hide the transcript and recording.
Despite all that, Ontario Premier Doug Ford, leader of the Ontario PC Party, who leads the province's majority government, recently appointed Soliman to chair a task force designed to "lead the first review of securities regulation" in 15 years.
Peter MacKay, a former MP and the co-founder of the CPC, recently appointed Ahmad Attia as his "Muslim Liaison Captain." Attia is closely involved with the MAC-affiliated mosque, Masjid Toronto, which has an unfortunate reputation for bigotry. One widely circulated video reveals a prayer session at the mosque, in which Ayman Elkasrawy, the assistant imam, beseeched: "Oh Allah! Purify the Al-Aqsa Mosque from the filth of the Jews!" and "Oh Allah! Count their number; slay them one by one and spare none of them." The cleric was fired from his job as a teaching assistant at Ryerson University. Attia nevertheless helped Elkasrawy with "messaging" during the scandal.
Attia has also publicly expressed support for the activism of the Egyptian Canadian Coalition for Democracy, a group that one Canadian organization notes was founded "seemingly in reaction to the coup of July 2013 that deposed [Egypt's] Muslim Brotherhood President Mohamed Morsi and brought General Abdel-Fattah al-Sisi to power in his stead."
Meanwhile, an Ontario Member of Provincial Parliament (MPP) with his own ties to extremists, Kaleed Rasheed of Mississauga East- Cooksville, has quickly climbed the Ontario PC Party ranks to the position of Deputy Government Whip. Despite the organization's history of links to terror networks, Rasheed does not seem reluctant to cozy up to MAC. Rasheed has also frequently tweeted his support for the Canadian branch of the Islamic Society of North America (ISNA), a Muslim organization that had its charitable status in Canada suspended from 2018 to 2019, for funding the Pakistan-based Hizbul Mujahideen, a designated terrorist entity in the United States, the European Union and India, and which is linked to the South Asian Islamist movement Jamaat-e-Islami.
In a 2019 member statement, MPP Rasheed praised the Al-Qazzaz Foundation, a Canadian group founded by Khaled al-Qazzaz, a former foreign affairs spokesman for the late Egyptian Muslim Brotherhood icon Mohamed Morsi. (Incidentally, Attia's sister is married to Mr. al-Qazzaz.)
Both Mr. al-Qazzaz and Mrs. Attia were named in a 2017 report by the el-Sisi Egyptian government as designated "terrorist entities".
Meanwhile, Muslim reformers are denied a home in the Conservative Party of Canada and have had their candidacies withdrawn. Muslim reformer Salim Mansur , for example, won the CPC nomination for the riding of London North Centre for the 2019 federal election; however, party officials denied his candidacy, apparently after Mansur was unjustly accused of "Islamophobia."
The CPC might favor extremist Muslims in order to secure more votes and broaden the party "base." All the while, Muslim reformers with a long history of loyalty to the party are being rejected, and not chosen as candidates. Party members who oppose advancing Sharia law and who run for leadership positions are disqualified.
Under Stephen Harper, extremist Muslims were not welcome in the Conservative Party of Canada, a conviction he made clear to the membership. During his nearly decade-long tenure as Prime Minister, he took a hard line against Islamists. In 2011, he said "the major threat [to Canada] is still Islamicism," and pledged "to keep an eye on" homegrown radicals.
Five years later, these same radicals have found a home in the party. They are no longer regarded as pariahs, but as torchbearers for the modern conservative movement. The future of the Conservative Party of Canada as a force for democracy and the rule of law -- and the wellbeing of Canada -- depends on rejecting all extremist agendas.
Jakob Glogauer is a writer for Islamist Watch, a project of the Middle East Forum.