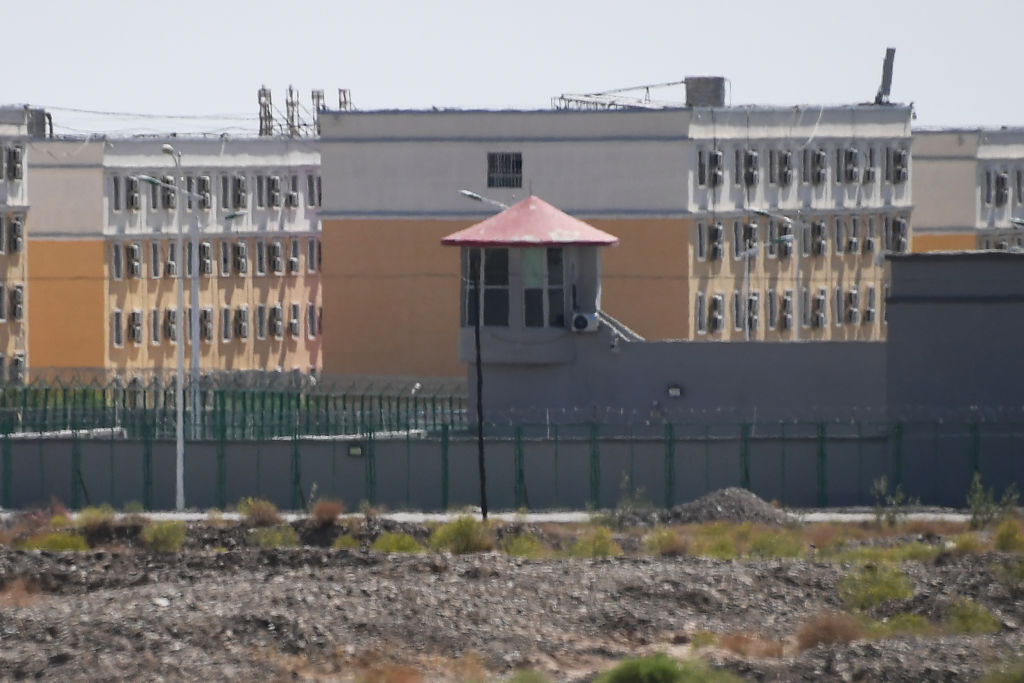 Pictured: The Artux City Vocational Skills Education Training Service Center, surrounded by concrete security walls, fences topped with razor wire and guard towers, north of Kashgar in China's northwestern Xinjiang region. It is reportedly a "re-education camp" where mostly Muslim ethnic minorities are detained. (Photo by Greg Baker/AFP via Getty Images)
When Soviet troops invaded Afghanistan in 1979, the entire Islamic world united behind their fellow Muslim Afghans and cooperated with the West to force the USSR to withdraw. By contrast, China's Communist security forces have transformed their ethnic Uyghur majority province of Xinjiang into a huge concentration camp, but the world's Islamic states have refused to criticize Beijing.
The world's most influential Muslim international forum, the 57-member Organization of Islamic Cooperation (OIC), in a resolution drafted in March last year, in fact commended China's efforts in its care of the country's Muslims. Shortly after, in July 2019, twenty-three Muslim countries supported a United Nations Human Rights Council resolution praising the People's Republic of China's (PRC) efforts "for protecting and promoting human rights through development." This statement rebuffed an earlier Human Rights Council resolution drafted by 22 Western countries urging China to refrain from violating the human rights of the Uyghur minority in Xinjiang.
Some noteworthy leaders from Muslim majority countries personally praised the Chinese treatment of its Uyghur population. Mohammed bin Salman, Saudi Arabia's Crown Prince, speaking on Chinese state television during a February 2019 visit to China, said it was China's "right" to place Uyghurs in training camps, and to "prevent the infiltration and spread of extremist thinking."
Pakistani Prime Minister Imran Khan, when asked by a reporter about China's treatment of its Uyghurs, claimed he didn't "know much about" the problem. When pressed, he continued that China "came to help us when we were at rock bottom." Even Turkey's Prime Minister Recep Tayyip Erdogan backtracked from his December 2019 condemnation of China's treatment of Muslims as "a great cause of shame for humanity." Now Erdogan extradites Uyghur refugees in Turkey back to China where they will most likely face harsh treatment.
Competing with Erdogan for "hypocrisy honors" is Palestinian Authority leader Mahmoud Abbas, who in a July telephone conversation with Chinese Communist Party Chairman Xi Jinping pledged his continued support for "China's just position on Hong Kong, Xinjiang, and other issues concerning China's core interests." Abbas admitted to no lack of consistency in his accusations of alleged Israeli abuses of Palestinian Arabs and his fawning support for China's treatment of his fellow Muslims in Xinjiang.
The private rationale for the public embrace by Muslim states of China's governance of Xinjiang's Uyghur population is both general and country specific. There seems to be a collective apprehension by many Islamic governments that publicly criticizing China will lead to a loss of Chinese investment. Indeed, many Muslim states, including all of Central Asia's Islamic countries as well as Iran and Iraq in Southwest Asia, and Pakistan and Bangladesh in South Asia, are heavily invested in China's Belt and Road Initiative (BRI). Moreover, all of these regions lie in the direct geographical path of several projects in the BRI. In order for this new "Silk Road" to safely connect markets east to west, the great expanse of the Eurasian land must be stable, secure, and peaceful. Most of the strands of the BRI run through the Uyghur Autonomous Region of Xinjiang.
The silence of the oil-rich kingdom of Saudi Arabia is, in part, explained by the at least $75 billion of investment deals reached in the last few years. Moreover, China is Saudi Arabia's largest trading partner. Saudi Arabia's failure publicly to support Uyghur Muslims shreds the Kingdom's claim to be the "Defender of the Faith."
Iran's support for Beijing's BRI program may well be motivated by its need to seek relief from the punishing effects of Western-imposed commercial and financial sanctions. Iran most likely also hopes that a more militarily formidable China will ultimately abolish the West's current permanence in the Middle East. The Palestinian leader Abbas, for his part, most likely envisions that China might have the potential of replacing the U.S. as the arbiter of a renewed peace process less favorable to Israel. In any event, Iran, given its embrace of China's BRI blueprint, can no longer assert that its foreign policy is "Neither East Nor West."
There also may be theological motivations that help to explain why Muslim states have decided either to support China or remain silent about Beijing's persecution of the Uyghurs. These motivations might include a belief by strict Sunni Islamic countries that the Islam practiced by Uyghurs is too eclectic, not pure enough, and contains un-Islamic accretions from centuries of exposure to other cultures along the "Old Silk Road." It is true that although most Uyghurs are Sunni, the public celebration of their faith includes many Sufi characteristics, such as visiting shrines and tombs as well as revering saints. Some Sunni theologians probably suspect that the Uyghurs and other Islamic minorities of Xinjiang have not yet purged their ancient ties to Buddhism. All of these practices are anathema to Wahhabi Sunni beliefs of the Arabian Gulf Islamic countries.
There also may be ethnically-driven reasons that permit Middle East Muslims to express less concern for the plight of their brothers and sisters in China. The Uyghurs are not Arab and they do not speak Arabic. The Uyghurs, like many of the peoples of Central Asia, are of Turkic lineage. A citizen of Turfan Oasis in Xinjiang can be understood by a resident of Istanbul, Turkey.
Perhaps a more realistic but cynical explanation for the seemingly incongruous alliance between China and the globe's Islamic governments is the collegial compatibility of authoritarian regimes. None of these tyrannical entities wants international observers to arrive inside their sovereign realms to investigate human rights abuses of minorities: the Sunni Saudis of their Shia Muslims, the Turks of their Kurds, the Pakistanis of their Christians.
More strategically threatening to the existing liberal international order may be a decision by the world's Islamic states and other Third World countries not to condemn Beijing in the event that China might emerge as victor in the new Cold War.
Dr. Lawrence A. Franklin was the Iran Desk Officer for Secretary of Defense Rumsfeld. He also served on active duty with the U.S. Army and as a Colonel in the Air Force Reserve.