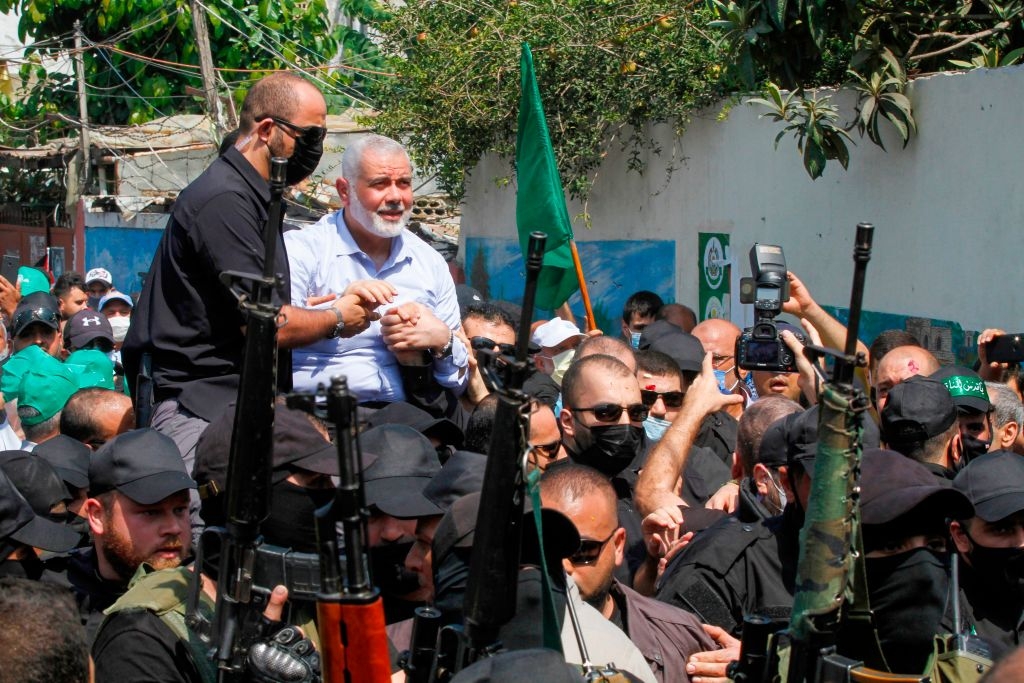 The visit of Hamas leader Ismail Haniyeh to Lebanon has sparked outrage in the country. Haniyeh held a series of meetings with Lebanese and Palestinian officials. He also met with Hassan Nasrallah, leader of the Iran-backed Hezbollah terrorist group. Pictured: Haniyeh (wearing a blue shirt), surrounded by armed militiamen, is paraded through Lebanon's Ain al-Hilweh refugee camp on September 6, 2020. (Photo by Mahmoud Zayyat/AFP via Getty Images)
The visit of Hamas leader Ismail Haniyeh to Lebanon has sparked outrage in the country. Many Lebanese citizens and officials have expressed the fear that his presence in their country could trigger another war with Israel. Their fear does not seem unjustified. The Lebanese are aware of the disasters Hamas has brought on its people in the Gaza Strip by firing rockets into Israel. The Lebanese are telling Hamas: "If you want to launch terror attacks against Israel, please do not use our country. We are not prepared to pay the price."
The Lebanese have also objected to the return to Lebanon of armed Palestinian groups. The Lebanese appear afraid that Hamas is operating on instructions from Iran to turn Lebanon into a launching pad for firing missiles at Israel. The Lebanese remember the days in the 70s and 80s when the PLO and other Palestinian armed factions controlled Lebanon and used its territories to launch terror attacks against Israel, its neighbor to the south.
Haniyeh, who is currently based in Qatar, arrived in Lebanon in early September for a series of meetings with Lebanese and Palestinian officials. He also met with Hassan Nasrallah, Secretary-General of the Iran-backed Hezbollah terrorist group, and visited the Palestinian refugee camp of Ain al-Hilweh, where he was surrounded by scores of armed militiamen.
Haniyeh also participated in a videoconference meeting of leaders of Palestinian factions. He addressed the conference from the offices of the Palestinian Authority (PA) embassy in Beirut. PA President Mahmoud Abbas delivered a speech at the conference from his office in Ramallah, the de facto capital of the Palestinians in the West Bank.
During Haniyeh's tour of Ain al-Hilweh, he said that the Iran-backed Hamas in the Gaza Strip "possesses missiles to strike Tel Aviv and beyond Tel Aviv."
During his visit to Beirut, Haniyeh met with Nasrallah. After the meeting, Hamas and Hezbollah issued a statement in which they affirmed the "stability and solidity of the axis of resistance and the strength of the relationship between Hezbollah and Hamas, which is based on foundations of faith, brotherhood, and jihad (holy war)." The terror groups also pledged to "develop mechanisms of coordination between the two parties."
The Hamas leader's visit to Lebanon came during one of the worst crises in the country's history. The Lebanese government had resigned amid growing public anger in the aftermath of a devastating explosion at the port of Beirut on August 4. The blast, which killed at least 200 people and injured about 5,000 others, occurred while Lebanon was coping, as it still is, with the spread of the coronavirus and a dire economic crisis.
Many Lebanese are angry with their government for allowing Haniyeh to enter the country. Rita Mokbel, a Lebanese woman living in the United Arab Emirates wrote on Twitter:
"Who is this Ismail Haniyeh, who comes to Lebanon and flexes his muscles in the [refugee] camps while surrounded by armed men and says he wants to liberate Palestine from Ain al-Hilweh? No one in our government has asked what is he doing here and who let him into our country."
Wiam Wahhab, a former Lebanese minister of environment, wrote that Haniyeh was "unwelcome" in Lebanon.
"Syria paid a heavy price for defending Hamas and the resistance movements, and they returned the favor by plotting against Syria and participating in its destruction. This is what the school of the Muslim Brotherhood and [Turkish President] Erdogan teaches. The timing [of the visit] is inappropriate, and the guest is unwelcome."
Lebanese journalist Mohamad Nimer commented that "Ismail Haniyeh left Palestine and came to Beirut to announce the development of Hamas's missile capabilities?" Nimer pointed out that Hezbollah already has missiles that it says will be used against Israel. Addressing Hamas and Hezbollah, he added: "Have mercy on Lebanon from your mischief."
Former Lebanese MP Fares Souaid, commenting on Haniyeh's visit and threats against Israel, warned of the return of Palestinian military presence in Lebanon:
"Ismail Haniyeh's threat to Israel from Beirut is dangerous because it brings back Palestinian military action [against Israel] in Lebanon, which ended in 1982. It also threatens the security of residential neighborhoods and will allow Hamas to work under the cover of Hezbollah."
Richard Kouyoumjian, another former Lebanese minister, said he did not understand who permitted Haniyeh to use Lebanon as a platform to threaten Israel. "Who gave him permission and the right to do so?" Kouyoumjian asked, adding that "if Haniyeh wants to be a hero, he should do so from the Gaza Strip, and not Lebanon."
Lebanese General Ashraf Rifi wrote on Twitter that Haniyeh's threats against Israel do not serve the Palestinian issue. In addition, he warned that Iran's weapons would lead to the destruction of Lebanon.
"Iran turned the Palestinian issue into a bargaining chip and deepened divisions among the Palestinians," Rifi said.
"Empowering Iran with the Palestinian card is a grave mistake. It is an even worse mistake to hand over the card of the Palestinian refugee camps in Lebanon to Iran. Lebanon is an independent state and not a theater for Iran and the Palestinians."
Leaders of Lebanese political parties held a meeting to discuss the repercussions of Haniyeh's visit and his threats against Israel.
The politicians warned against "the return of the Palestinian factions to exercising any military or security role in Lebanon."
They said that the meeting of the Palestinian faction leaders in Beirut reminded them of the days when Lebanon was effectively controlled by the Palestinians: "The meeting of the Palestinian factions in Lebanon brought back to mind the era of 'Fatah Land ' -- the days when Lebanon was just a venue for the PLO." (Fatah is the largest Palestinian faction of the PLO.)
The MENA Media Monitor news outlet, which focuses on Middle East and North Africa issues, warned that Haniyeh's threat against Israel and Hamas's alliance with Hezbollah would "slaughter Lebanon." It pointed out that Hamas, which has already ruined the Gaza Strip because of its terror attacks against Israel, is now seeking to destroy Lebanon.
"In addition to its professionalism in violence, money laundering, drug trafficking, and mobile assassinations, Hezbollah has become more professional in closing the door to any solutions that prevent the collapse of Lebanon," according to MENA.
"Haniyeh's visit to Lebanon, and his announcement from Lebanese soil that he and his ally, Hezbollah, are working on manufacturing smart missiles from Lebanon, is an announcement to slaughter Lebanon, which today does not need anything less than international solidarity with it, and with its disasters. Ismail Haniyeh and Hezbollah will take Lebanon into the hell of a war that will destroy what is left of the country."
Lebanese political commentator and journalist Walid Choucair wrote that Hamas and Hezbollah, at the behest of Iran, may be planning to use Lebanon as a podium for foiling normalization agreements between Israel and Arab countries.
Arab political analysts are apparently convinced that Iran dispatched Haniyeh to Lebanon in an effort to expand its control over the country to include the Palestinian refugee camps there. Arab political analysts also believe that Iran is preparing to use its proxies, Hamas and Hezbollah, to target Arab countries that establish relations with Israel, such as the United Arab Emirates and Bahrain.
The analysts warned that Lebanese and Palestinians alike will pay a heavy price if the camps fall into Iran's hands. The Lebanese and other Arabs are sending a clear message: "We are sick to death of Hezbollah and Iran. Allowing Hamas into Lebanon will only further sicken a country in deathly need of rehabilitation."
Khaled Abu Toameh, an award-winning journalist based in Jerusalem, is a Shillman Journalism Fellow at Gatestone Institute.