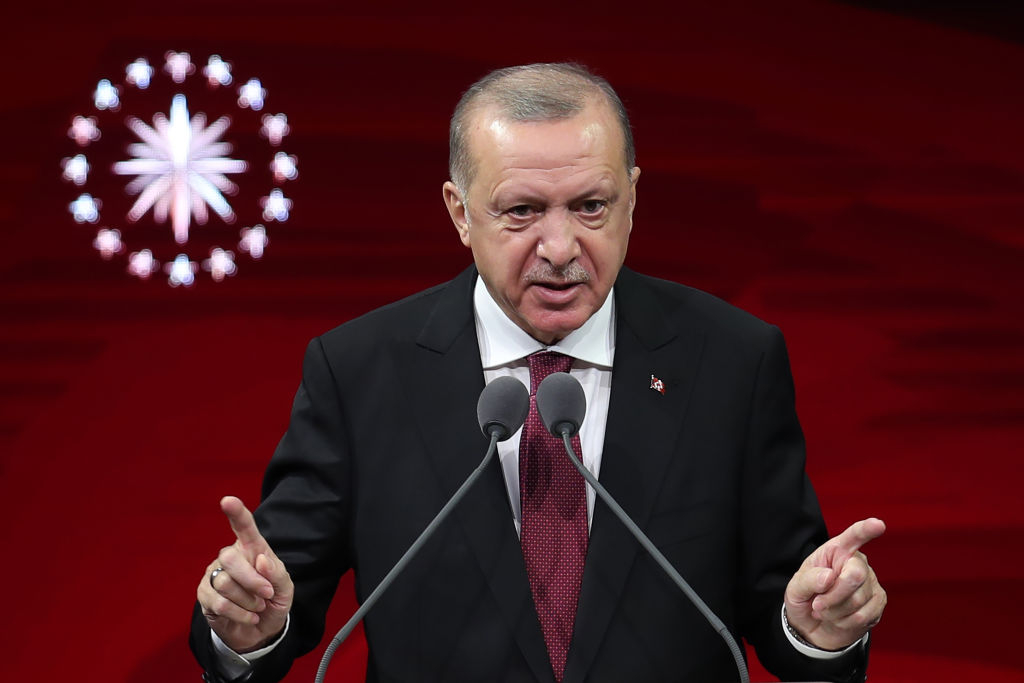 Threats from Turkey have been coming in unprecedented abundance. President Recep Tayyip Erdoğan recently said: "... Turkey has the political, economic and military power to tear up immoral maps and documents imposed on itself. Either they will understand this with the language of politics and diplomacy or through painful experiences on the battlefield... A century ago, we either buried them in the ground or threw them into the sea..." Pictured: Erdoğan speaking in Ankara on September 17, 2020. (Photo by Adem Altan/AFP via Getty Images)
During the 20th century, the Turks and their traditional Aegean rivals, the Greeks, fought four conventional wars: The First Balkan War (1912-1913); the First World War (1914-1918); the Greco-Turkish War (1919-1922); and the Cyprus War (1974). So it is not the first time during an expanse of peace that newspapers across the world are telling their readers that the Aegean Sea is on the brink of war. "Peace" across the Aegean has always been cold-to-very-cold except for brief periods of relative warmth. It looks as if Turks and Greeks live in neighboring homes built on a centuries-long blood feud.
Charles King, in his book Midnight at the Pera Palace: The Birth of Modern Istanbul, wrote about the early post-Ottoman years in Istanbul and the nation-building efforts of the infant Republic of Turkey:
"Istanbul's non-Muslim minorities fell from an estimated 56 percent in 1900 to 35 percent by the late 1920s. Other cities had more dramatic decreases. Izmir, the former Smyrna, went from 62% non-Muslim to 14%... But the demographic revolution changed virtually everything in the old minority neighborhoods of Istanbul. In the rush to leave, Greeks, Armenians and Jews dumped the contents of their houses and apartments onto the secondhand market, hoping to gain at least a small amount of cash before boarding a ship or train...

"Turkey as a whole became more Muslim, and more Turkish, more homogeneous and more rural — because of the flight of non-Muslim minorities from cities — than it had ever been. Some of the families who would go on to become the mainstays of Istanbul's economy emerged [by]... keeping an eye on changing fortunes and translating political connections into economic advantage once the Greek and other minority businesses went up for sale. There was nothing necessarily dishonest about their dealings, but they rested on a massive transfer of wealth whose origins lay in the republic's preference for national purity over the old cosmopolitanism of the imperial capital."
After three wars at the beginning of the century, Turkish-Greek tensions would next explode in Cyprus, where Turkish and Greek Cypriots lived side by side and in peace until after the 1950s, when they started to slaughter each other. Ethnic strife led to the Turkish military operation in July 1974 that ended with its occupation of the northern third of the island. Cyprus has remained divided along ethnic lines ever since.
In 1996, the Turkish and Greek militaries came close to a hot engagement over sovereignty claims over a tiny islet in the southern Aegean Sea. A few years after successful U.S. mediation averted war, few Turks or Greeks even remembered the name of that 9.9-acre, uninhabited islet: Imia (Kardak in Turkish).
Today's tensions, stretching from the Aegean to the Eastern Mediterranean, look more serious than two teenagers in a tug-of-war over a piece of rock.
When the head of Israel's Mossad, Yossi Cohen, reportedly said in August that "Iranian power is more fragile but the real threat is from Turkey," he had a point. These days, threats from Turkey have been coming in unprecedented abundance.
In a recent speech in Istanbul, Turkey's Islamist president, Recep Tayyip Erdoğan, gave not-so-subtle hints about his irredentist views, with particular reference to the 1923 Treaty of Sèvres which, with other pacts, established the borders of modern Turkey:
"They will understand Turkey has the political, economic and military power to tear up immoral maps and documents imposed on itself. Either they will understand this with the language of politics and diplomacy or through painful experiences on the battlefield... A century ago, we either buried them in the ground or threw them into the sea. I hope they do not pay the same price now."
Robert Ellis, who writes about Turkey, reminded the public about what Abdullatif Şener, a one-time staunch Erdogan ally and now an opposition MP, had stated in an interview six years ago: Erdoğan would even be prepared to drag Turkey into a civil war to maintain his grip on power.
Metin Külünk, a former MP from Erdoğan's Justice and Development Party, on August 28 published a map of "Greater Turkey," which illustrates the extent of Turkey's revisionist ambitions. It includes areas of Greece, Bulgaria, Cyprus, Syria, Iraq, Georgia and Armenia.
In a similarly threatening statement, Turkish Defense Minister Hulusi Akar provocatively advised Greece to remain silent "so as not to become a meze [snack] for the interests of others."
All that inflammatory war talk has sent several messages at different wavelengths to the west side of the Aegean Sea and beyond. Greece said it was bolstering its military arsenal and troops to be prepared for open conflict with Turkey. On September 13, Greek Prime Minister Kyriakos Mitsotakis said Greece would acquire 18 new French-made Rafale fighter jets to replace its aging Mirage 2000 fighters, buy four navy helicopters and four new frigates, and was refurbishing another four frigates. Mitsotakis also said his government was planning to extend mandatory conscription term to 12 months from the present nine months.
An open conflict in and around the Aegean is against Western interests. Western nations, however, are right when they do not remain indifferent or submissive to Turkish threats. On September 1, Washington announced that it was partially lifting a 33-year-old arms embargo on the (Greek) Republic of Cyprus, a move immediately condemned by Turkey. In a related move, U.S. Secretary of State Mike Pompeo travelled to Cyprus on September 12 in a bid to broker a peaceful solution to tensions with Turkey in the eastern Mediterranean.
"We remain deeply concerned by Turkey's ongoing operations surveying for natural resources in areas over which Greece and Cyprus assert jurisdiction over the eastern Mediterranean," Pompeo told reporters in Nicosia. During his visit, the U.S. and Cypriot governments signed a memorandum of understanding which Ankara absurdly protested, alleging that it may damage peace and stability in the Eastern Mediterranean.
The Aegean conflict and its repercussions also concern the European Union. The MED7 group of southern European countries, hosted on September 10 by France, expressed its full support and solidarity for Greece and Cyprus regarding the repeated violations of their sovereign rights from Turkey. The European Council will convene on September 24-25 to discuss whether to impose sanctions on Turkey.
Greece also has the backing of two other Mediterranean heavyweights, Egypt and Israel, as well as the support of Saudi Arabia, the United Arab Emirates and Jordan.
Erdoğan can only win the fifth war at home. If he avoids a military conflict, he will have averted a losing war for Turkey. At home, his assertive foreign policy, tough-guy manners and I-am-challenging-the-entire-world rhetoric may bring him a few more votes and additional popularity. Erdoğan's fifth war would be one with no winners. But Erdoğan's Turkey would be the bigger loser.
Burak Bekdil, one of Turkey's leading journalists, was recently fired from the country's most noted newspaper after 29 years, for writing in Gatestone what is taking place in Turkey. He is a Fellow at the Middle East Forum.