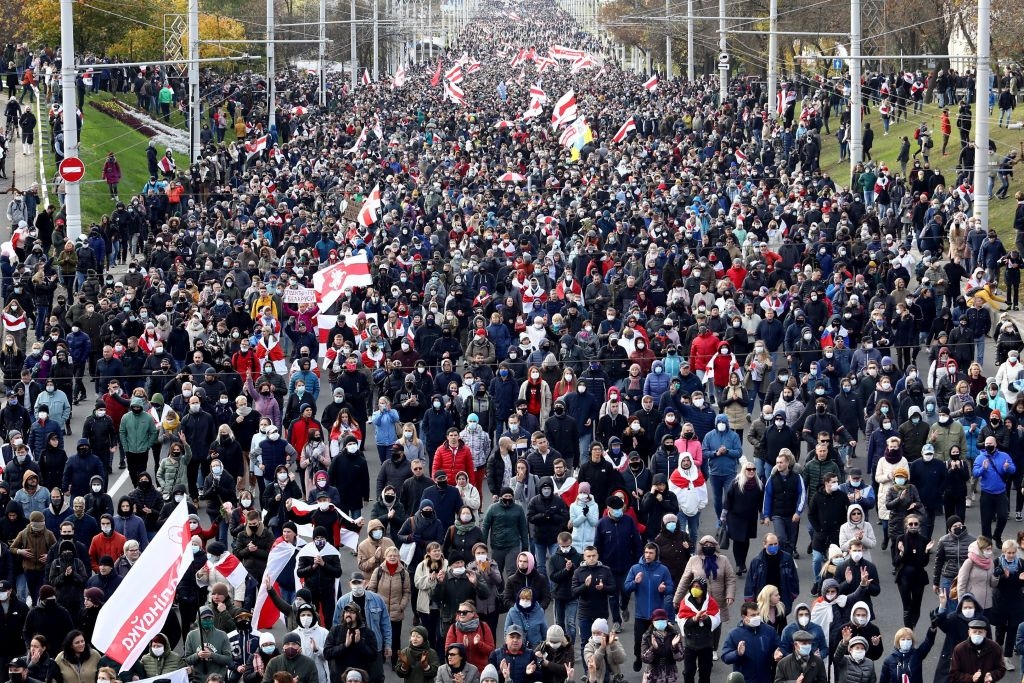 Pictured: Opposition supporters protest against the August 9 presidential election results in Minsk, Belarus on October 18, 2020. (Photo by AFP via Getty Images)
For two months, Belarusians have turned out in force every Sunday, drawing up to 200,000 protesters against the August 9 presidential election, which gave President Alexander Lukashenko, a crushing if highly dubious victory.
Belarusians want an end to Lukashenko's 26-year long rule of Soviet-style authoritarianism with unfree elections, a censored media and widespread repression of political dissent. Both the US and the EU have described the recent election as neither free nor fair.
Lukashenko's main challenger, Svetlana Tikhanovskaya, who received nearly 10% of the vote, was detained after contesting the election results and fled to Lithuania, She had said that she was ready to serve as a temporary "national leader" and hold new free and fair elections. For that purpose, she and other members of the opposition formed an opposition council, a move that prompted prosecutors to open a criminal case against the council with the claim that it had been set up as an illegal attempt to seize power. Since the council's creation in mid-August, most of its leaders have been detained, several of them abducted and then expelled from the country. One of the last free members of the council, Maxim Znak, was dragged out of his office by masked men on September 9, detained and charged with "incitement to undermine national security".
Tikhanovskaya has made it clear that the protests are about free elections and an end to the Lukashenko regime -- not about joining with either Russia or the West. "The revolution in Belarus is not a geopolitical revolution," she has said. "It is neither a pro-Russian, nor anti-Russian revolution. It is neither an anti-European Union nor pro-European Union revolution. It is a democratic revolution."
Lukashenko, however, clinging onto power, has framed the protests as "foreign interference". The claim serves both as an excuse to crack down on the protests and to ensure the support of Russia.
"NATO troops are at our gates. Lithuania, Latvia, Poland and our native Ukraine are ordering us to hold new elections," Lukashenko has said. He has also claimed that NATO has aggressive designs on the country: "They want to topple this government and replace it with another one that would ask a foreign country to send troops in support," he said at the end of August.
"There is no NATO build-up in the region," NATO spokeswoman Oana Lungescu said in response to the accusations. "NATO's multinational presence in the eastern part of the Alliance is not a threat to any country. It is strictly defensive, proportionate, and designed to prevent conflict and preserve peace."
Lukashenko has cracked down exceedingly hard on the demonstrations. Since the election, more than 10,000 people have been detained and at least 244 people have been implicated in criminal cases on various charges related to the protests, according to Viasna human rights center leader Ales Bialiatski. During the protests, on Sunday October 4 alone, some 250 protesters were detained during demonstrations held in Minsk and other cities of Belarus, including Brest, Salihorsk, Mahilioŭ, Babrujsk and Hrodna, where security forces again used water cannons to disperse the peaceful demonstrators.
Police officers have reportedly beaten demonstrators in detention and there are reports of widespread torture. According to September 15 report by Human Rights Watch:
"The victims described beatings, prolonged stress positions, electric shocks, and in at least one case, rape, and said they saw other detainees suffer the same or worse abuse. They had serious injuries, including broken bones, cracked teeth, skin wounds, electrical burns, and mild traumatic brain injuries. Some had kidney damage. Six of the people interviewed were hospitalized, for one to five days. Police held detainees in custody for several days, often incommunicado, in overcrowded and unhygienic conditions".
In addition, Lukashenko has shut down more than 20 news websites.
The US, the EU and Canada have imposed sanctions, such as travel bans and asset freezes, on Belarusian senior figures involved in the suppression of protests and election fraud. The EU has imposed sanctions "against 40 individuals identified as responsible for repression and intimidation against peaceful demonstrators, opposition members and journalists" while the US is sanctioning eight senior figures in Lukashenko's government, including Interior Minister Yuriy Khadzymuratavich Kareau. The US already imposed sanctions on Lukashenko in 2006, banned his entry into the U.S. and froze any assets he had there. It is questionable, however, whether new sanctions will have any effect on a leadership that is so reliant on Russia. "Personal sanctions don't change the situation on the ground," Artyom Shraibman, a political analyst based in Minsk, told Politico. "The individuals on the list don't care about being on it. On the contrary, they consider it a medal of honor."
Russian President Vladimir Putin has generally signaled that he is ready to support Lukashenko -- including having extended a $1.5 billion loan. He stated, however, that the mass protests are a matter for the Belarusians to solve. "We want Belarusians themselves... to sort out this situation calmly and through dialogue," Putin said. He did acknowledge however, that Russia would be ready to help Belarus militarily, should the situation grow "out of control".
The Belarusian opposition, meanwhile, is also appealing to Putin: "I regret that you decided to conduct a dialogue with the usurper and not with the Belarusian people," Tikhanovskaya said after Putin's September meeting with Lukashenko in Sochi in what was the first face-to-face meeting between the two leaders since the elections.
Belarus, serving both as an important transit route for Russian oil and gas to Europe and as a buffer with NATO, forms a significant part of Russia's sphere of interest. Putin has been pushing for ever-closer "integration" with Belarus for years. As late as December 2019, protests broke out in Belarus against what was perceived by Belarusians as a Russian push to have Belarus integrate more closely with Russia.
On the one hand, Putin, of course, will only keep propping up Lukashenko as long as it is in his interest to do so. He has little interest in alienating Belarusians, who have traditionally been sympathetic to Russia. The last member of the opposition council who has not been detained and is still in Belarus, Nobel Prize laureate Svetlana Alexievich, said. "Belarusians have always considered Russians our brothers, but if Russia sticks to its current politics that will no longer be the case."
On the other hand, however, it is practically unimaginable that Putin would support an opposition fighting for free elections, even if it presented an extremely Russia-friendly presidential candidate. Allowing a democratic revolution in Belarus would send the wrong signal to Russians eager to rid themselves of Putin's authoritarian rule. Russia, in fact, recently put Tikhanovskaya on its wanted list on "a criminal charge", according to Russia's interior ministry.
It is far more likely that Putin will take advantage of Lukashenko's considerably weakened position. Now that Lukashenko is being pressured both internationally and at home, he is completely beholden to Putin, who is likely to take full advantage of this position by conditioning his help and support on Lukashenko's acceptance of further "integration" with Russia. Ultimately, this could lead to a "soft" power grab by Putin -- no need for military invasions -- in which Putin could finally bring about the close "integration" from Belarus -- "coming closer together" socially and economically -- that Putin has previously sought.
John Richardson is a researcher based in the United States.