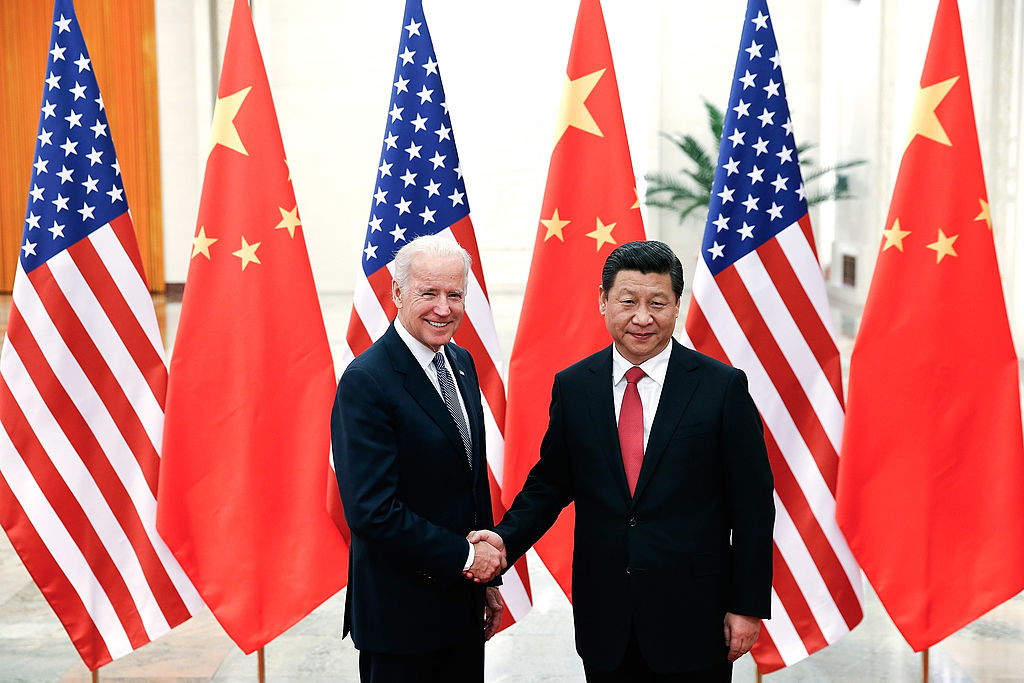 President Joe Biden's team should not misinterpret any Chinese conciliatory rhetoric as being a sign of a less aggressive Chinese Communist Party effort to push US military assets out of the Western Pacific. Pictured: Chinese President Xi Jinping with then US Vice President Joe Biden in Beijing, China on December 4, 2013. (Photo by Lintao Zhang/Getty Images)
Not a week has passed since the inauguration of President Joe Biden -- whose son reportedly engaged in business deals with China worth $1.5 billion -- and the Chinese Communist Party (CCP), which illegally seized Hong Kong last summer, has already sent more than two dozen warplanes, including bombers, into Taiwan's airspace for two days in a row.
China also issued a new law permitting its "coastguards to launch pre-emptive strikes without prior warning" on any foreign ship that might enter disputed waters that China would like to consider its own.
Chinese Communist Party Chairman Xi Jinping is certain further to test the mettle of the new Biden Administration within the context of China's "great power rivalry" with the United States. China's leadership will determine the manner and speed in which to pursue the CCP's geopolitical goals based upon Beijing's assessment of Biden's response to any test. Historically, the timing and the circumstances of China's tests of previous administrations have been unpredictable, but there are a few that it seems likely will happen.
China already appears to have truncated any move by Biden's foreign policy team to present a united Atlantic front against China, particularly on issues of commerce, investments, and economics. In late December, Xi personally intervened in investment negotiations between China and the European Union. When he offered a few concessions on opening the Chinese market to EU goods, he immediately brought to a successful conclusion talks that had been bogged down in a seven-year marathon. The EU and China have already signed the comprehensive investment and trade deal that resulted from his offer. Another possible move by China might include an attempt to arrange a "Code of Conduct Agreement" with Southeast Asian nations on maritime and fishing activities in the South China Sea -- without US participation.
Another initiative China could take is to militarily reinforce its artificially-created islands. or Chinese-claimed island chains whose ownership is disputed, in the South- and East China Seas. China may already be signaling the Biden Administration of its determination to press its territorial claims in the South China Sea by its recent landing of the Y-20 transport plane -- the Chinese Air Force's largest aircraft -- on "Fiery Cross Island" in the disputed Nansha (Spratly) Islands chain.
Biden's national security advisors might be mistaken if they are expecting China to grant the new US administration a honeymoon period. There is, for instance, no guarantee that China will express any enthusiasm for a supposedly less-confrontational American administration by granting concessions on bilateral disagreements on trade or defense issues. Biden's team should not misinterpret any Chinese conciliatory rhetoric as being a sign of a less aggressive CCP effort to push US military assets out of the Western Pacific.
Even if Biden's team utters all the wooziest conciliatory overtures to China regarding alleged "shared interests" -- such as global warming, free trade or lowering tariffs -- Xi, a stalwart of the "One China Policy," may still demand not words but actions such as: a moratorium on Freedom of Navigation Operations (FONOPS) by US Navy vessels in the South China Sea, a cessation of US criticism of China's human rights violations, and a promise to reduce American VIP visits to Taiwan following President Trump's high level contacts with Taipei.
China's leaders have already had ample opportunity to measure the character of the Biden Presidency. Biden, after all, did not distinguish himself as a bold policy innovator regarding US-Chinese relations in his eight years as Obama's Vice President. Additionally, China is probably not impressed with Biden's nominee for Secretary of State, Antony Blinken.
Bill Gertz, author of the book Deceiving the Sky: Inside Communist China's Drive for Global Supremacy, described the February 2012 case of high-level CCP defector Wang Lijun, who requested political asylum in the U.S. Consulate in Chengdu:
"In the end, Antony Blinken, Biden's national security adviser, successfully prevailed over other officials in arguing that Wang's asylum appeal should be rejected."
Wang was then "given over to China's Ministry of State Security, the political police and intelligence service."
It is reasonable to assume that, viewed from China's perspective, the US decision to surrender Wang to face the likelihood of being executed was a cowardly act of political expediency for which Blinken may have been responsible. In China's analysis, the US must have seemed pleasingly willing to trample its own image as the world standard bearer for human rights.
China has probably assessed Biden's capacity for bold leadership as highly improbable. The Chinese only have to read the testimony of President Obama's former Secretary of Defense Robert Gates, who claimed in his memoirs that Biden was wrong on every major decision in his past four decades in Washington. Chinese leaders are most likely aware of Gate's indictment of Biden's opposition to President Reagan's arms build-up and investment in missile defense systems, which helped led to the collapse of the Soviet Union. Gates also expressed his frustration with VP Biden staff's inveterate antagonism toward the Pentagon's military leadership. China, no doubt, is also aware that Biden, virtually alone among Obama's top aides, reportedly argued against the Special Forces raid on Osama bin Laden's redoubt in Pakistan.
Consequently, the Biden administration should not assume that Chinese objectives are negotiable. The CCP is committed to becoming the premier power in the world at the expense of US interests and is most likely willing to risk war to accomplish it.
Dr. Lawrence A. Franklin was the Iran Desk Officer for Secretary of Defense Rumsfeld. He also served on active duty with the U.S. Army and as a Colonel in the Air Force Reserve.