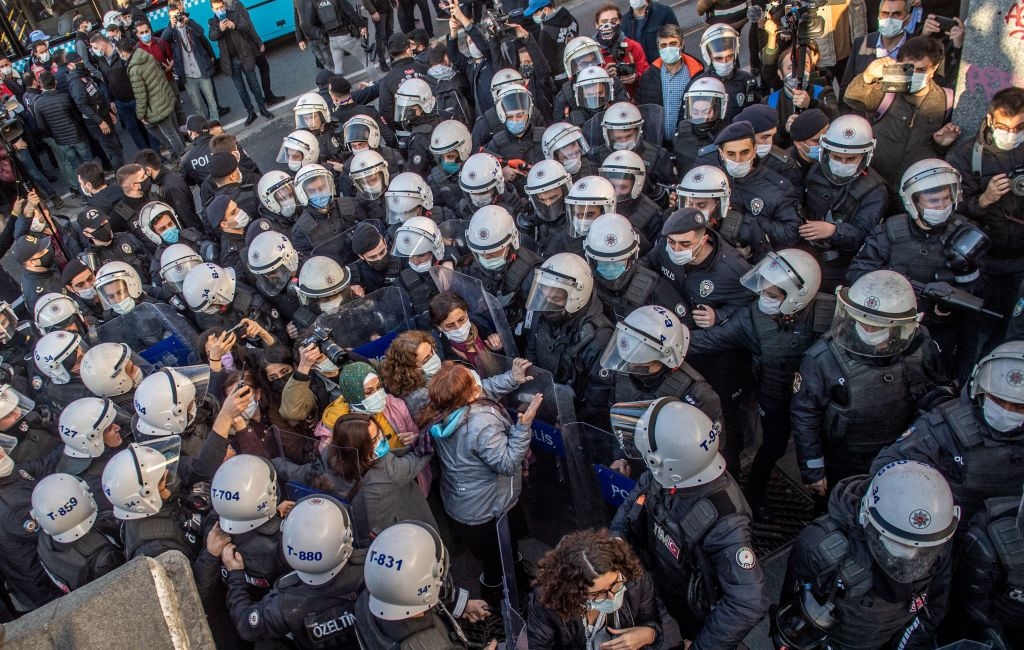 Since February 2, Turkish police have arrested more than 250 students at Istanbul's Bosporus (Boğaziçi) University for peacefully protesting President Recep Tayyip Erdoğan's appointment of a party loyalist as the university's new rector. Police even raided some of the demonstrators' homes and barricaded the campus. Pictured: Police surround and detain several female protestors at Bosporus University on February 4, 2021. (Photo by Bulent Kilic/AFP via Getty Images)
Bosporus University (Boğaziçi Üniversitesi in Turkish, or BOUN in its acronym) is one of Turkey's top three "Ivy League" higher education institutions. Established as Robert College in 1863, BOUN was the first American university founded outside the US. Its founders were wealthy philanthropist Christopher Robert and missionary Cyrus Hamlin. Robert College was handed over to the Turkish government in 1971 and reflagged itself as BOUN.
BOUN's notable graduates include former prime ministers Tansu Çiller and Ahmet Davutoğlu. Times Higher Education put BOUN in 601-800 in its 2021 world university ranking. Every year about 2.5 million Turkish pupils take a national examination to enter a university. In last year's examination 708 of the top 1,000 in 2.5 million contenders enrolled at BOUN. In other words, 70% of Turkey's best students prefer this university.
Turkish Islamists have always been at odds with the liberal, pro-Western traditions of BOUN. In an interview, Binali Yıldırım, President Recep Tayyip Erdoğan's choice for prime minister in 2016, commented that he did not attend BOUN in his youth because he "saw boys and girls sitting and talking together in the university's yard" and found the genders intermixing unacceptable. It was precisely this ideological incompatibility that opened a new front in the battle between tyrannical Islamism and an elite university.
On February 2, Turkish police detained more than 150 people peacefully protesting Erdoğan's appointment of a party loyalist as BOUN's new rector. It was the first time a non-BOUN graduate was appointed as head of the university since 1971. Students, professors and alumni have been protesting the appointment of rector Melih Bulu, a former member of Erdoğan's Justice and Development Party, since early January. Police even raided some of the demonstrators' homes and barricaded the BOUN campus.
In non-violent demonstrations, protesters called for Bulu to resign as the university's rector and for the university to be allowed to elect its own president, saying the appointment was an affront to academic liberties. On February 3, Erdoğan denounced student protesters as "terrorists" and vowed to crackdown on demonstrations. By then the police had detained more than 250 students. Erdoğan admitted he feared the BOUN protests could grow into anti-government protests and said he would not let them swell.
In addition to branding demonstrators as terrorists, Erdoğan and government officials stoked a polarizing and poisonous tradition battle, by singling out the university's LGBTQ college students as instigators of unrest and portraying them as deviant from Turkish values. "There is no such thing as LGBT. This country is national, spiritual, and marching toward the future with these values," said Erdoğan. Tweets posted by Interior Minister Süleyman Soylu denigrating the LGBTQ college students by calling them perverts were found by Twitter to have violated its guidelines about "hateful conduct," marked with a warning label and partially hidden from public view.
After a barrage of criticism came from the United States and Europe, Erdoğan accused the U.S. and European nations of double standards, for "crushing" protests in their countries but portraying as "innocent those who terrorize the streets" in Turkey. "We will not show mercy toward those who have become the toy of organizations involved in terror and who regard the use of violence as a means of seeking justice," he said. "We will grab hold of their collars and bring them to justice."
In a speech to the Turkish youths, Erdoğan said in May 2015: "Never bow before men of power, not even before a president, a prime minister, the rich and wealthy. Remember, sycophancy never befits the dignity of this nation's youth." Two years later, in 2017, Erdoğan again said: "We do not need a youth that unquestioningly obeys. We need a youth that knows what [ideas] it defends and why."
BOUN protesters are precisely the kind of youth Erdoğan prescribed in 2015 and 2017. All the same, instead of praise, Erdoğan wants to punish them as "terrorists."
Has Erdoğan changed since 2015? He has not. He only said those brave lines for the sake of rhetoric. In his Islamist worldview, youth dissent is good only if it protests ideas Islamism opposes, not if it protests Islamists.
Burak Bekdil, one of Turkey's leading journalists, was recently fired from the country's most noted newspaper after 29 years, for writing in Gatestone what is taking place in Turkey. He is a Fellow at the Middle East Forum.