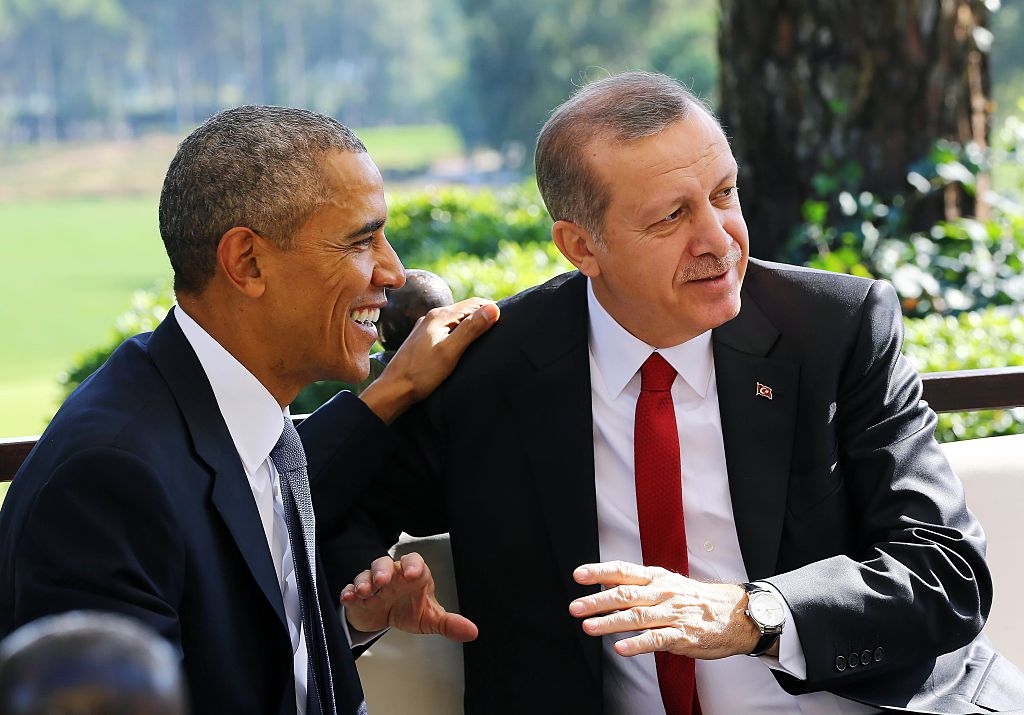 Three U.S. presidential administrations encouraged Turkish President Recep Tayyip Erdoğan recklessly to harm Western interests and further destroy whatever pieces of democracy were left in his own country by allowing him to maintain his transactional relationship with the U.S. rather than weakening his regime. Pictured: Erdoğan speaks with U.S. President Barack Obama on November 15, 2015 in Antalya, Turkey. (Photo by Kayhan Ozer/AFP via Getty Images)
U.S. President Joe Biden's two predecessors, Donald Trump and Barack Obama, made the same mistake, though for different reasons. They both mishandled Turkish President Recep Tayyip Erdoğan and his increasingly Islamization of Turkey's secular lifestyle, education system, politics and institutions. Obama apparently hoped that Turkey's post-modern Islamists could be an example to less-democratic Islamic regimes in the Middle East. Trump, on the other hand, seemed not to care if his pro-Erdoğan overtures emboldened Turkey's Islamist strongman and simultaneously weakened the NATO ally's ties with the West and Western institutions.
In a 2010 interview with the Italian daily, Corriere della Sera, Obama referred to Turkey as a "great Muslim democracy."
"The U.S. always expressed the opinion that it would be wise to accept Turkey into the European Union," he said. In a 2012 Time interview, Obama named Erdoğan as one of the five world leaders with whom he had the strongest bonds. In 2011, Tom Donilon, the president's former national security advisor, said that Obama regarded Erdoğan as "a man of principle, and also a man of action." When Obama became conscious of his strategic mistake, it was too late. Jeffrey Goldberg wrote in The Atlantic's April 2016 issue:
"Early on, Obama saw Recep Tayyip Erdoğan, the president of Turkey, as the sort of moderate Muslim leader who would bridge the divide between East and West—but Obama now considers him a failure and an authoritarian..."
Despite irrefutable evidence that Iran (through helping it evade sanctions) and Russia (through purchasing its S-400 defense system) mattered more to Turkey than Western interests, Trump took over the Erdoğan enthusiasm from Obama. Amid the stand-off over Turkey's military incursion into northern Syria in 2019, Trump hailed Erdoğan as a "hell of a leader, a tough man."
Biden will be the fourth American president to work with Erdoğan. His two predecessors made gross policy mistakes. These included investing in Erdoğan's regime in the unrealistic hope that it would help democratize Muslim nations in the Middle East; expecting Erdoğan to remain a genuine NATO ally; hoping that he might strengthen Western interests, and appeasing him to induce him to stay away from Russia's orbit. Three U.S. presidential administrations encouraged Erdoğan recklessly to harm Western interests and further destroy whatever pieces of democracy were left in his own country by allowing him to maintain his transactional relationship with the U.S., rather than weakening his regime.
Biden now has a chance to stop and even reverse that unpleasant chapter in modern Turkish history.
A year before he became president, Biden had described Erdoğan as an autocrat and promised to empower Turkey's opposition parties through democratic processes. Since Biden was inaugurated, he has not called Erdoğan. His administration immediately rebuked Turkey when U.S. officials urged the release of activist Osman Kavala, a victim of Erdoğan's personal wrath. The administration also criticized the Turkish government's homophobic rhetoric in a crackdown on peaceful student demonstrators.
"Turkey and the United States have different interests, and do not share values," said Steven Cook, a senior fellow at the Council on Foreign Relations. "The two countries can work together on some issues, but there is nothing that binds them together any longer."
None of the milestones in Turkey's journey away from the Western alliance came out of the blue or was a coincidence. In April 2009, military teams from Turkey and Bashar al-Assad's Syria crossed the border and visited outposts during joint military drills. That was the first time a NATO army had exercised with Syria's. In September 2010, Turkish and Chinese aircraft conducted joint exercises in Turkish airspace. That, too, was a first for a NATO air force. In 2011, before finally providing NATO forces with logistical support, then-Prime Minister Erdoğan angrily asked, "What business can NATO have in Libya?" Also in 2011, the Turkish government announced plans to build a ballistic missile with a range of 2,500 kilometers.
In 2013, Ankara selected a Chinese manufacturer, CPMIEC, for the procurement of its first long-range air and anti-missile defense system. Later scrapping that contract, Turkey instead acquired the Russian-made S-400 system. In response, the U.S. suspended Turkey's partnership in the multinational Joint Strike Fighter program that builds the new generation F-35 fighter jets. Most recently Turkey became the first NATO member state to come under the U.S. Countering Adversaries of America Through Sanctions Act (CAATSA).
Erdoğan is waiting for an opportunity to "persuade" Biden that his Islamist regime is in fact a staunch ally of the Western civilization. In a speech on Feb. 20, Erdoğan said that the common interests of Turkey and the U.S. outweighed their differences, and that Ankara wanted improved cooperation with Washington. What Erdoğan diplomatically refers to as "common interests" are in reality a list of Turkish demands:
Remove Turkey from the CAATSA list;
Allow Turkey to activate its Russian-made air defense architecture;
Ignore the Turkish public bank's role in violating U.S. sanctions on Iran;
End the U.S. alliance with Syrian Kurds and allow Turkey to crush them;
Praise, do not criticize, Turkey's democratic record.
Turkish Defense Minister Hulusi Akar recently proposed a "Crete model" in solving the S-400 row. Under the proposed model, Turkey would keep the S-400s packed but could decide where and when to deploy and activate them in the future, the same way Greece keeps its S-300 systems boxed on the Mediterranean island of Crete. However, Akar pointed out, Turkey was demanding a complete halt of any military cooperation between the U.S. and Syrian Kurds before it could agree to the Crete model. "That wasn't even a starter," a U.S. diplomat in Ankara told this author.
An aggressive overt and covert Turkish lobbying campaign in Washington will soon begin. As a first sign, Turkey has hired a Washington-based law firm, Arnold & Porter, to lobby for its readmission to the F-35 program. Under the six-month, $750,000 contract, Arnold & Porter will "advise on a strategy for [the Turkish defense procurement agency] and Turkish contractors to remain within the Joint Strike Fighter Program, taking into consideration and addressing the complex geopolitical and commercial factors at play."
Erdoğan's new charm offensive and lobbying campaign targeting Washington may have come too late. Anti-Erdoğan sentiment in Congress is bipartisan. Turkey has been extremely isolated in its wider region, with one spat over another with its land and littoral neighbors. Friendless Erdoğan fears that a tougher U.S. administration with harsher sanctions on Turkey may accelerate the country's economic downfall.
Once again, the Turkish-U.S. relations are passing through a critical junction. There are no traffic lights at the junction. And both sides are running fast without any sign of slowing down.
Burak Bekdil, one of Turkey's leading journalists, was recently fired from the country's most noted newspaper after 29 years, for writing in Gatestone what is taking place in Turkey. He is a Fellow at the Middle East Forum.