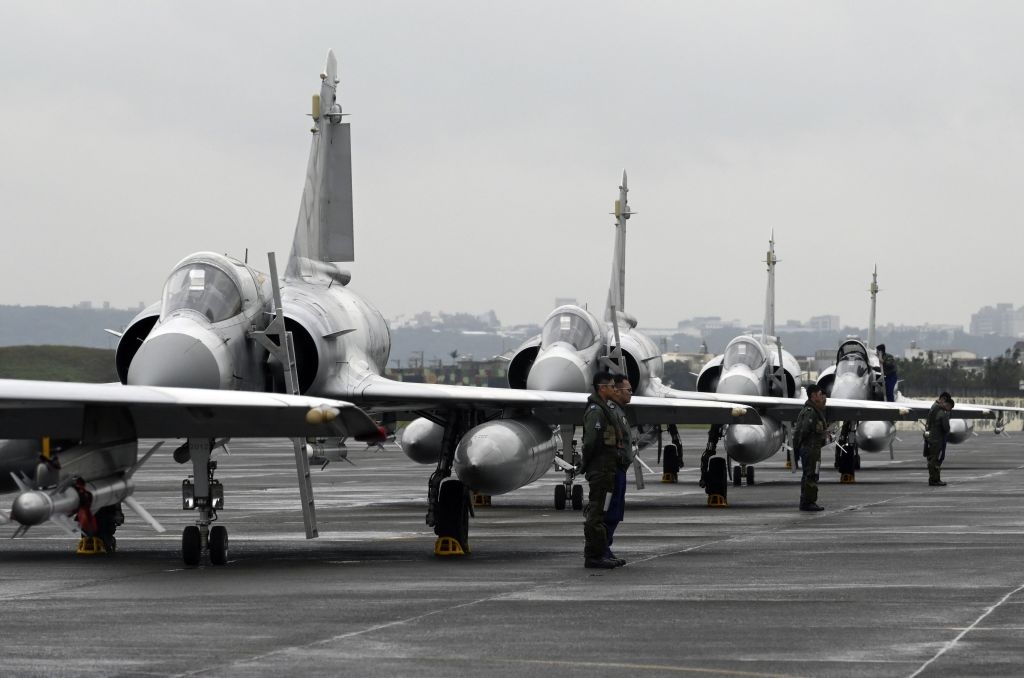 One of the "necessary means" that China employs against Taiwan is forcing the Taiwanese air force to be on constant alert... It is part of a strategy known as "gray-zone warfare" that aims to intimidate and ultimately exhaust Taiwan's resolve to resist the Chinese takeover. Pictured: Taiwan Air Force pilots stand next to Mirage fighter jets at Hsinchu Air Base on January 16, 2019. (Photo by Sam Yeh/AFP via Getty Images)
"China must be, will be reunified" with Taiwan, Chinese President Xi Jinping announced in January 2019. The goal of reunification is a basic tenet of China's policy regarding Taiwan. It forms a central part of Xi's nationalist doctrine, according to which, reunification is "a must for the great rejuvenation of the Chinese nation in the new era".
"We are willing to create broad space for peaceful reunification, but will leave no room for any form of separatist activities", he added. "We make no promise to renounce the use of force and reserve the option of taking all necessary means."
One of the "necessary means" that China employs against Taiwan is forcing the Taiwanese air force to be on constant alert. Chinese jets made a record 380 incursions into the Taiwanese air defence identification zone (ADIZ) in 2020 -- the highest number of incursions since 1996 -- thereby forcing the Taiwanese air force constantly to scramble military aircraft to head off the Chinese incursions. It is part of a strategy known as "gray-zone warfare" that aims to intimidate and ultimately exhaust Taiwan's resolve to resist the Chinese takeover. Tensions in the region are now considered to be at their highest since the mid-1990s.
The attempt to intimidate and pressure Taiwan into submission without resorting to actual war continued into the first month of 2021. Chinese air force planes, including bombers and fighters were spotted in the ADIZ no less than 27 times. The number of aircraft involved has also surged, with 28 making incursions on January 23-24 alone.
"Taiwan independence means war. The PLA's recent military activities in the Taiwan Strait were a solemn response to interference from external forces and provocations from 'Taiwan independence' forces," said Wu Qian, spokesperson for the Ministry of National Defense. He added that they were "necessary actions amid the current security situation across the Strait to safeguard national sovereignty and security."
More recently, China has expanded its operations against Taiwan from the air to the sea. Using sand dredging ships -- which dredge up sand from the ocean bed for construction projects in China -- around the Taiwan-governed Matsu islands, China supplies itself with construction material, while forcing the Taiwanese coast guard to go on constant round-the-clock patrols to expel the ships. The purpose seems, once again, to exhaust Taiwanese capabilities and break their resolve. One Taiwanese security official said it "is part of their psychological warfare against Taiwan, similar to what they are doing in Taiwan's southwestern airspace."
According to Reuters:
"Last year, Taiwan expelled nearly 4,000 Chinese sand-dredgers and sand-transporting vessels from waters under its control, most of them in the area close to the median line, according to Taiwan's coast guard. That's a 560% jump over the 600 Chinese vessels that were repelled in all of 2019".
Reuters adds:
"Taiwanese officials and Matsu residents say the dredging forays have had other corrosive impacts -- disrupting the local economy, damaging undersea communication cables and intimidating residents and tourists to the islands. Local officials also fear that the dredging is destroying marine life nearby."
China's "gray-zone warfare" against Taiwan includes diplomatic isolation, which China's seeks to bring about by putting pressure on countries to refrain from establishing diplomatic relations with Taiwan. Most recently, this tactic resulted in the cancellation of an agreement with Guyana about the establishment of a "Taiwan office" in the South American country that Taiwan had signed with Guyana on January 11. On February 4, Taiwan announced that it was opening the office in Guyana, but facing pressure from Beijing, Guyana cancelled the agreement. "The government of Guyana wishes to clarify that it continues to adhere to the one China policy and its diplomatic relations remain intact with the People's Republic of China," noted a press release from Guyana. "The government has not established any diplomatic ties or relations with Taiwan and as a result of the miscommunication of the agreement signed, this agreement has since been terminated."
"There is but one China in the world, and Taiwan is an inalienable part of Chinese territory," declared Foreign Ministry Spokesperson Wang Wenbin in response to Guyana's cancellation.
"China firmly opposes any official exchanges in any form between Taiwan and a country having diplomatic relations with China... Facts have once again proved that the one-China principle is a widely recognized norm for international relations and universal consensus of the international community."
China's new China Coast Guard (CCG) Law, effective February 1, is expected to raise tensions even higher in the South and East China seas. The new law authorizes China's coast guard to use "all necessary means" to stop or prevent threats from foreign vessels, including the use of fire weapons.
Michael Shoebridge, of the Australian Strategic Policy Institute (ASPI), writes:
"We've got used to stories of Chinese fishing fleets and Chinese militia vessels intimidating other nations' vessels and even bumping into them to get their way... We've also got used to the Chinese coastguard shadowing Chinese fishing fleets, ready to intervene if they come into contact with other nations' vessels.

"What's different now, though, is that with this new law Xi has told his coastguard to be wolf warriors at sea—and to use force, including lethal force, to assert Chinese interests. The Chinese coastguard has been building some novel ships that let it apply force not just with the weapons on board, but with the ships themselves. Coastguard vessels like the 10,000-ton Haixun aren't just bigger than many naval ships operating in the South and East China Seas, but they also have strengthened hulls that are designed for deliberately hitting other vessels—'shouldering' is the naval term of art."
Taiwan's unofficial ambassador in the United States, Hsiao Bi-khim, said that regarding Chinas actions, following the coast guard law, the world should be on "high alert".
The question, however, is what happens if or when China shifts from "gray-zone" warfare to actual warfare. For four decades, changing US administrations have been following a doctrine of strategic ambiguity on the question of whether the US will defend Taiwan in the event of a Chinese attack, meaning that the US has refrained from answering the question of whether it will assist in Taiwan's defense. The doctrine is consistent with the Taiwan Relations Act, according to which the president and Congress shall determine an appropriate response by the United States in the event of threats to the security or the social or economic system of the people on Taiwan, and any danger to the United States interests arising from such threats.
More voices are arguing, however, that strategic ambiguity does not suffice in the face of China's ramped up pressure on Taiwan and that the doctrine must be replaced with "strategic clarity".
Richard Haass, president of the Council on Foreign Relations, wrote in September:
"The policy known as strategic ambiguity has... run its course. Ambiguity is unlikely to deter an increasingly assertive China with growing military capabilities.

"The time has come for the United States to introduce a policy of strategic clarity: one that makes explicit that the United States would respond to any Chinese use of force against Taiwan. Washington can make this change in a manner that is consistent with its one-China policy and that minimizes the risk to U.S.-Chinese relations. Indeed, such a change should strengthen U.S.-Chinese relations in the long term by improving deterrence and reducing the chances of war in the Taiwan Strait, the likeliest site for a clash between the United States and China."
"I think the time has come to be clear: Replace strategic ambiguity with strategic clarity that the United States will come to the aid of Taiwan if China was to forcefully invade Taiwan or otherwise change the status quo across the [Taiwan] Strait," said Senator Tom Cotton, a senior Republican on the Senate Armed Services Committee, recently.
The US recently reaffirmed its support for Taiwan in a number of areas. "The United States notes with concern the pattern of ongoing PRC attempts to intimidate its neighbors, including Taiwan", the US State Department wrote in a press release in January 23, as Taiwan was experiencing a large amount of incursions into its ADIZ.
"We urge Beijing to cease its military, diplomatic, and economic pressure against Taiwan and instead engage in meaningful dialogue with Taiwan's democratically elected representatives... Our commitment to Taiwan is rock-solid and contributes to the maintenance of peace and stability across the Taiwan Strait and within the region."
Secretary of State Antony Blinken said during his confirmation hearing that the US would uphold its commitment to ensure Taiwan has the ability to defend itself. He also said that he would like to see Taiwan play a greater role around the world and that he was in favor of greater engagement with Taiwan. The administration is keeping up the previous administration's upgrading of relations between the two countries and invited Hsiao Bi-khim, Taiwan's unofficial ambassador to the United States, to the presidential inauguration, the first time that has happened since 1979.
As China continues to increase its aggressive behavior both in and out of the region, "strategic ambiguity" may end up looking like an open invitation for China to move in.
John Richardson is a researcher based in the United States.