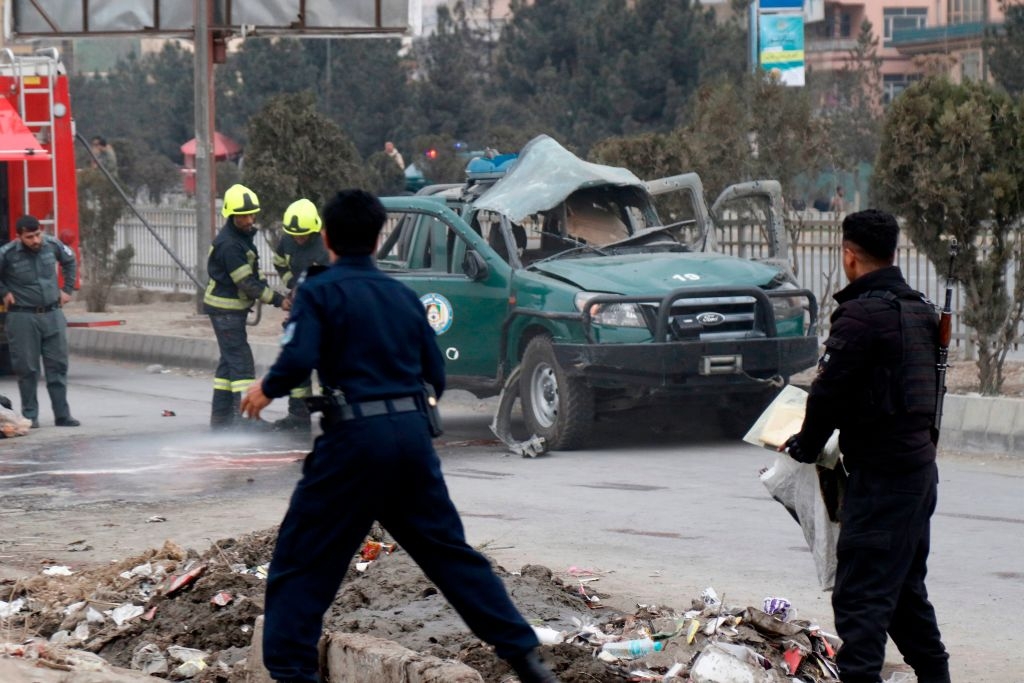 In the past 20 years, the United States has forged a moral bond with the people of Afghanistan, persuading them to accept untold sacrifices in the hope of a better future, which in turn would not allow Afghanistan to become a base for terrorism against others, including the United States. Pictured: Afghan policemen arrive at the site of a bomb blast in Kabul that killed at least two people and injured five others, on February 21, 2021. (Photo by AFP via Getty Images)
President Joe Biden's first foreign policy moves so far make at least one thing clear: he is looking for areas where he can distance himself from his predecessor without committing to dramatically different courses.
He has promised to return to the Paris climate accord that, requiring congressional approval, doesn't imply doing anything in particular.
He has flattered European allies by talking about multilateralism, forgetting that even the most multilateral arrangement still needs leadership and a program, something he tries to avoid for fear of being accused of Trumpian arrogance.
He has pleased the mullahs in Tehran by removing their Yemeni surrogates, the Houthis, from the terrorist list, without removing the names of their leaders from it.
He pleased Israel-bashers by keeping Israeli Prime Minister Benjamin Netanyahu waiting three weeks for a phone call. Biden has also revived the mullahs' hopes of getting off the hook of sanctions while bombing their base in Syria, killing some of their Arab and Pakistani mercenaries. He has taken a dig at Saudi allies by releasing a highly redacted intelligence "assessment" that reads more like a badly-written op-ed for The New York Times than a forensic, evidence-based report.
Well, since "Diplomacy is Back" has become the Biden mantra, those moves could be understood, though not necessarily justified, as diplomatic posturing. And a posture, provided it doesn't become imposture, is a legitimate diplomatic tool.
There is at least one issue on which Biden would be wise to adopt the anti-Trump posture: Afghanistan.
From the day he entered the White House, President Donald Trump vowed to end America's involvement in Afghanistan.
There was no rational reason for that obsession. The US presence had already been reduced to a manageable size and was bearing tangible, though frugal fruits. The fact of the US remaining engaged was a great help in steadying the ship of the state in Kabul, enabling the Afghan society, warts and all, to muddle towards a better future.
There was one crucial reason why Trump wasn't concerned about that.
Just as Biden today tries to be anti-Trump, Trump in his time, tried to be anti-Obama.
Obama had built his political career on going around condemning the fall of Saddam Hussein as "the bad war in Iraq", and, to pretend he could be tough for good causes, building up Afghanistan as "the good war".
Today, Biden could ditch Trump's cut-and-run plan and re-commit the US to helping Afghans protect what they have achieved and move on to build more. By doing so, Biden would burnish his anti-Trump credentials and also please Obama nostalgics.
The plan to run away from Afghanistan under the cover of a "peace accord" with Taliban is a surrealistic gambit.
The rationale claimed for it goes like this: The Taliban have the capacity to conduct terror attacks in many parts of Afghanistan. The only way to reduce those attacks is to bring them into the tent.
Question is; which tent and how?
Zalmay Khalilzad, the seasoned diplomat appointed by Trump to chaperon the "deal", started by suggesting a number of "sweeteners" for the terrorists, including release of mass-murderers from prison. Worse still, the terror group's leaders were given red carpet treatment as bona fide diplomats and peace-partners signing a treaty with the United States.
However, we now know that all that wasn't enough for the Taliban.
Their behavior reminds one of a story by Chekhov in which a Russian muzhik, traveling in the frozen steppes in a troika drawn by dogs, is chased by hungry wolves. To ward off the pursuers the muzhik keeps throwing his food at the wolves who keep coming. Once all the food he has is thrown away, he throws his dogs to the wolves that still keep coming. Too late, he realizes that the wolves won't be satiated until they eat him, too.
This week, Khalilzad offered the chasing wolves a much bigger morsel: a plan for a coalition government in which the terrorist outfit would secure a leading place.
Where would that" coalition" get its legitimacy from?
Former Afghan President Hamid Karzai says internal "legitimacy" can come from a loya-jirgah, a council of Afghan tribal and religious elders "acting on the basis of traditions." External legitimacy will come from endorsement by the United States and regional powers, meaning Pakistan and Iran.
At one brush, more than a generation of Afghan experiment with a democratic method of government is cancelled. Afghans are told that the constitution they approved in a referendum, the elections they held in a competitive, though imperfect context, meant nothing.
Worse still they don't need to know who picks the members of the coalition and around what program those members are supposed to coalesce.
It is worth remembering that, until the 9/11 attacks, Khalilzad and Karzai were lobbyists for Taliban in Washington.
In fact, the George W Bush administration was about to implement the agreement reached under President Bill Clinton with Taliban leader Mullah Muhammad Omar in negotiations with Bill Richardson, then US Ambassador to the United Nations. The announcement that the US recognized the Taliban government was to come during the UN General Assembly in New York at the end of September. By early August 2001, those interested in the issue already knew that Karzai was to be the first Taliban ambassador to Washington.
To be sure, 9/11 was not the work of Taliban, who may not have known about what was being cooked up by their Arab protégés. Khalilzad's assertion that Taliban were not especially anti-American is broadly correct.
However, this is 20 years later.
In those 20 years, the United States has forged a moral bond with the people of Afghanistan, persuading them to accept untold sacrifices in the hope of a better future, which in turn would not allow Afghanistan to become a base for terrorism against others, including the United States.
Apart from that moral bond, the US has invested heavily, in blood and treasure, in making Afghanistan what it is today, a chunk of the world freed from one of the darkest forces mankind has seen for centuries.
To throw all that away for political pettifogging in Washington is shamefully inelegant, to say the least.
Finally, it is clear to anyone familiar with Afghan realities that a scheme that may have worked 20 years ago has no chance of succeeding now. The Doha "peace deal" would be nothing more than a prelude to a new tragedy.
For the Taliban to enter government in Kabul they should give up their arms, accept the Afghan constitution, take part in elections and let the world see how much support they have.
Amir Taheri was the executive editor-in-chief of the daily Kayhan in Iran from 1972 to 1979. He has worked at or written for innumerable publications, published eleven books, and has been a columnist for Asharq Al-Awsat since 1987.

This article was originally published by Asharq al-Awsat and is reprinted by kind permission of the author.