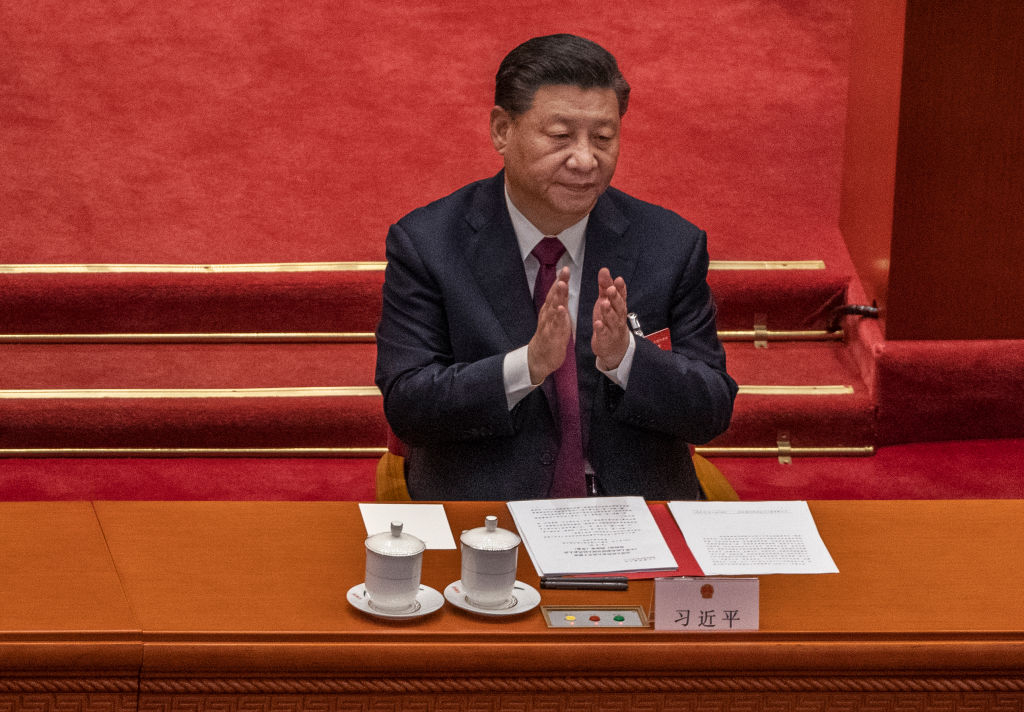 The Chinese Communist Party's overarching strategy for the next five to fifteen years, apparently, is to accelerate China's rise by becoming an innovation superpower, technologically independent of the West and dominating global tech. Pictured: Xi Jinping, General Secretary of the Chinese Communist Party, at the closing session of the National People's Congress at the Great Hall of the People on March 11, 2021 in Beijing, China. (Photo by Kevin Frayer/Getty Images)
Since General Secretary Xi Jinping became leader of the Chinese Communist Party (CCP) in 2012, he has spoken repeatedly of the "Chinese dream of the great rejuvenation of Chinese nation". This statement translates into China's ambition of becoming the world's greatest power by 2049, thereby surpassing the US as the economic, political and military leader of the world, as pointed out by Michael Pillsbury in his 2015 book, The Hundred Year Marathon.
This March, China's National People's Congress (NPC) passed a roadmap for China's rise in the coming years, when it approved China's new Five-Year Plan for National Economic and Social Development (2021-2025). This time, however, the five-year plan also included long-range objectives through the year 2035, by which time the Chinese Communist Party expects China's economic, scientific, technological and overall national strength to "leap dramatically" and for China to have achieved major breakthroughs in "key and core technologies".
The CCP's overarching strategy for the next five to fifteen years apparently is to accelerate China's rise by becoming an innovation superpower, technologically independent of the West and dominating global tech.
China's five-year plan sets out that China will focus on innovation in "artificial intelligence (AI), quantum information, integrated circuits, life and health, brain science, bioengineered breeding, aerospace technology, deep earth and deep sea [exploration], and other cutting-edge fields". It will carry out "major forward-looking and strategic national science and technology projects" and construct "comprehensive national science centers and regional innovation hubs" in addition to "the formation of science and technology innovation centers for Beijing, Shanghai and the Guangdong-Hong Kong-Macau Greater Bay Area".
The strategy has already been set in motion with the 10-year "Made in China 2025" plan, which the Ministry of Industry and Information Technology released in 2015. That plan aims to make China a global tech leader by accelerating innovations in ten strategic areas, among them electric cars and other new energy vehicles, next-generation information technology and telecommunications, advanced robotics and artificial intelligence, emerging bio-medicine, new materials, aerospace engineering and agricultural technology.
As pointed out by Matt Pottinger, who served as deputy White House national security adviser from 2019-21:
"Mr. Xi has issued guidance, institutionalized this month by his rubber-stamp parliament, that he's pursuing a grand strategy of making China independent of high-end imports from industrialized nations while making those nations heavily reliant on China for high-tech supplies and as a market for raw materials... Beijing's grand strategy is to accumulate and exert economic leverage to achieve its political objectives around the world."
One of the great causes of tension between China, the US and other Western countries is how the CCP carries out its goal of becoming a dominant technological power -- by using deception and theft. In July 2020, FBI Director Christopher Wray said that Chinese theft of US intellectual and other property was happening on "a scale so massive that it represents one of the largest transfers of wealth in human history.
"China uses a diverse range of sophisticated techniques—everything from cyber intrusions to corrupting trusted insiders", Wray said.
"They've even engaged in outright physical theft. And they've pioneered an expansive approach to stealing innovation through a wide range of actors—including not just Chinese intelligence services but state-owned enterprises, ostensibly private companies, certain kinds of graduate students and researchers, and a whole variety of other actors working on their behalf."
Australian researcher Alex Joske wrote in his August 2020 report, "Hunting the phoenix: The Chinese Communist Party's global search for technology and talent":
"The Chinese Communist Party (CCP) uses talent-recruitment programs to gain technology from abroad through illegal or non-transparent means. According to official statistics, China's talent-recruitment programs drew in almost 60,000 overseas professionals between 2008 and 2016,"
The new five-year plan puts great emphasis on expanding China's soft power, a crucial element of China's plan to become world leader. In a communiqué released in October 2011, the CCP spoke of "the urgency" of enhancing China's "soft power and the international influence of its own culture" and the wish to "build our country into a socialist cultural superpower". The strategy has already paid off in some areas. In 2020, for the first time, China overtook North America as the world's largest film market.
The new five-year plan talks about "increasing the nation's cultural soft power" and "telling China's story properly" while stressing the need to have "firm cultural self-confidence, adhere to cultural construction led by socialist core values... fostering new generations with sound ethical values, revitalizing Chinese culture, and presenting a positive image". On the home front, China will "strengthen the teaching of patriotism, collectivism and socialism". The five-year plan sets out that by 2035, China will have established "a cultural powerhouse (文化强国), an educational powerhouse (教育强 国), a talent powerhouse (人才强国), a sports powerhouse (体育强国), and a healthy China".
The ambition to dominate global technology is also manifest when it comes to China's national defense, where the emphasis is on modernization and on continuing the defense-related research that China is already conducting on technologies such as quantum computing and artificial intelligence. The plan calls for the acceleration of "national defense and armed forces modernization"; the aim, among other things, is to:
"... accelerate weapons and equipment modernization, focus on independent and original innovation in defense science and technology, speed up development of strategic cutting-edge technologies, and speed up weapons and equipment upgrading and the development of intelligentized weapons and equipment".
The goal is to overtake the US as the military leader of the world. The five-year plan sets out that China will "strengthen training and battle preparedness, increase capacity for the strategy of defending the nation's sovereignty, security and development interests and ... building a [modernized] military by 2027".
The CCP also plans to:
"... accelerate modernization of military organizational forms, deepen national defense and armed forces modernization, promote reform of military administration, accelerate the transformation of the services and the People's Armed Police force, strengthen strategic forces and combat forces for new domains with a new character".
Overall, the five-year plan stresses the promotion of the "simultaneous increase of national defense strength and economic strength".
The five-year plan follows the direction set out by the revised National Defense Law, which came into effect on January 1, 2021. The South China Morning Post reported:
"The legislation also specifically stresses the need to build a nationwide coordination mechanism for the mobilisation of state-owned and private enterprises to take part in research into new defence technologies covering conventional weapons, as well as the non-traditional domains of cybersecurity, space and electromagnetics."
What the Chinese Communist Party wants, its new five-year plan leaves no doubt.
John Richardson is a researcher based in the United States.